There are so many things to do in Pondicherry , but when you have got just 2 days you need to figure out the best things to do in those two days. It was a long weekend of April, 2012 when we headed to Pondicherry for just 2 days. We were urging to break from the city madness and visit somewhere delightful nearby. Pondicherry immediately came to our mind. Although it was the peak of summer season, yet we couldn't brush aside the temptation of a pleasant road trip. And hence we packed our bags and set in our vehicle on a drive to this beautiful union territory of South India.
We started early in the morning. By 6 am we were actually out of the Bangalore boarders. It was a beautiful drive of almost 6 hours, mostly through state highway that passed amidst beautiful countryside. We had halted on our way for breakfast around 8am. After this, we drove straight to Pondicherry. We spent nearly 1.5 days in Pondicherry. And from our experience, here goes the list of best things to do in Pondicherry over 1.5 to two days.
1) Promenade Beach #1 – things to do in Pondicherry
We reachedPondicherry at around 3 o'clock. After checking-in into our hotel and having a nice lunch we headed straight to the Promenade (Rocky) beach, which was at around 10 minutes walk from our hotel. This beach has a nice provision to sit around on the rocks. There is a long stretch of pavement along the coastline,  and a road runs parallel to it. I wondered how lucky of those who live just along the coast. They have such a super lovely morning walk trail. Actually, vehicles are not allowed on this road in the early and evening hours, letting the pedestrians have a super time walking leisurely across the beach.
After a long drive, it was an absolute refresher to sit on this beach and see the waves crushing on the rocks. After a good hour or so, we decided to walk along the pavement, passing several nice monuments on our way. On our way back, we stopped for snacks on a beach side small restaurant with open seating , watching the sea and the numerous activities going on the beach.
We then walked around the french style houses in the streets adjacent to the beach. While on our way back to our hotel, we had dinner at a local cafe. Then we came back to the hotel and called it a day.
Next day morning, we headed for a day long tour. We struck a nice deal with an autorickshaw driver just outside the gates of the hotel. He agreed to be with us the whole day and take us around all the spots that were worth visiting in Pondicherry.
2) Auro Beach #2 – Things to do in Pondicherry
We first headed to Auro beach. It is fine sand beach on the eastern coast. Actually, totally contrary to the Promenade beach, this one is swallo, has fine sand and is totally for playing into the water. Since the water is swallow, thus making it an absolute delight for the swimmers. We spent a nice morning hour here, strolling on the beach, along the coast. Also, we collected a huge number of shells from the coast (perhaps with nothing better to do 😛 ) before we thought to bid farewell to this beach.
3) Auroville #3 – Things to do in Pondicherry
Next, from Auro beach, we headed to Auroville. It is an experimental township where people of all nationalities live together in absolute harmony. The concept of the township is to let people live and thrive together in harmony , no matter which caste, rase or religion they belong to. A major population of Auroville is foreign nationals. The township also boasts to be self sufficient. The people of Auroville work together to maintain their ecosystem, with the help of workers employed from nearby villages. They have their own farms, dairy farms, schools, hospitals, market, shops, and anything else that you can think of that is required to sustain a modern life. Must say, Auroville was a unique experience that we had.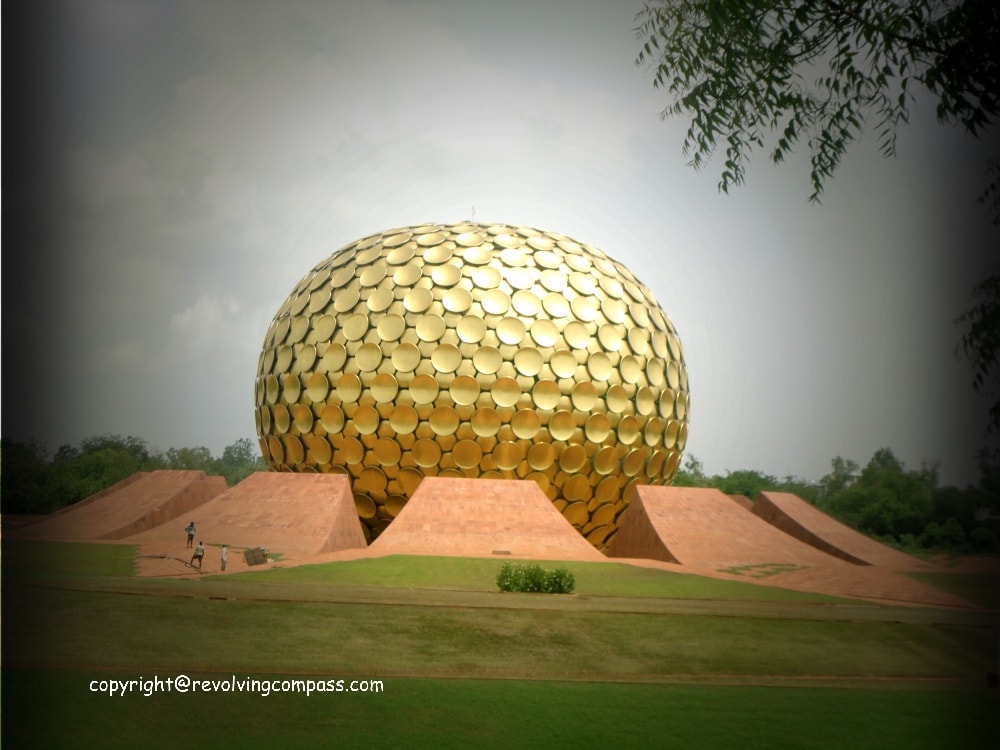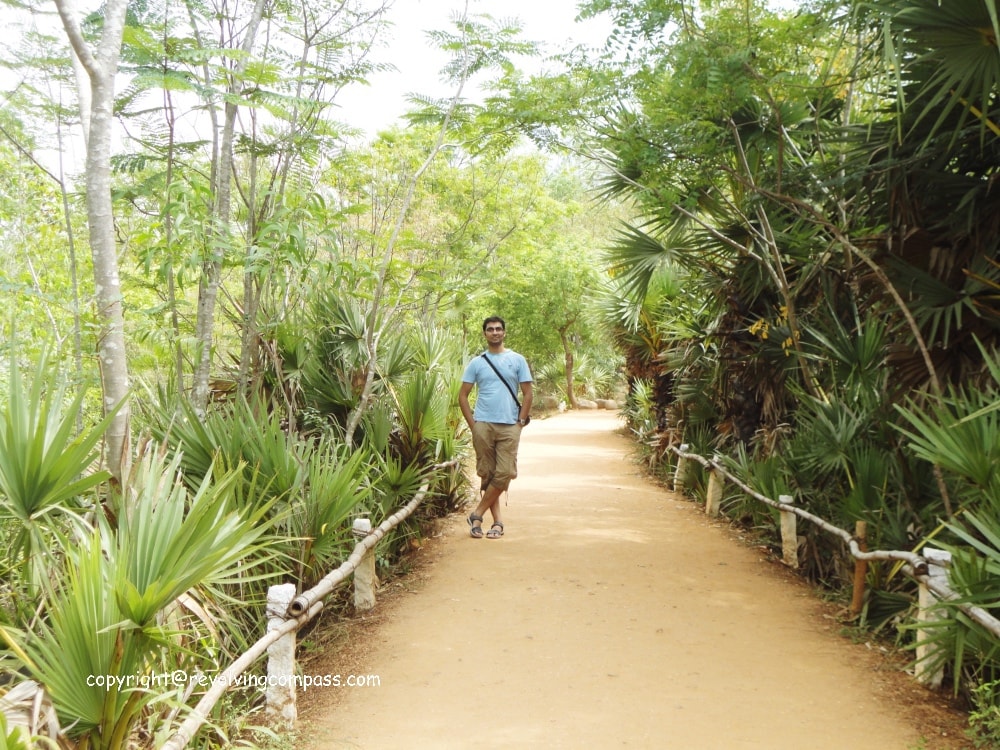 In the center of Auroville lies Matrimandir, a huge meditation center. It can be seen from far and wide even outside of Auroville. Read more about the interesting township in my post here.
4) Paradise Beach #4 – Things to do in Pondicherry
By the time we were out of Auroville, it was afternoon. We then had lunch. Post lunch we headed to Paradise beach. We went to the beach via boat ride upon a backwater lake. Paradise beach is no less than what its name suggests. It is a soft sandy beach formed on the coast, almost secluded. The water on this beach is a pristine turquoise blue and the sand fine white. The water is very swallow on the shore but soon becomes deep. So, swimming is permitted only on the shores . Even the currents get pretty strong as you go further in the sea.
This beach is privately maintained. And, it is absolutely neat and clean. It has abundant options of food, restroom and resting shacks right on the shore. It is around 8km from the main city. And we found it to be one of the most beautiful and clean beaches in India that we have visited so far. We played in water and then rested on this beach for a couple of hours. Although I had to literally drag myself to leave from here.
The only teaser that kept crossing my mind was why I didn't do my due diligence before. If I knew of this beach before, I would have planned for at least half a day solely on this.  But alas, it was too late now. The last return ferry from the beach back to the shore was around 5:30. We boarded this ferry and then returned back to board our autorichshaw waiting on the road.
5) Sri Aurovindo Aashram #5 – Things to do in Pondicherry
It was already 6 by the time we reached back in the main town. Before closing our day we visited the famous Aurovindo aashram. This Aashram is a spiritual centre for those seeking inner peace. The aashram was started as a small community gathering center by Sri Aurovindo when he settled in Pondicherry. Later it grew in popularity and strength with each passing day. Now, it is one of the most famous places to visit in Pondicherry. While the roots of the community of Sri Aurovindo lies in this Aashram, the members now reside all across Pondicherry.
They gather in the morning and evening for the prayers and meditation centers. We were just in time for the late evening meditation session. We participated in the meditation for around half an hour. The Aashram looked quiet abuzz with activities at this point of time.
Back to the hotel
From Aurovindo Aashram, we headed back to the Promenade beach for an evening stroll. Tonight, we stayed till late at the beach. Then we returned back to our hotel for the night. Tonight, we had dinner in the hotel itself. Post dinner we retired to a restful sleep. Next day post breakfast we started our trip back to Bangalore. It were a nicely spent 2 days weekend and the memories were built forever! I would anytime vote Pondicherry for a lovely family weekend getaway from any of the metropolitans of South India. Well, writing this post itself makes me carve to go there again.
Tips for a trip to Pondicherry
Plan for a 3-4 days trip if you want a leisurely trip
Nearest airport is Chennai. You can hire a cab or take a bus from Chennai to Pondicherry
The place is well connected to rest of the cities of South India via road as well as rail network
A road trip from Bangalore would take around 5 hours.
Spend at least half a day at Auroville and another half day at Paradise beach
You can then keep one more day for the rest of the sites
Visit some more places which we couldn't cover in our plan
Take a morning walk or evening stroll on the Promenade beach for sure
Try out the local cafes. Most of them have delicious food
The place has a beautiful laid back culture, try to slow down a little when here, to match the pace and enjoy the place to the best
It gets extremely hot in the summer months of March – June. Best time to visit would be between November to February.