Coorg or Kodagu district in Karnataka is well known for it's beautiful landscapes, dense reserve forests, waterfalls and wildlife. Although, during our stay in South India, we have visited several weekend getaways and beautiful destinations over the weekend like Hampi, Ooty, Kodaikanal, Mahabalipuram, Pondicherry, Mysore, Munnar, Alleppey etc. However, a visit to Coorg was still awaited. Finally we visited here recently. And we found many interesting places to see in Coorg. Here's the list of our favorites. Although due to crunch of time we had to skip a few of these, still the overall experience was awesome.
Top places to see in Coorg
Golden Temple Monastery
Golden Temple Monastery is a beautiful Monastery to visit on your way to Madikeri, Karnataka. Actually, there is almost a mini Tibet setup in this region. With different Monasteries, schools, medical establishment, shops and everything else that you will expect to be there for regular life to continue, this area has several Tibetan settlements. It is located almost 6km from the town of Kushalnagar, towards Mysore. After the Chinese takeover of Tibet, many refugees settled here. And the monastery was established in 1970s. The 40 feet long statues are the major attractions of the monastery.
The campus is huge and sprawling. There is a main monastery, another monastery (which was under maintenance when we visited). And manicured gardens around. Apart from this, the campus is also lined up with residential lodges on either side where the students, workers and teachers reside. Like in any other buddhist establishment, you will find utter peace and solitude here. After having visited another beautiful Monastery on our trip to Palampur, this was our second visit to a buddhist monastery in the last couple of months. And both the experiences were equally beautiful. Although a section of the Golden temple Monastery was closed for renovation at the time of our visit, but we still found the rest of the place very enchanting. Thus, we will rank it as one of the top places to see in Coorg.
Nisargadhama
Nisargadhama is a beautiful island formed on river Kaveri near Kushalnagar. On our way from Golden temple monastery to Madikeri town, we passed by Nisargadhama. Although we very much wanted to stop here, but there was some construction going on. And due to it, the entrance was closed to public. (Sigh!!!). From what I have researched and heard from experience of other travelers, Nisargadhama is very well maintained oasis of green right in the middle of river Kaveri. The whole island is well groomed in the form of a picnic and recreational spot. Also, different pet animals, some deers, ducks etc. are also present on the island, particularly making it interesting for kids. A well built rope bridge leads to the island. One can easily spend half a day here enjoying picnic and endeavor with the flora and fauna in the middle of wilderness.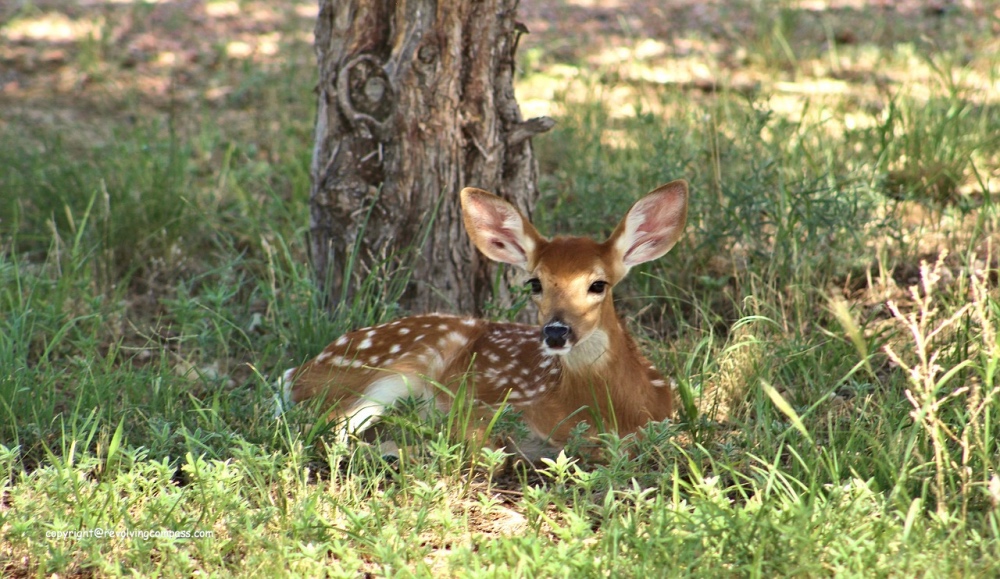 Madikeri Fort & Museum
After visiting the Golden temple monastery next we headed to Madikeri Town where our first stop was the Madikeri fort. Built for the first time in 17th Century and then rebuilt by Tipu Sultan in granite structure, this fort stands as a testimony to the glorious past of India. In the north east side of the fort are two big life size elephant statues in black. On one side to these elephants are fort sections that now have several government offices. And on the other side is the section which public can explore.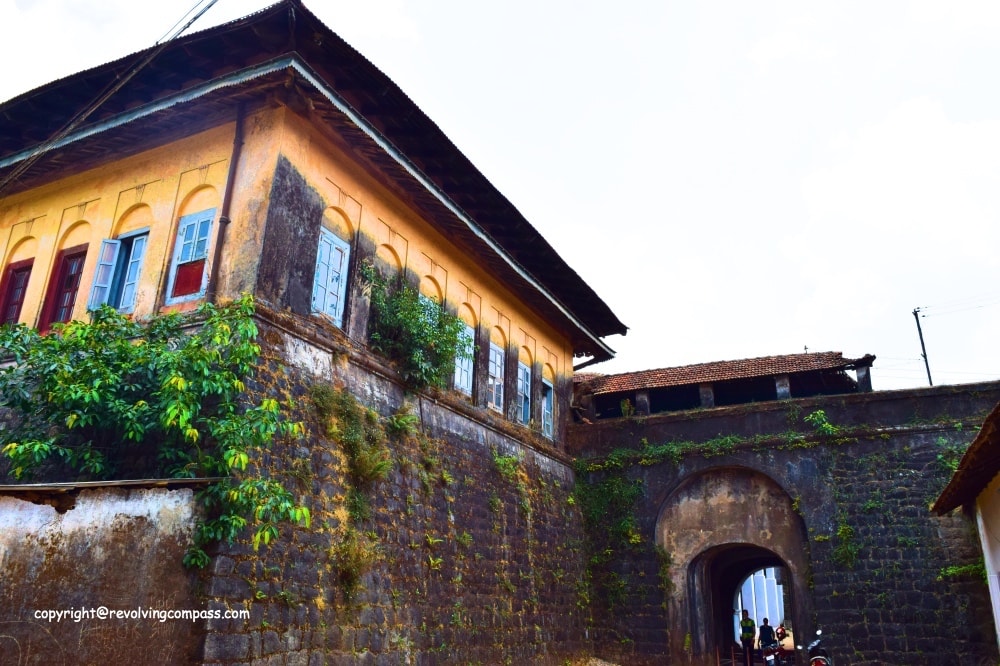 Stepping inside the later section led us to a small yet beautiful temple. And moving further, we entered into another section of the fort. Again, some government offices are stationed here. Although not half as massive as the forts of Rajasthan like Kumbhalgarh and Chittorgarh forts. Still, looking at parts of the fort you will get a feeling of how glorious they would have been in their prime. However, I was saddened by looking at the broken window glasses and moisture slowly eroding the walls of the fort. Clearly, there is a lack of maintenance. Hopefully, the government takes some steps to restore some sections of the fort. I am sure that will make madikeri fort one of the top places to see in Coorg.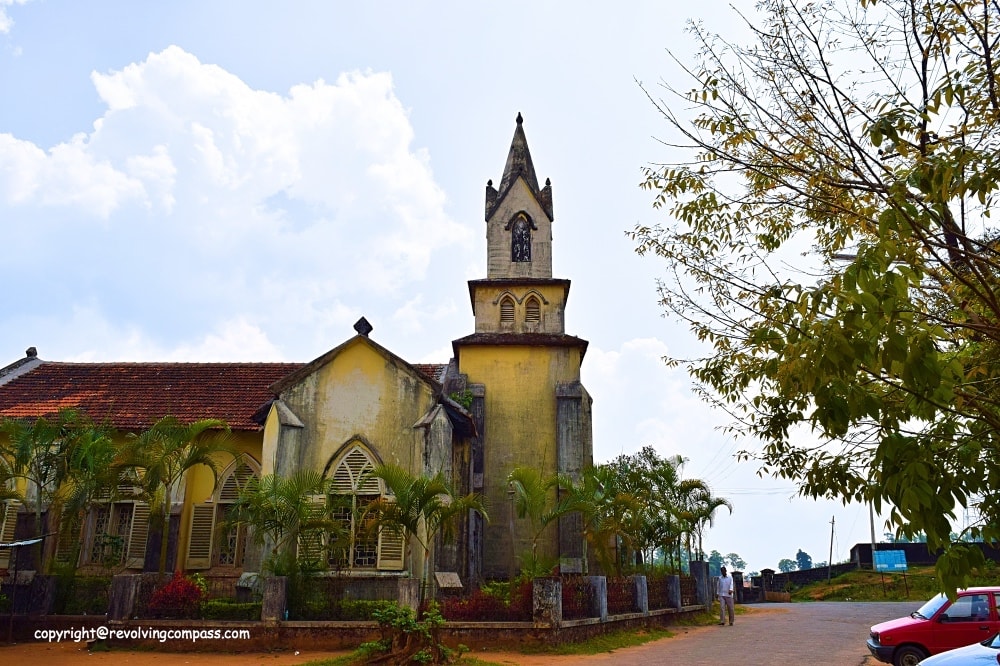 There is a beautiful little museum at the entrance of the campus of Madikeri fort. It is opened in one of the fort buildings. And it showcases several interesting pieces right from the stone carvings of very old times to the modern artifacts used at the times of General Cariappa. It has several invaluable manuscripts from the time of the old kings, written on palm leaves. Some weapons used during that era. Paintaings and intricate statues carved out of wood logs. An interesting corner of the fort. One of the top places to see in Coorg.
Abbey Falls
After visiting Madikeri fort, we had lunch at a Sagar Restaurant just opposite the fort. From there, we headed towards Abbey Falls, a picturesque waterfall setting further inside Coorg. As we arrived here, it was mid noon. We parked our vehicle and headed to the pathway that leads to the waterfalls. It is a mix of mud and concrete stairs that lead finally to a broader platform right in front of the waterfalls.
Not just are the Abbey waterfalls beautiful (as you can see in the snap below), but the small 10 minutes trek to the waterfalls is an experience in itself. The path leads through dense rainforests. And as you approach the waterfalls, you can hear the melody produced by the falls from a distance itself. As you approach nearer, the sound of waterfalls increases slowly, engulfing all the noise created by the tourists around. And all you hear is the song of nature – in Abbey waterfalls, in the chirping of birds and the rustling of leaves around.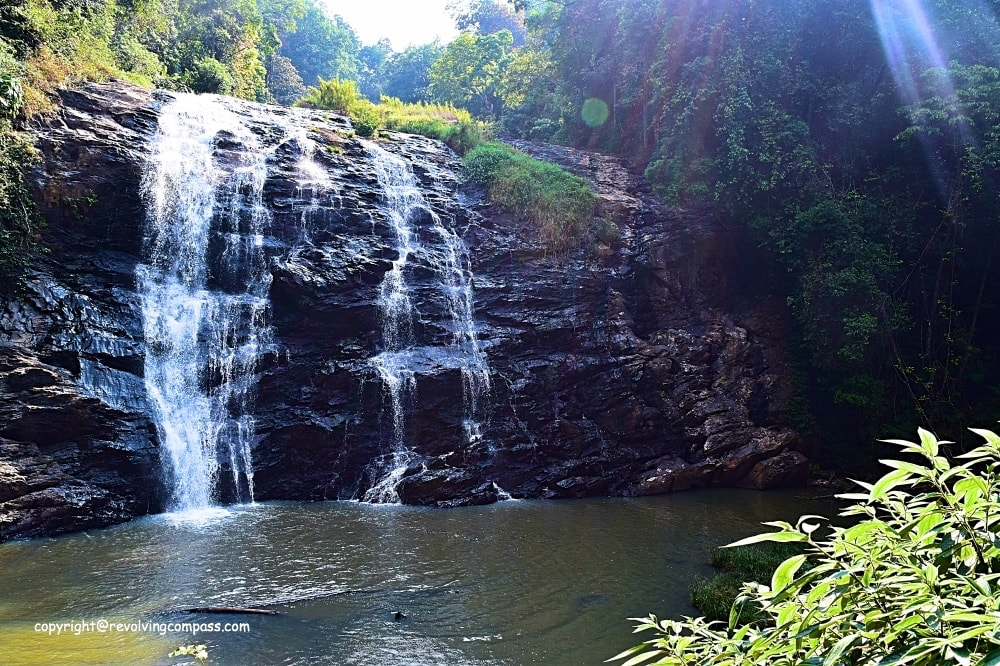 Talakaveri
Talakaveri is believed to be the origin of the river Kaveri. There is a beautiful and ancient temple here. It is dedicated to the Goddess Kaveriamma. And there are idols of some other Hindu deities also present in this temple. Also, there is a kund (big tank) of water here where devotees can take a dip into the water. Actually there is an interesting legend behind the origin of river Kaveri and Talakaveri. It goes like this:
The river Kaveri was held captive in a kamandal (A container used to hold sacred water) by the sage Agastya . The hindu lord Ganesha went on a quest to free the river. For this, he took the form of a crow. And while the sage was meditating, the crow perched on the kamandal. As the sage opened his eyes, he shooed away the crow. While the crow flew off, he made sure to tupple the Kamandal. As a result, water started flowing out of it, taking the form the river Kaveri. And yes, you guessed it right, the spot where it all happened, is known as Talakaveri!!
Virajpet Golf Course
From Abbey falls, we headed towards our homestay, casa coorg. Crossing the town of Madikeri, we moved towards Virajpet. The drive was ever refreshing through the forests of western ghats. Finally, we took a diversion from the main road. The path leading to casa coorg from the main road is a single lane road that winds through slightly hilly terrain. And on either side of the road stretches a beautiful golf course.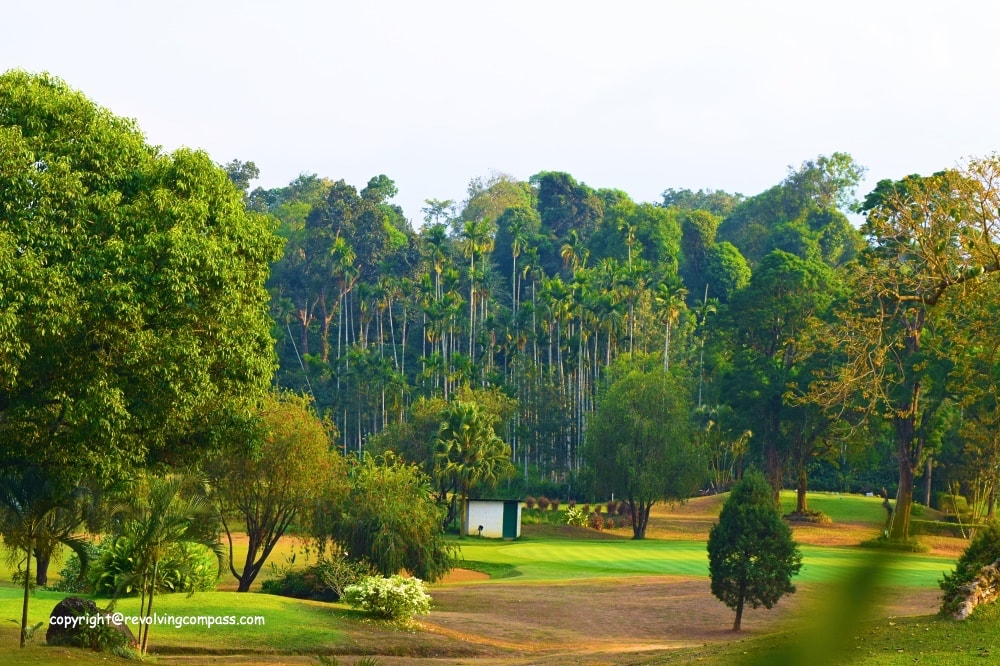 By the time we reached here, we had no doubt left as to why Coorg is called the Scotland of India. This golf course is privately maintained by the association of golfers in this region. But I must say, it is so beautifully maintained. It is neatly landscaped with ponds, trees, bougainvillea shrubs, and fields in between the golf platforms. It gives a refreshing look to the whole area. It's a pleasure walking on the road in this area early morning and evenings when the sun is mild and the wind is slightly cold – A walk to remember !! And we did take a walk in the whole area the next day in the evening, along with our newly formed friends from the resort – the owner's pet dogs.
Nagarhole National Park
When we started our journey back to Bangalore from Virajpet, we crossed from the middle of Nagarhole. Although, we didn't have time to take a safari in the park. (PS: safari timings are fixed and you should get in touch with the forest department if you tend to take one. Head here for the official site of nagarhole national park and safari timing details). But the morning fresh air, the dense forests on either side of the road and some of the wildlife that we encountered randomly more than made up for our missing the safari. We also saw an elephant base camp where several elephants were roaming around. And managed to capture some of the giant tuskers.
We want to return back to Nagarhole and take a safari through the wilderness. In fact there are resorts right inside the forest where one can stay as well. And we intend to do exactly that. I guess it deserves a dedicated weekend to explore the length and breadth of the flora and fauna at Nagarhole National Park.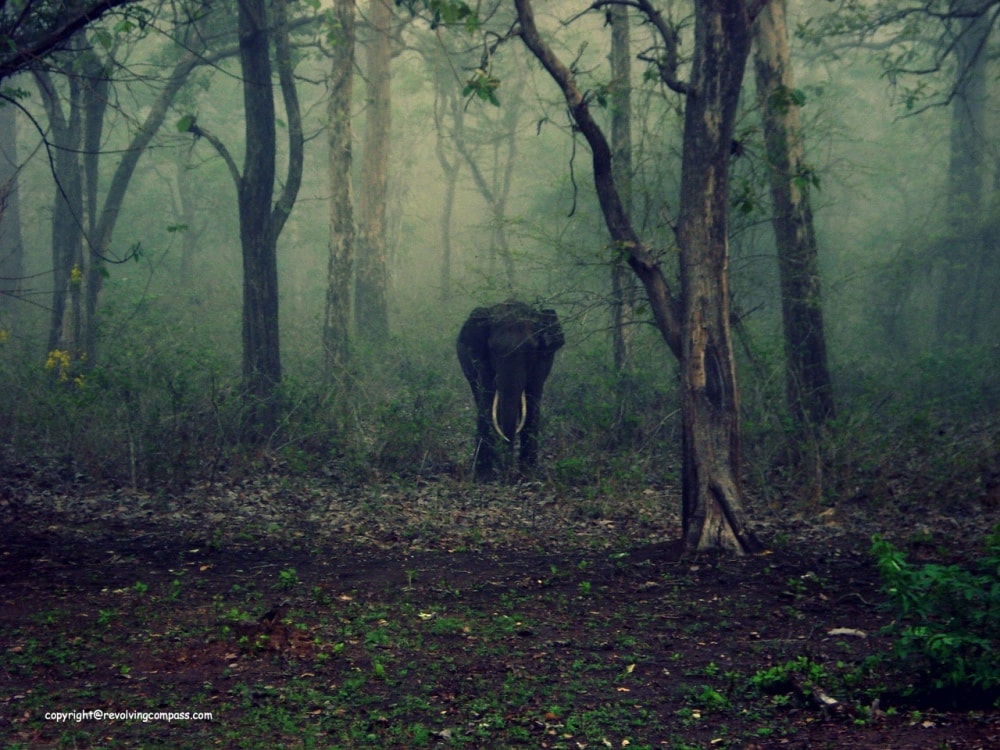 Iruppu Falls
Another beautiful waterfalls in Coorg. It is located quiet close to Nagarhole National Park. The Lakshman Tirtha River which is a tributary of the river Kaveri starts from these falls. So, they are often called the Lakshman Tirtha Falls as well. The waterfalls are located quiet close to the highway, bordering the Kerala/Wayand border with Karnataka. And they are frequented by tourists from both Kodagu and Wayanad side. The waterfalls are quiet majestic during and right after the monsoons. On one side of the falls is the Shiva temple. Thus, the region attracts both nature enthusiasts as well as pilgrims with equal interests.
Planning an effective itinerary
Coorg is a big district in Karnataka, India. And hence, some of the above mentioned places are located at quiet some distance from one another. So, the most effective way to visit here is to club together the places which are located nearby. Also, there are different routes that can be taken from Bangalore or Mysore while traveling to Coorg. (1) Route 1 : The Madikeri route which ends up at Madikeri (2) Route 2: The Nagarhole route that passes through a stretch of the Nagarhole national park and ends at Virajpet side of Coorg.
If you are taking route 1, you can start early and visit Golden Temple, Nisargadham, Madikeri Fort, Abbey Falls and Talakaveri upon reaching Coorg the first day, in the order of mention. And then, on the second day you can visit Nagarhole National Park and Iruppu Falls. However, if you are taking route 2 then you can reverse the itinerary for the two days.
Where to stay in Coorg
There are numerous wonderful homestays all over Coorg. When we went here, we stayed at Casa Coorg Homestay which is owned by an ex Indian army couple. It was located near Virajpet in a very serene atmosphere. There are plenty of homestays along the Madikeri line as well, in case you prefer to stay closer to Madikeri town. Apart from the home stays there are plenty of top notch resorts including orange county and many others, and also numerous hotels in Coorg. However, we will strongly recommend staying in a homestay for the authentic local experience and homely atmosphere. It is economical as well on your pocket.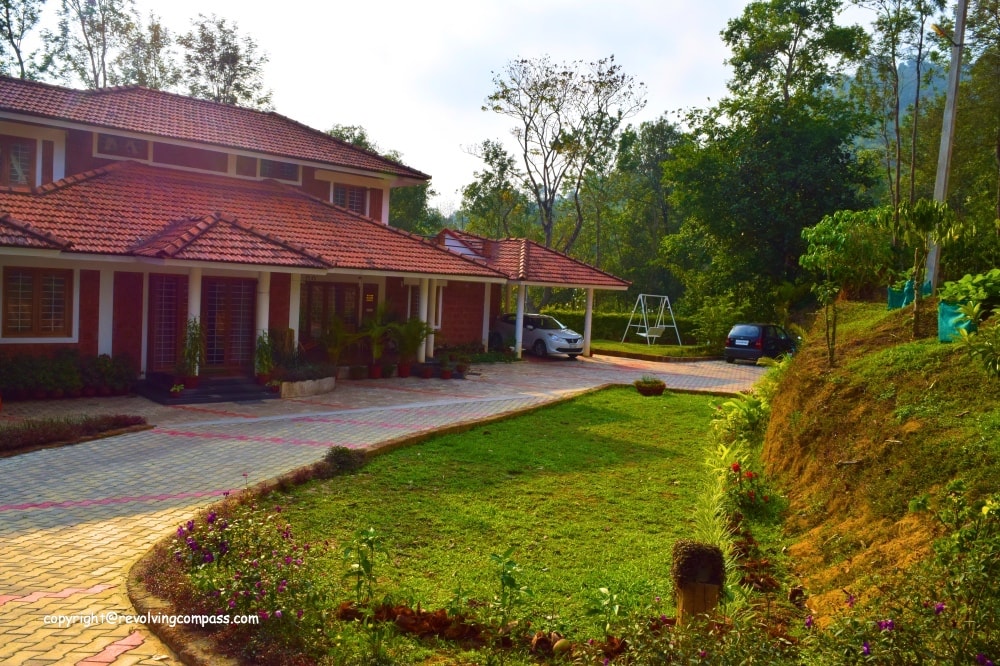 Where to eat in Coorg
Coorg is famous for it's non vegetarian food. But alas, being vegetarian, we can't give you much guidance here. Enjoy the local cuisines, cooked at home, in case you have decided to stay at a homestay. Otherwise, while roaming out, there are plenty of restaurants in Madikeri, particularly around the main market. There is a nice Shanti Sagar restaurant right opposite Madikeri Fort where we had our own lunch on the first day of our visit to Coorg. There are lesser options towards Virajpet side, particularly for vegetarians. When driving from Bangalore or Mysore, you can have your breakfast at one of the multiple outlets along the highway.
Some more insider tips
Coorg experiences summer during the months of mid Feb – March. Apart from this, weather is mild and pleasant all through the year. It receives abundant rainfall. Rain starts in March itself and continues all the way till October. In the later months, post rain, the area becomes extremely beautiful pertaining to the new layer of green plantations and dense forests.
Homestays are speciality in Coorg. Although the concept is catching up in rest of India as well. The homestays of Coorg have been there for quiet a long time. Stay at one for authentic experience.
Coorg is famous for it's coffee, spices, chocolate and dry fruits in Karnataka. So, if you want to shop for the same at lesser prices, head to the wholesale outlets across Coorg district.
Although you can do a weekend trip to Coorg from Bangalore or Mysore. But for a deeper experience and better covering the places, we will suggest at least 3-4 days to spend here.
When staying in remote areas, nearer to forests, inquire with your host before heading out, to ensure the safe trails. Because many areas, and sometimes even highways are visited by wild animals, particularly herds of elephants.
Wear comfortable shoes when you travel here since you will be doing some trekking through the hilly terrains here and there. Or even if you are just heading for a walk, it helps.
Carry an umbrella with you, as it rains quiet often in Coorg.
If you are headed to forest trails, beware of leaches. There are many in the denser regions, particularly in the rainy season. You can check with locals on how to keep them out of your way.