When we went to Europe recently, we had the same kind of emotions that every vegetarian goes through when traveling far and wide. The biggest anxiety was what if we don't get proper vegetarian food in Europe? How we will survive a long trip with limited option of Vegetarian food in Europe? Will we get any vegetarian food in Europe and that also easily? And a number of other such questions haunted us. We did a lot of research online, packed a few ready to eat items, prayed, wished ourselves luck and went ahead. And to our delight, it was not at all bad. We sailed through just fine. And at times, we did treat ourselves as well. Surprised? Read on to know our top tips to have a seamless food time in Europe being a vegetarian. And how we found different types of vegetarian food in Europe. The better you are prepared, the better off you will be. And that also on a budget.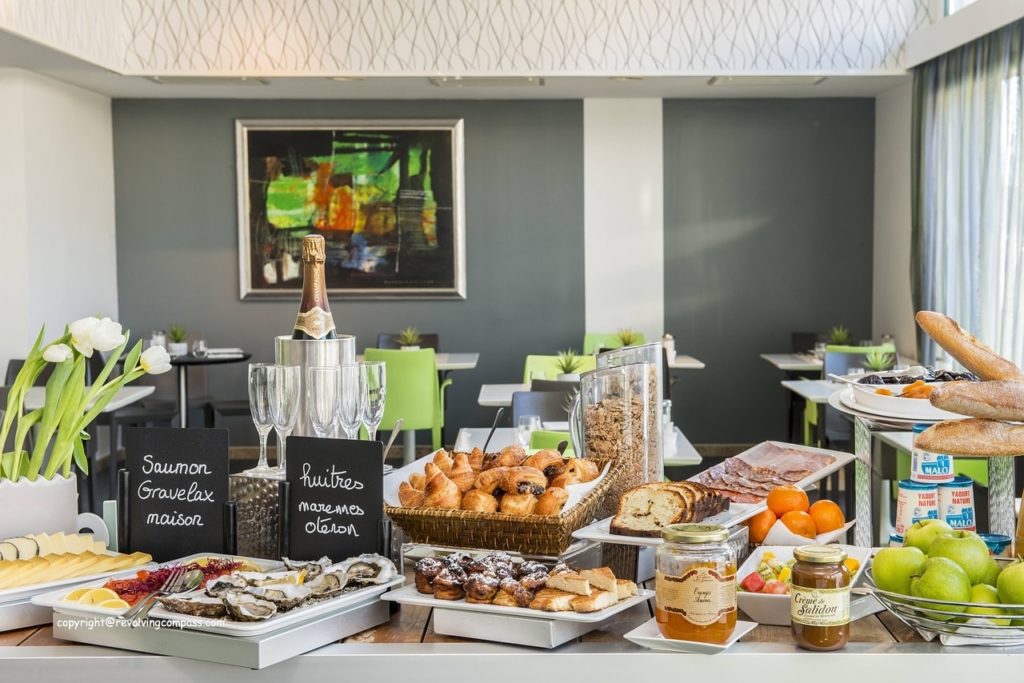 Try these vegetarian food in Europe
I must admit that vegetarian food in Europe are limited when it comes to options available. There might be one or two vegetarian recipes in a restaurant or café menu compared to a plethora of non vegetarian recipes of all  kinds. And there are pure vegetarian restaurants and vegan options also available – but they are hard to find and expensive as well. So, while they might be suitable for occasionally treating yourself. But you can't rely on them for all your meals. We did find a few options of vegetarian food in Europe that were common at certain places, and we stuck to them. Although this didn't give us much choice in terms of variety but we were still glad to find vegetarian food all across that were good with out pocket as well as stomach. And these being :
Pizza
In Italy, Pizza margarita option is present in almost all the pizza shops and cafes. A large slice, where two slices is good enough for one person, comes at 2 to 2.5 euros. Sometimes, vegetarian pizza slices with mushroom, capsicum etc. were also available at few shops. We had pizzas in almost all the towns we visited in Italy, including Rome, Florence and Venice.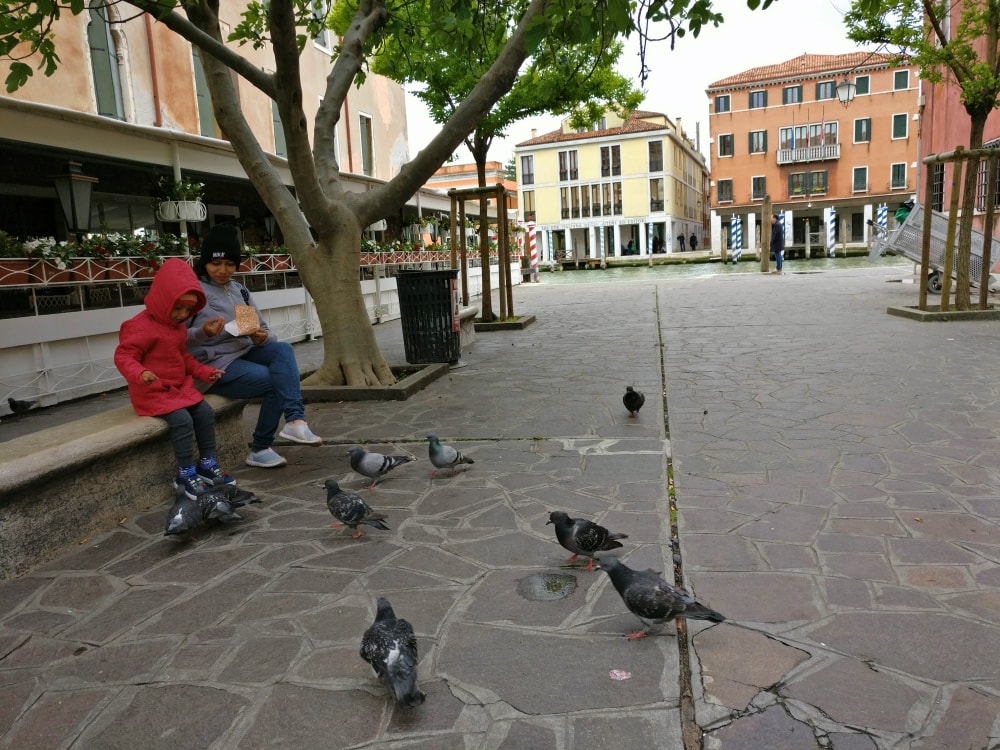 Pasta
Again, an Italian delicacy that you can find in every other restaurant or café. Although, veg options are very limited. Sometimes, no veg options are present. But mostly when we inquired, they were happy to customize and make a veg pasta for us , leaving behind the meat components. And we were equally happy with this option. One serving of pasta costed anywhere between 5-8 euros and was more than sufficient for one person.
Burger
Most of the towns in Europe have chains like Burger King and Mac Donald's. They had just one veg burger option wherever we went. But we were again more than happy with this option. Since, these outlets could be found easily at every other street. So, whenever we were in crunch of time, we headed to one and sometimes also got our meals packed. A veg burger cost between 2-4 euros in these outlets. Burgers came to our rescue, particularly during our 4 days in Switzerland.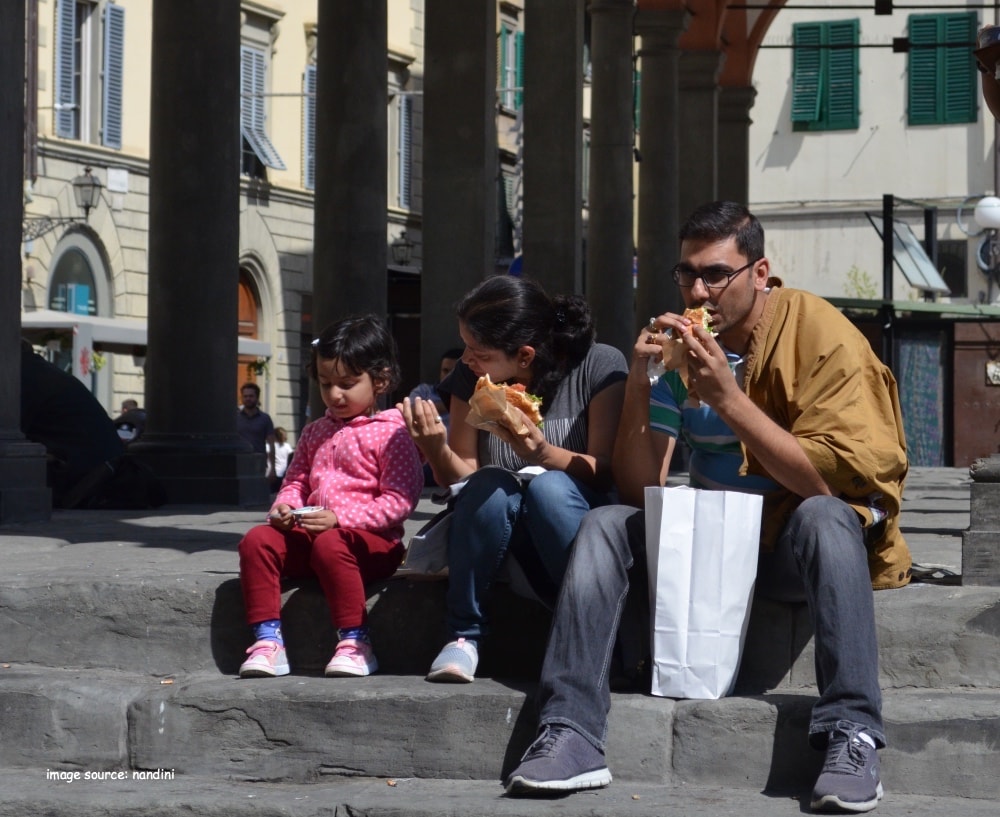 Fries
Fries are yet another food item that you could find almost everywhere in Europe. Portions of fries are very large there – more than enough for a single person's meal. And one portion costs anywhere between 4-7 euros. As we moved from west to east Europe, we found fries to be more abundant. Particularly around Belgium and it's neighboring countries. They complemented our meal needs whenever required
Sandwich
Ready to eat cold vegetarian sandwich is available in most of the grocery stores and bakeries. It costs euro 2-3 most of the time. Not a very appetizing option for Indian taste bud, but a good choice when you don't have anything else around. My daughter actually Liked them.
Sweets & Desserts
It would be a sin to be in Europe and not to have sweets. There are so many sweet options, vegetarian and safe. Croissants, cream croissants, chocolate, gelatinous and ice creams to name a few.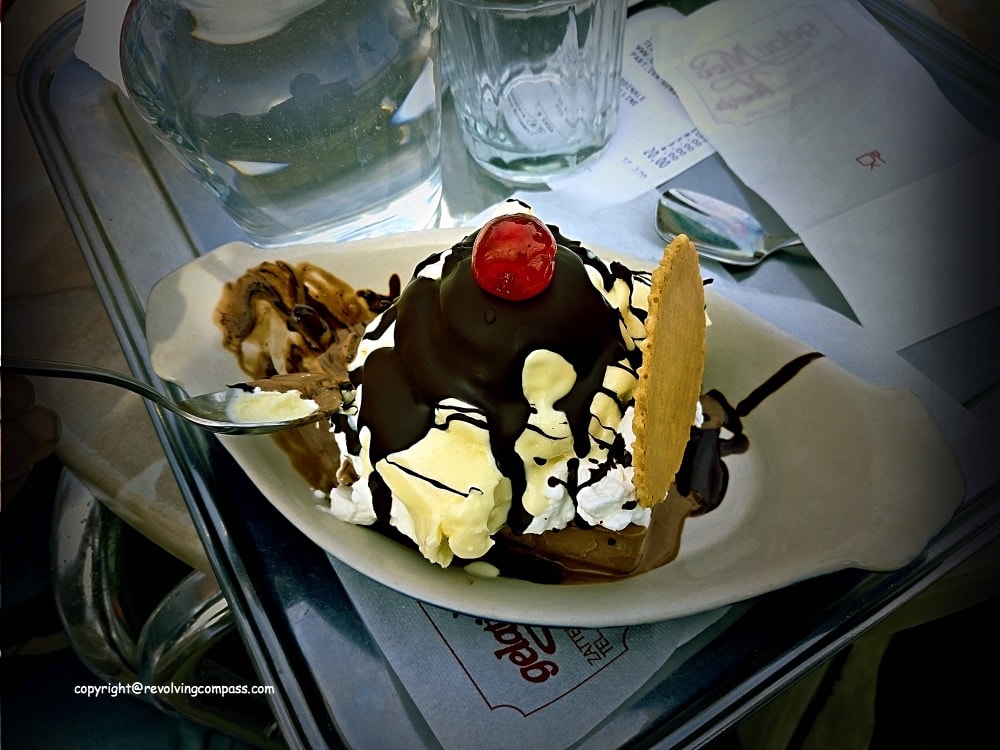 Indian, Chinese and Thai food in Europe
There are Indian, Chinese and Thai food restaurants in almost every town in Europe. You will need to hunt for them, they will be a little costly but you can satisfy your taste bud at times. We had an Indian vegetarian meal platter once. And we ordered customized vegetarian noodles from a Thai shop at one occasion which was very tasty.
Carry some packaged food with you
We know, you should travel light, pack as little as possible. And food only adds to the burden. But carrying a few items doesn't hurt. For instance, we carried a small packet of oats, and had them for dinner occasionally with milk, when we were short of veg options. This was filling, satisfying and extremely economical. However, we won't suggest you to carry oats, since you can get them easily at a grocery shop there. Also, we carried a few packets of Travel friendly packaged Khakhra which were extremely useful at times. And a few packets of ready to heat and eat food – like Daal Makhani, Paneer Butter Masala, Bisibelebath and methi paratha combo. pretty much that's it.
Grocery shop whenever possible
Grocery shops are all over, convenient and easy to locate. You can find either raw ingredients and make your own meals or you can pick ready to heat and eat stuff like sandwich and pizza. We profusely shopped for pasteurized milk packs which we and our daughter could consume without needing to boil. A 1 liter container came in the range of 1.8-2.3 euros and lasted a day for all of us together. We prepared coffee and also had oats with the milk at times. We also bought cheese dips to have khakhra with, bread packets to have for dinner at times with other stuff. Bread packets came for less than a euro. Cheese slices, cut salad packages and croissants with jams are other options. You could hunt the grocery shop and might find lots of other vegetarian options which are very economical as well.
Choose accommodations where you have option to cook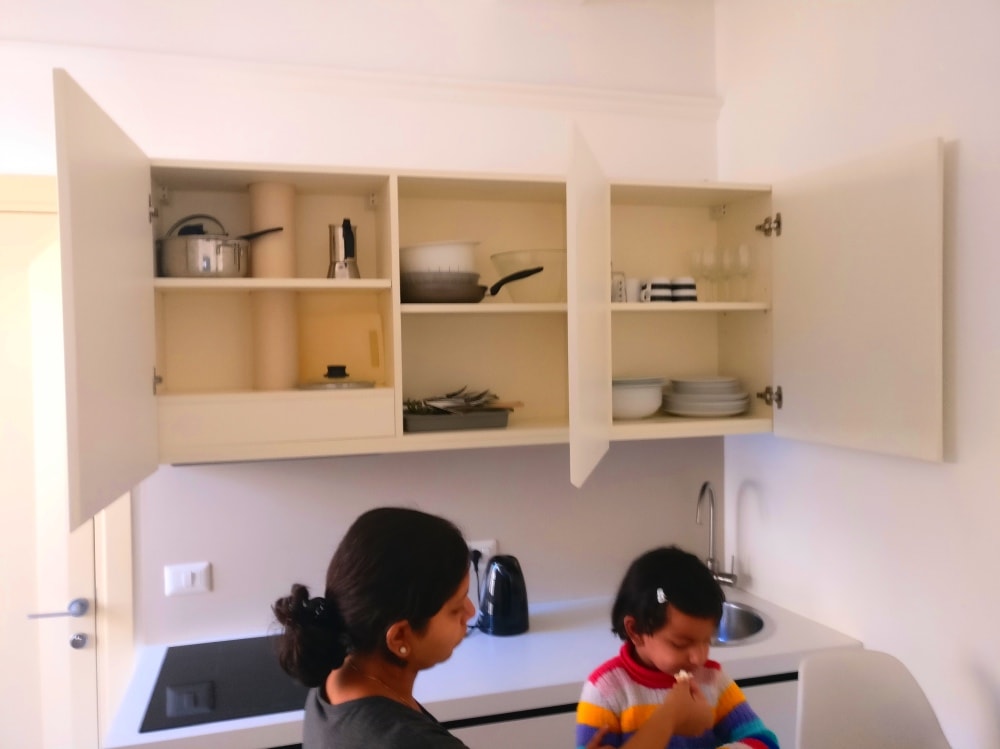 We stayed at a mix of hotels and flats. We must say, food options were much better at flat. The breakfast was very limited at the flat when compared with the breakfast spread at the hotel. But then, there was a fully equipped kitchen with a microwave, induction cooker, utensils, refrigerator and water heater kettle which meant we could grocery shop as mentioned in the above section. While staying in the flat, each dinner cost us just around 3-5 euros for all 3 of us!!!! We brought home milk and a packet of bread along with cheese slices, heated a ready to eat curry package and we had curry, bread, cheese for dinner. Followed by cup soups. Like we did during our stay at Palazzo Dei Ciompi in Florence.
If staying in hotel, leverage on the breakfast
If you don't have an option to stay in a flat or serviced apartment, and you are going to stay in hotel, well, you might not be able to prepare dinners as mentioned above. But then you have the option of a lavish breakfast. Most of the hotels in Europe across the cities and smaller towns that we visited, had a good breakfast spread. And there were lots of veg options there. These included, several kind of oat meals and muesli along with milk, bread toast with butter, cheese slices, jam, cut cucumber, tomato etc, which means essentially you can make your own veg sandwich, croissants with jam and chocolate spreads, cupcakes, hot coffee, hot chocolate, crackers, fruits and fruit juices etc. etc. So, basically when at hotel, you can have a very lavish breakfast. What we want to say is stretch your belly a little and park something extra there, just in case you find it difficult to locate veg food options during the day
Rely on fruits
You get good quality fresh fruits in all local markets and supermarkets across Europe. We relied a lot on bananas, apples, pears etc. during our trip. They were not costly and they were quiet nutritional as well as energizing. Particularly the bananas are quiet large. So much so that one proved enough for my lunch 🙂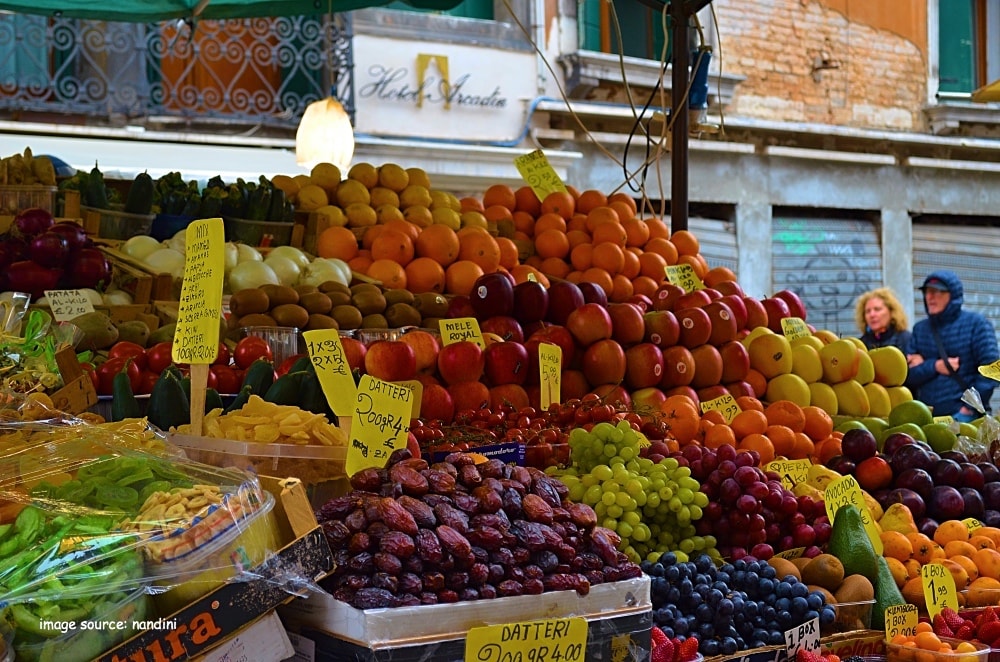 Carry some energy food all the time with you
Bars of dark chocolate and milk chocolate, dry fruits, pack of yogurt, energy and nutrition bars etc. were my energy boosters when proper veg food options were not around. Carry some with you all the time to satisfy those sudden pans of hunger or carving. You can carry some from home in case your child is accustomed to their taste. Like we carried around 10-15 of these RiteBite energy bar which our kid loves.
Install happy cow
I was really happy with the happy cow app. Someone had recommended in their blog and I stumbled upon it while researching for vegetarian food options. I installed the free version of the app. It was really helpful. Only thing is it needs WIFI connection. Which you will anyways have in your accommodation and also on most of the airports, train stations, cafes and restaurants. The app searches for 1) vegan restaurants 2) vegetarian restaurants 3) restaurants with vegetarian and vegan options along with the non-vegetarian options 4) grocery shops nearby. It can search based on either your current location or specific to a city.
Some general tips
Pack your food in advance for the next meal as soon as you spot some veg option suitable for you. As, you might not get one all the time
In Italy, pizza and pasta options are in abundant
In central and eastern Europe, fries and burgers are easily available
Bread, cheese, curd, jam and croissants are available all across
Prepare some meals on your own in your apartment. It is fun as well as the most economical option
Carry some ready to eat food with you, don't overload and leave items that you will easily get there. Carry something that you like and that you might not get there easily.