After 2 enchanting days each in Rome and Florence we finally headed to the romantic city of Venice. Venice is one city that is perhaps on everyone's radar when visiting Europe for the first time. However, we had also heard from many that Venice often disappoints it's visitors. Because over and over it has been overrated. However, we found Venice to be one of the most beautiful destinations that we visited on this tour. One of our most wonderful experiences was  taking the Venice hop on hop off tour.
Venice hop on hop off tour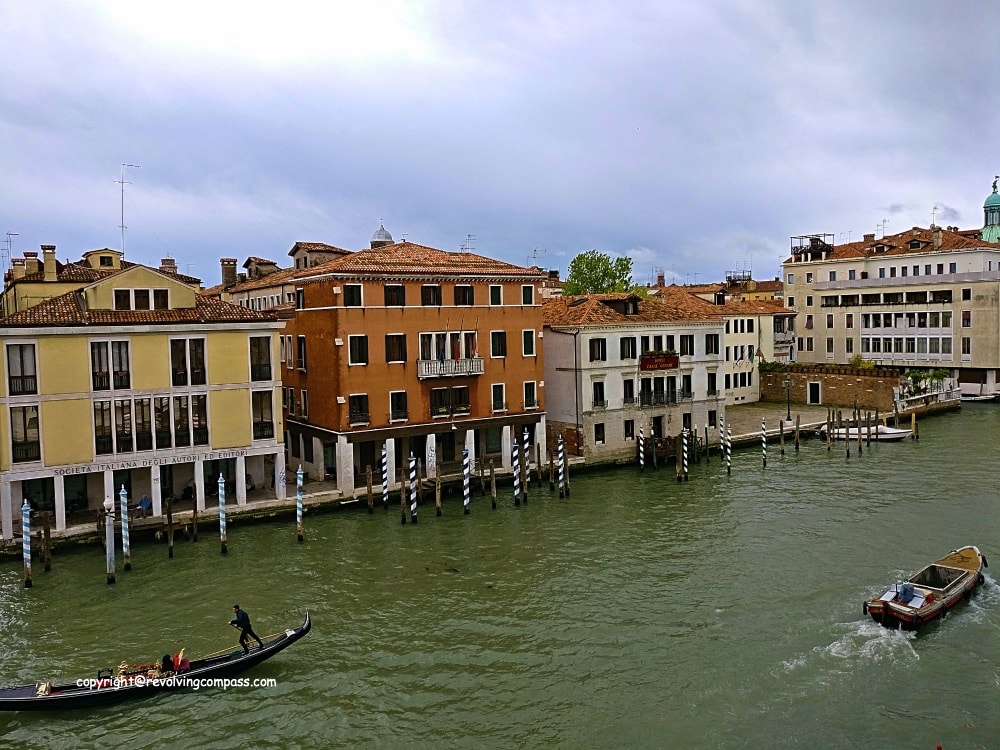 Almost all the cities in Europe provided hop on hop off tour provisions. There are buses with fixed routes. One can buy a day or two days pass and then hop on and off these while one explores the city. Venice, being an archipelago, called for a boat hop on hop off trip. And we were so excited to do one. So, we got our tickets booked with Panoramic tours. They have an office at the Venice train station itself. And we stayed at the Hotel Continental, which is walkable from the train station – at just 300 meters. So, morning, we collected our passes from the office and headed to the next boat at the deck besides the train station. Soon we on boarded and seated by the back deck in the boat. And were ready to take off.
The Venice hop on hop off route
There is a pre designated route for the Venice hop on hop off tour. Altogether, there are 7 stops on this route. The very first one being the train station from where we boarded. And finally the boat comes back to this spot itself end of the tour. Even more flexibility is provided by the fact that the boats reach and leave from designated spots at regular fixed timings. Towards the end of the article we have included the timings from the leaflet. So, this means, we can get down at any spot we want, spend as much time here as we want. And then reach the boat station in time to get onto the next boat which will be arriving shortly. And we did exactly that. This way, we spent more time on the islands and spots that we loved more and skipped some that we didn't find interesting.
Venice from across the water
As our boat started from the first stop and soared towards the third (as the second stop was temporarily suspended), soon we were mesmerized by the scene of Venice from across the waters. It was a one of a kind experience. Amidst the cool breeze and the crushing waves, we moved towards the next stop. However, the third spot on the route doesn't have anything of interest. It is more of a spot where more people can take the Venice hop on hop off tour. Basically, yet another spot for the people to get on and off the bus.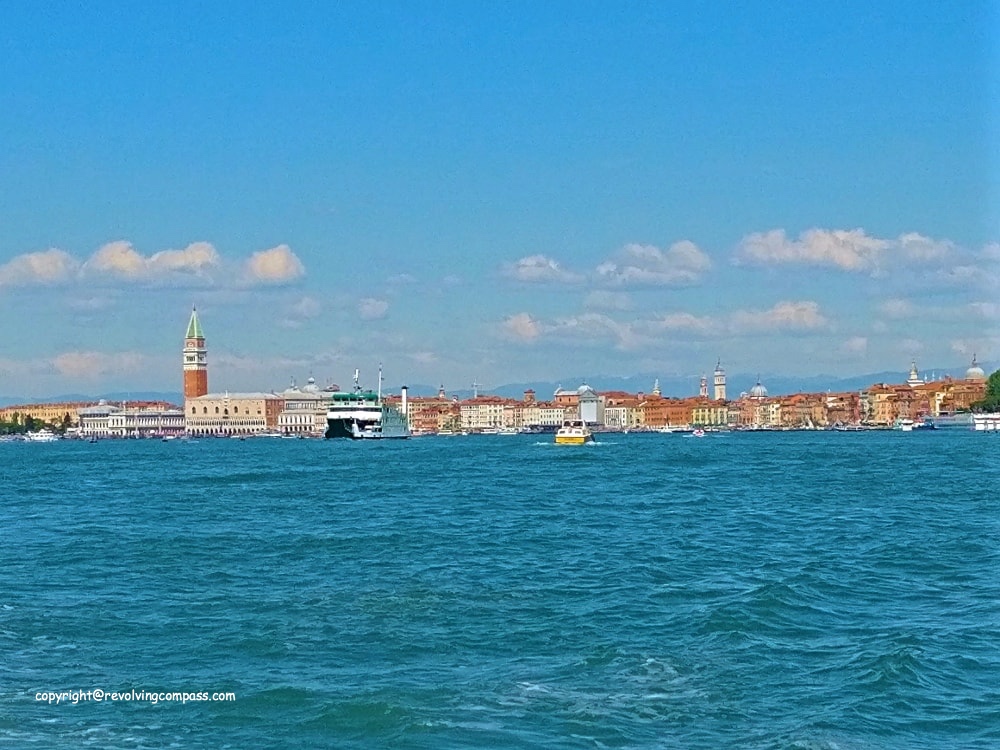 While arriving at this spot, we crossed several huge vessels and cruise ships that were resting by the shores. And we also spotted some yatches sailing through the waters of Venice. Across the water, we could spot several prominent structures of Venice including churches, famous squares, some parks, gardens, and different smaller islands separated from each other by the water ways. Along with bridges across these islands to act as the beautiful way of connectivity between them. Looking at Venice from across the waters is definitely an experience to cherish.
Stop 4 on Venice hop on hop off tour : Piazza San Marco
Our next stop on the Venice hop on hop off tour was around the Piazza San Marco or St. Mark's Square. As we got down here from our Venice hop on hop off boat, we first entered into a garden just in front of the station. Later, we started towards the St. Mark's Square. Around this spot, there are several interesting buildings like the great Church of St. Marks, the Clock tower, Doge's Palace the buildings opposite the church called Procuratie Vecchie and the vast space in the middle.
St. Mark's Square is the most famous square in Venice. As once upon a time, it was the hub of the social and political activities in Venice. And throughout the modern years, it has been the favorite spot for shooting of countless movies. The shopping street that stands at one end of St. Mark's square is just idle for picking some souvenirs. And through these streets, you can also walk to the famous Bridge of Sighs and Rialto Bridge. We spent quiet some time here before heading further on our Venice hop on hop off tour.
The Saint Mark's Basillica and Doge's Palace are particularly known for their architectural details and beautiful outlines. A must visit when in Venice, I would say. And the Venice hop on hop off route makes it really convenient to visit here. Overall, the abuzz St Marks Square particularly held my attention. And at that moment I decided we will be returning here as the evening proceeds, when the lights lit up. Because I very much wanted to have dinner here under the stars, on a table twinkling with candle lights. Although that didn't happen eventually (Sigh!!) , yet I found another very sweet and cute place where we had our last meal of the evening. So, no complains there really.
Stop 5 on Venice hop on hop off tour : Lido
One of the posh islands of Venice, Lido, was our next stop on our Venice hop on hop off tour. As we stepped out of the boat station, we could clearly see the contrast from the old town of Venice. As, Lido has a modern vibe by all means. It gives the look and feel of a vibrant modern society. The buildings are new. And the roads are wide. The lanes are very well planned. Overall, there is a lot of greenery. And unlike the rest of Venice, it seems not at all crowded. In conclusion, it is so peaceful, not abuzz with tourists all the times and yet so beautiful. For a change, cemented pathways instead of cobbled ones and modern houses instead of the medieval architecture will greet you as you step onto Lido.
The main attraction on Lido island is it's beautiful beach. It lies along one of the most frequented beaches of Venice. As we got off the station, we asked a local for the direction of the beach. And to our pleasure, it was straight ahead. So, we walked along the beautiful road that eventually leads to reach the beach. Admiring the beautiful pathways, and keeping an eye for the roadside eateries. As the plan was to grab something from one as we returned from the beach. Since it would be lunch time by the time we did.
As we approached the beach, soft sand and swallow water greeted us. It was cold, yet beautiful to stand by the crushing waves that kept coming and going. There is provision of shacks and food outlets along the coast. A very nice restaurant is developed here. And plenty of tables and chairs are put under shades for visitors to enjoy their day. We could see a lot of people enjoying themselves, doing almost nothing, on the beach. Not all looked like tourists. Even locals were equally enjoying their bliss. And we really liked that. Overall, we had a wonderful time here.
Stop 6 on Venice hop on hop off tour : Murano
Famous for its glass works, Murano was our next stop on the Venice hop on hop off tour. As we got down the boat and started walking towards the center of the town, we were greeted with a line of shops showcasing intricate glass works. First we passed through some factories. And soon it was followed by the glass windows of the shops luring us with such beautiful glass works that it's difficult to capture their details in words. And finally we arrived at this signature work that signifies the deep relation of Murano and it's glass work. This is the symbol of Murano, it's identity. (The blue one in the picture below)
The island houses several glass factories. And for generations people here have been doing glass work. Almost every other household owns a small factory of it's own. And those who don't, they work with others on their factory. Overall, they create beautiful items out of glass crystals day in and day out. The kind of accuracy and intricacy with which these people create the glass structures is just marvellous. I have personally not seen such beautiful glass works anywhere else. So no wonder, their work is so renowned. And is exported all through Italy and beyond. A perfect spot to pick some souvenirs in case you are interested. They have several miniatures and even larger show pieces, house decor items, crockery and other glass works.
Things to do in Murano
Apart from the shops, you can also do a guided tour to one of the glass factories. And see the formation of these glass pieces for yourself. Murano also has a glass museum that has several creations of interest. Further, you can visit the Roman catholic parish church in Murano named San Pietro Martire and the church of Santa Maria e San Donato. You will definitely have a wonderful time. Although we wished we could stay for longer here but we had to leave to the next stop on our Venice hop on hop off tour. But, in case you are staying in Venice for couple of more days, we would recommend spending enough time on these beautiful islands around Venice doing day tour, like Lido and Murano.
Stop 7 on Venice hop on hop off tour
Finally, we left Murano and took the next vaporetto to our final stop on our Venice hop on hop off tour. Almost near to the fourth stop at St. Mark's Square, this one is at walking distance from the Academia Gallery and the grand canal. As we got off the vaporetto, the evening had started to set. And after so much of walking, we were feeling so very hungry. The mood was just right and so was the romantic setting along the canal. That we felt just ready to sit down at a restaurant and have our first official meal in Europe sitting peacefully. We chose a cafe cum pizzeria by the side of the waters. And ordered some delicious Italian desserts. Thereafter, we spent our evening enjoying the desserts and looking at the waters and the buildings across the water as the evening slowly faded into the night.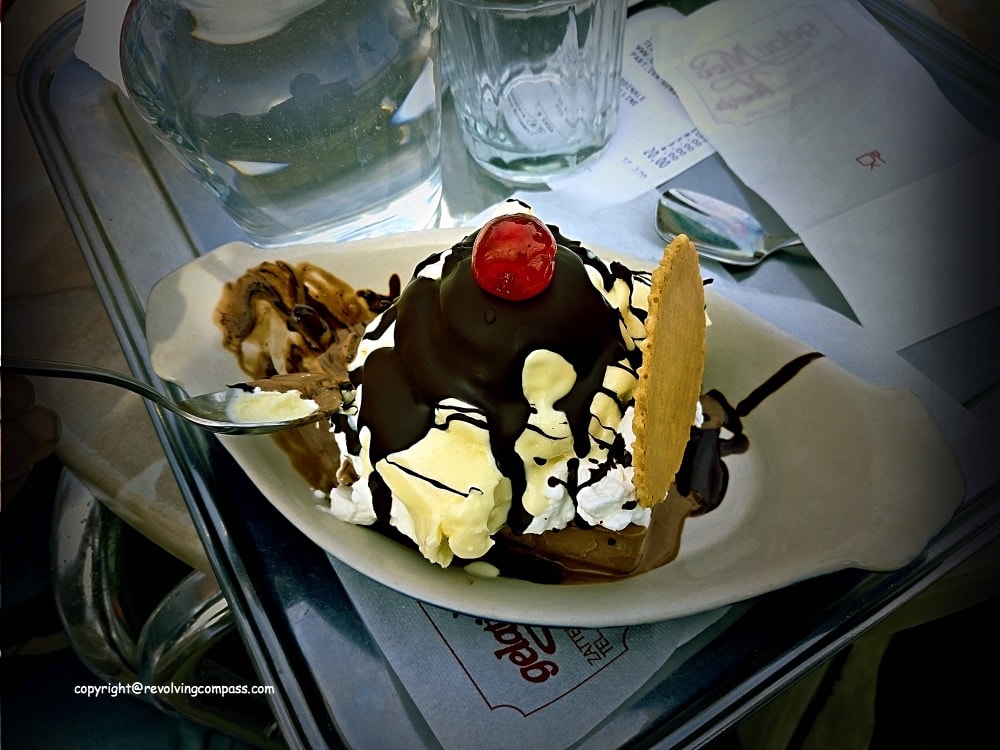 From here, we took the last vaporetto back to the train station. And by the time we reached the train station, it was dark. It is always mesmerizing to look at Venice through the dark. With the glittering lights and their perfect reflections in the water, the place just turns so magical. Like no other place on this earth. No wonder it's one of the most sought after tourist destinations in the world. Thus, looking at the lights and their reflections, at the beauty of Venice under the night sky, we slowly drifted towards our hotel, Hotel Continental, to call it a day.
Summary of Venice hop on hop off tour
Here's a summary of our Venice hop on hop off tour with roughly the time we spent at each of the stop during our tour:
| | |
| --- | --- |
| Time | Itinerary |
| 8:30am | Boarded the Vaperatto at Venice train station for onwards journey |
| 8:30am – 9:30am | Sailing along the waters of Venice |
| 9:30am – 11:30am | Stop 4 : St. Marks Square, Rialto Bridge, Bridge of Sighs |
| 12:00am – 2:30pm | Stop 5 : Exploring the streets and beach of Lido. Take away lunch at Lido before moving further |
| 2:45pm – 4:30pm | Stop 6 : Murano |
| 5:00pm – 6:00pm | Stop 7 : Academia Gallery, dessert by the side of the lagoon |
| 6:30pm | Back to the Venice train station |
Map of the Venice hop on hop off tour
Here's a map of the Venice hop on hop off tour that we took, along with the stops / stations marked on the map and the route defined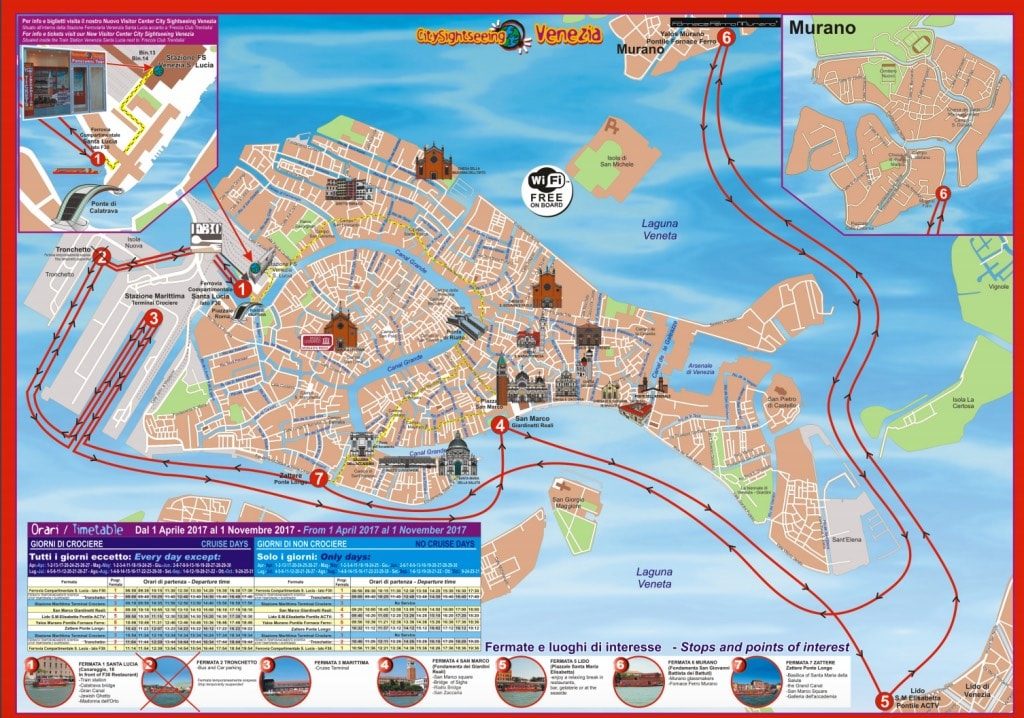 Timings of the boat
Here's a timetable for the boat showing it's time of arrival at different stops. So, all you need to do is once you get down at the stop, reach back there around one of the next slots when the boat is going to arrive back there. It's pretty standard, just like how a bus hop on hop off trip works in most of the cities of Europe. Also, you ask for this voucher at the boat operator's office, where you redeem your passes. So, you will always have the timetable at your disposal. Thus, you can space and time your stay at different stops accordingly.

Tips on taking the Venice hop on hop off tour
Many different agencies provide Venice hop on hop off tours. You can compare the pricing and other details, and choose one you want.
The one we took – the Venice hop on hop off tour by Panoramic Tour – had an office right at the train station and the first stop was also at the train station itself and it definitely helped us since we were staying quiet close by.
Make a rough estimate of the time you will like to spend at each destination and then accordingly plan your Venice hop on hop off timings. We did the same.
We took a one day hop on hop off tour. So, we did have to compromise on a few destinations. If you have time, I will recommend you take two days pass and go for the Venice hop on hop off tour for two days.
We had lunch at Lido during our Venice hop on hop off tour. It was a take away and the prices were very reasonable.
It feels really cold and chilly once you are on the boat. Since there is no barrier to the winds. At least it was like that in the month of April when we visited. So, prepare accordingly. Winter jackets are a must.
For your kid, you should layer them into multiple layers of clothing to protect from the piercing wind.
You can carry a stroller along. Only every time you hop on and off a boat, you will have to on board it and then again take it off. Which might feel little cumbersome. Umbrella stroller or the really lightweight ones like this one or this one will come to your rescue.
Carry a bottle of drinking water like this one with you so you can always refill it from nearby fountains and public water supplies.
Keep the hop on hop off map always with you. So you can look into the timings are readjust your tour now and then as required.
Also keep a tab on the last departure from your last stop. Your goal should be to return back at least by that time.