Another year has come to an end. And it's time to reflect on our travels, bear a smile, and be ready to welcome the new year. With the hopes that there will be much more & exciting travel lined up in the coming year. After having traveled profusely in the year "2017", and "2016", we decided to have a more relaxing "Travel 2018". The aim was to cover some unique destinations and have some spectacular experiences, particularly from the family travel perspective. So, this year, we chose our destinations really wisely.
Jaisalmer & Jodhpur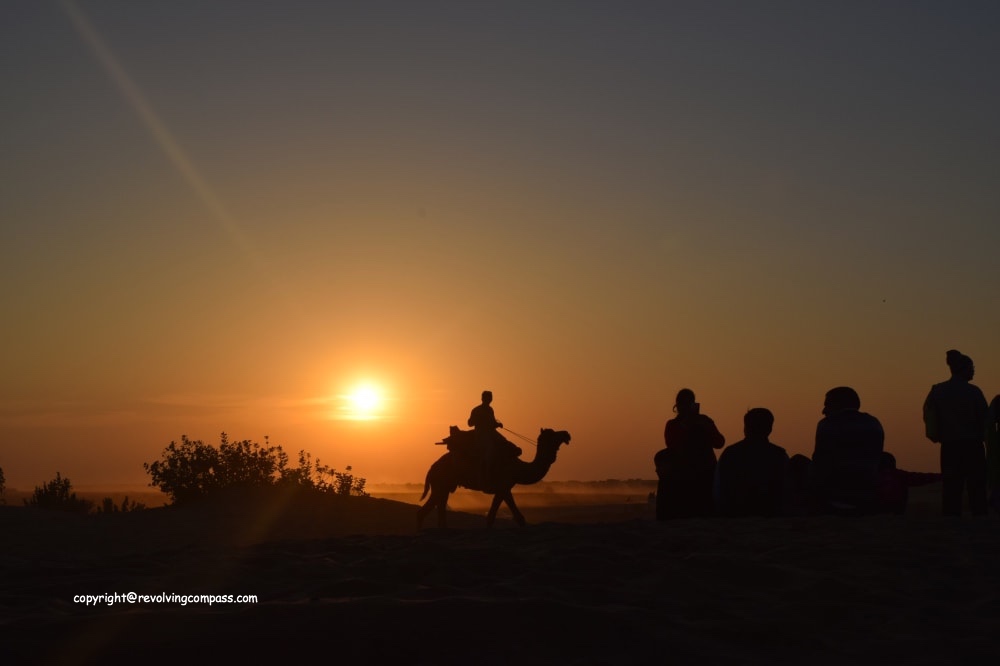 Travel 2017 came to an end and at the same time Travel 2018 started for us in a fabulous way – wandering around Jaisalmer and Jodhpur in Rajasthan. We visited a lot of iconic places in Jaisalmer. These included the Khaba Fort, The haunted village of Kuldhara, Jaisalmer fort and Havelis, Bada Bagh and many more. Altogether, we spent 3 nights in Jaisalmer. And the hospitality of Hotel Raj Mandir in Jaisalmer was awesome. So were the views from it's rooftop. Also, we spent a night in a desert camp in the Thar Desert. And we went on a trip doing several activities in the Thar Desert. The desert camp stay experience really stood out, it was a very unique stay. And it also gave us a deep perspective of how difficult life in the desert can be.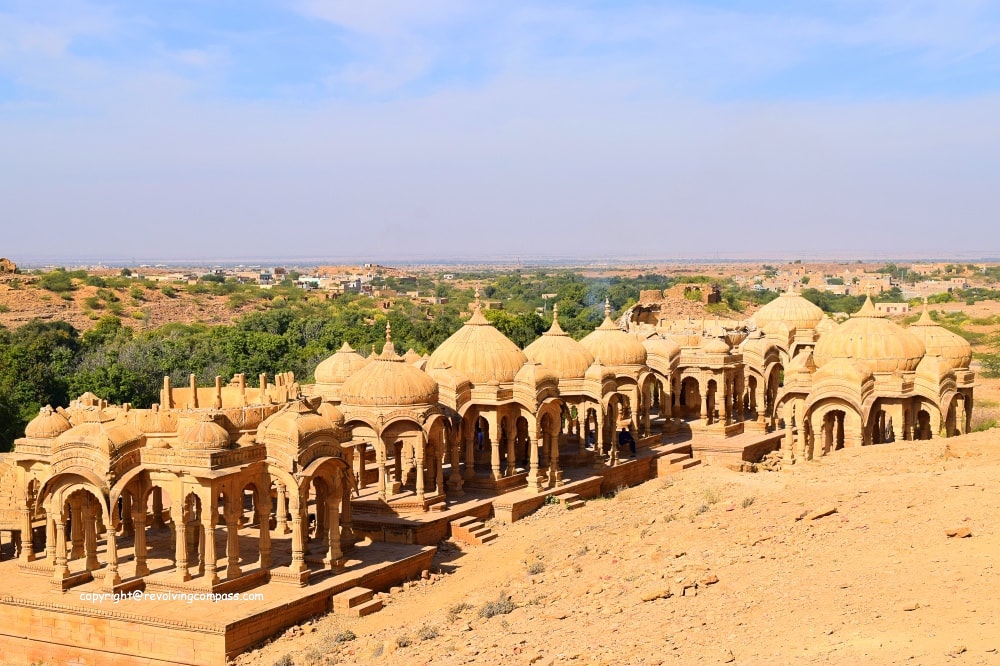 Next we headed to Jodhpur in the warm hospitality of Jaswant Niwas homestay. And over the next 2 days in Jodhpur, we explored the gems of the city. These included Jaswant Thada, Mehrangarh Fort, Ghanta Ghar, Sadar Market, Mandore Gardens. And while visiting these places, we did enjoy the local food, the local culture, the local crafts and everything else about the place.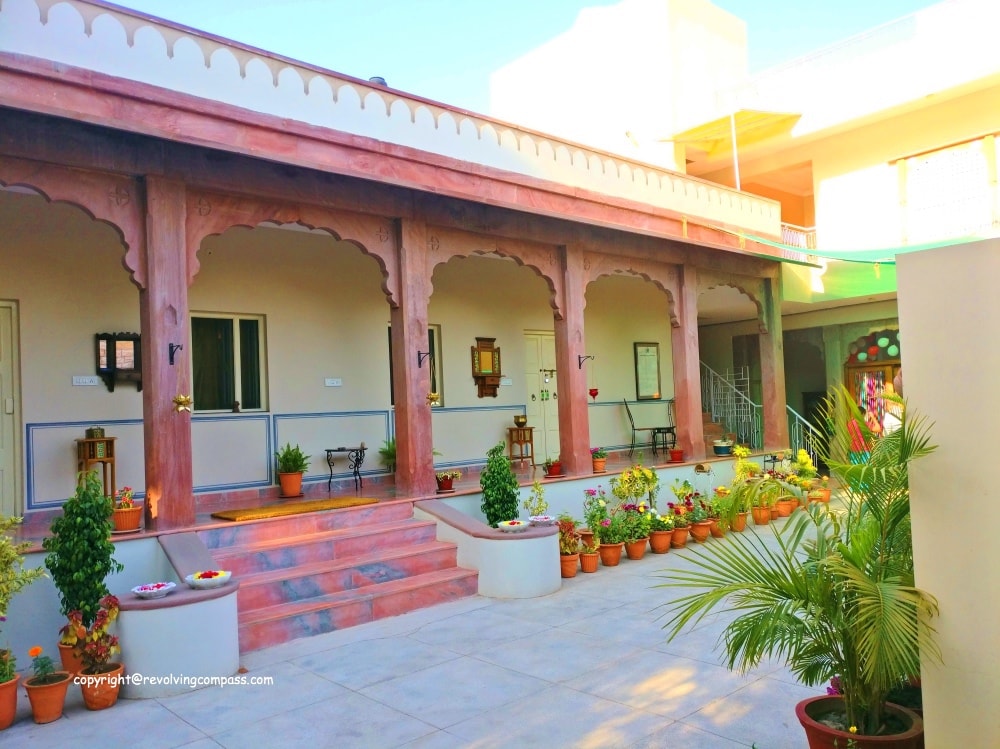 Jaipur
For this trip, we booked a round trip flight from our hometown to Jaipur. And we spend around 2 days in Jaipur. One each towards the beginning and the end of the trip. Although in our previous trip when we spent 3 days in Jaipur, we had covered most of the iconic places of the city. Including Amer Fort, Jaigarh Fort, Nahargarh Fort, Jaipur Palace, Hawa Mahal, Jantar Mantar, Jal Mahal, a lot of crazy shopping and a cultural experience at Chokhi Dhani. But one place that I wanted to cover was Sishodia Rani Bagh. And this time around, we got a change to visit here as well. We spent a beautiful evening in the palacial garden.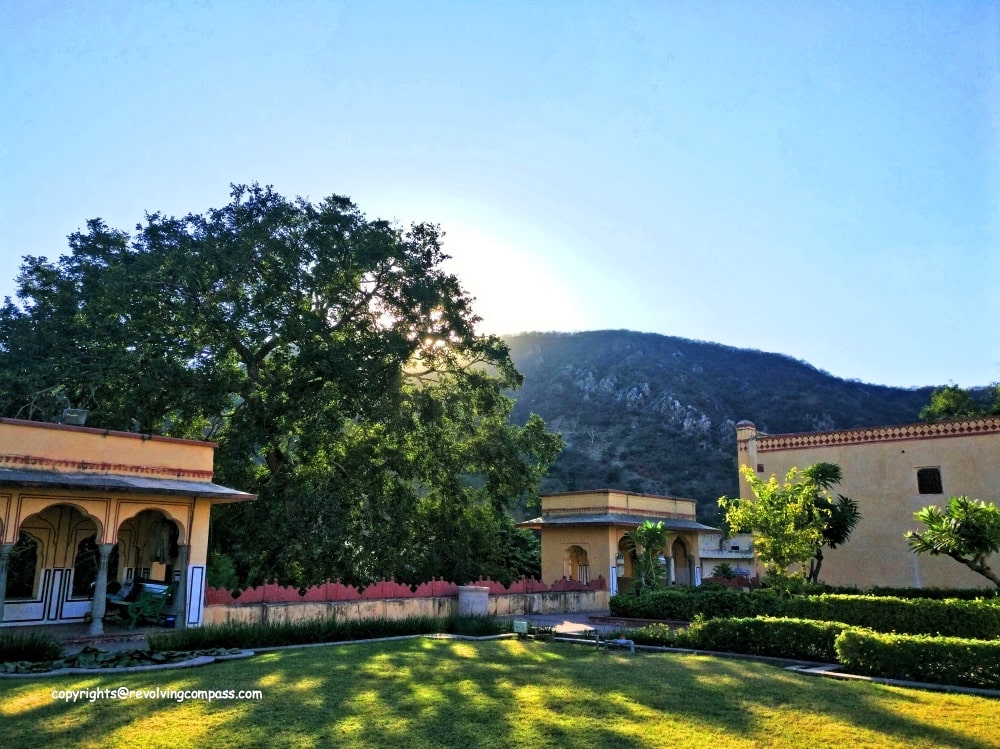 Chikmagalur
This was the most sporadic weekend getaway trip of 2018 that we had. Soon after returning from Rajasthan trip, we went to Chikmagalur. Although we had been to coorg the year before, somehow, we had still missed Chikmagalur. Which is very close to our home. Nevertheless, when our other set of parents (my inlaws!) were about to visit us in January, and the opportunity presented itself, we immediately grabbed it with both our hands. And what a memorable family trip it turned out to be.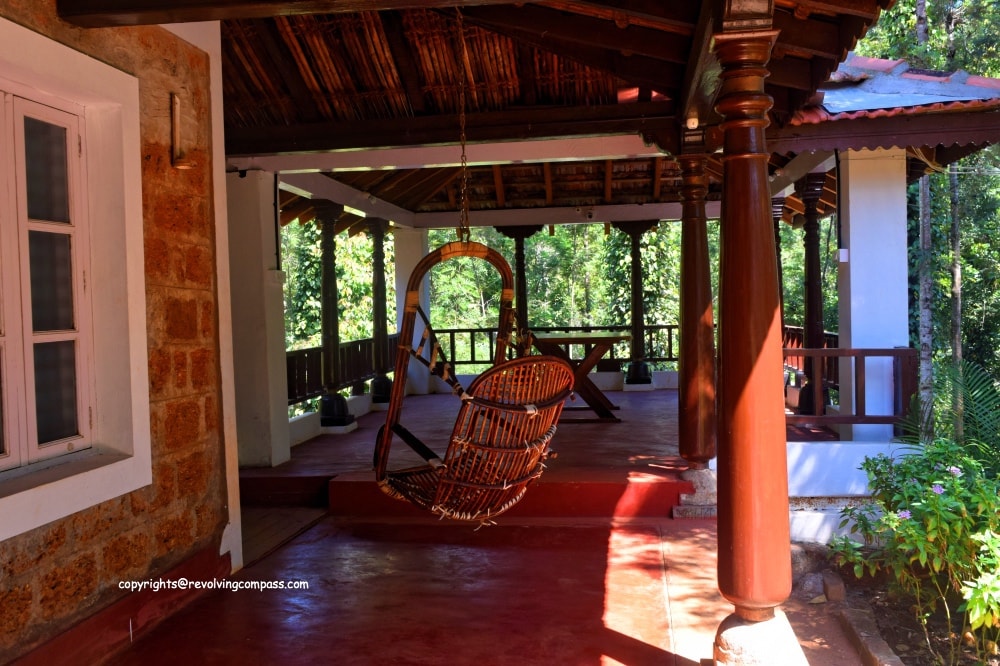 We were hosted by the Courtyard homestay in Chikmagalur. While here, we had the whole homestay to ourselves. We thoroughly enjoyed the warm hospitality of the caretakers, the fresh local dishes cooked by the on-premise cook. And the next morning, amidst chilling cold and fog, we set out to explore the coffee estate around the homestay. It was a beautiful weekend, very well spent. On our way back home from Chikmagalur, we also visited the Hoysaleswara (Halebidu) Temple and Belur Temple – both marked by marvellous architecture.
Checkout the details here: The Courtyard Homestay Chikmagalur
Kumarakom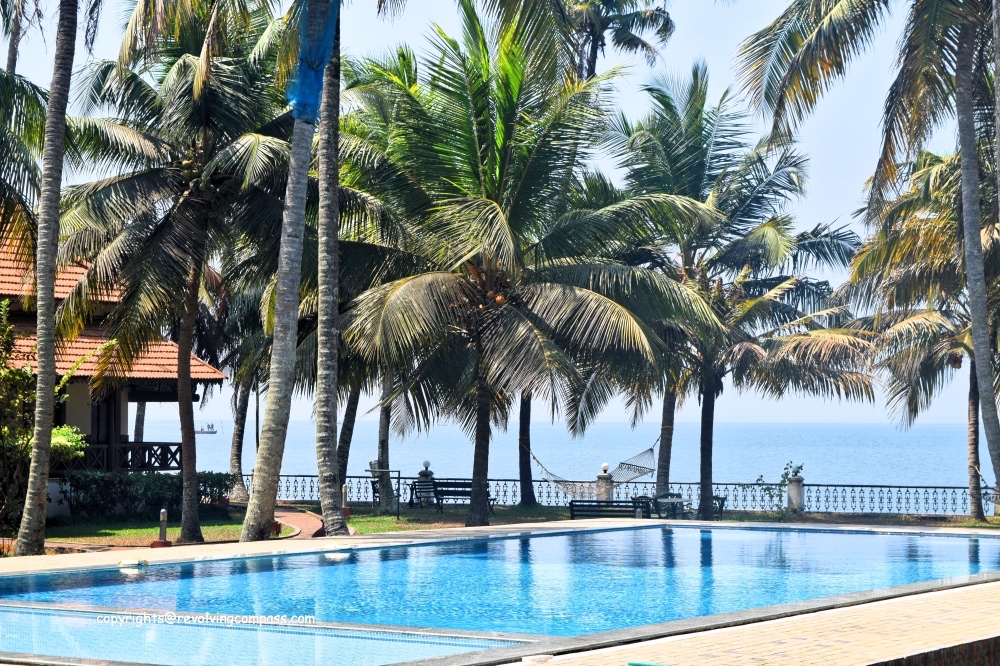 Next we planned a long awaited, relaxing and rejuvenating trip to the backwaters of Kumarakom. And, it was 3 days of complete relaxation that included a special Kerala ayurvedic massage and a memorable boat trip on the Vembadam lake. As well as relaxed swimming in the resort pool, watching the sunset across the backwaters and listening to the chirping of the birds. Our little one had a great time swinging on the hammocks and collecting "baby coconuts" that fell in the resort lawn from the numerous coconut trees around. We spent the mornings and the evenings with our family in the resort lawn, having coffee and snacks, while the pleasant tropical breeze caressed our faces. The sunsets that we observed across the lake are worth a special mention. So are the activities of the locals and the fishermen. We will highly recommend a trip on the backwaters of Kumarakom for a relaxing getaway whenever you need one.
Checkout the details here: Things to do in Kumarakom, Kerala
Meghalaya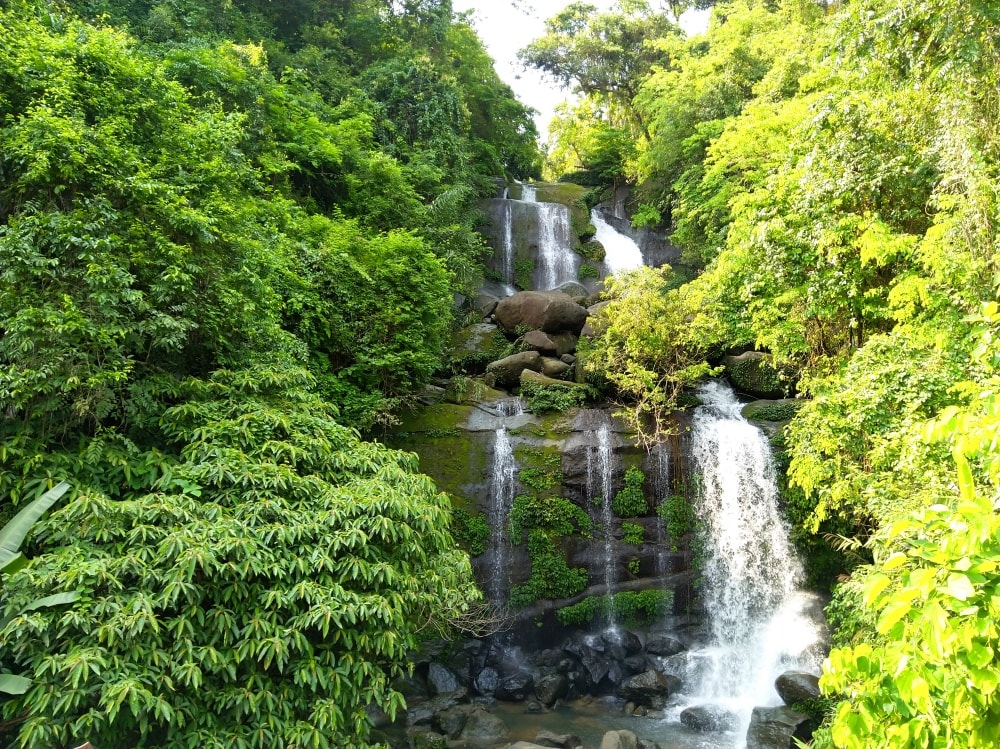 After a very relaxing holiday in Kumarakom, yet another unique destination followed in our list this year – Meghalaya. We had been planning a trip to this beautiful north eastern state of India for a while, and finally it materialized in the year of travel 2018. The landscapes of Meghalaya, the beauty of the place is beyond words. And every single attraction here is unique. Be it a ride on the fairytale Umngot River in Dawki, or a stride on the living root bridges. Or be it the beautiful small villages. And the countless gorgeous waterfalls. Meghalaya was a place where the journey itself seemed like the destination. As we traveled from Shillong to Cherrapunji and Dawki, we couldn't help stop numerous times on the winding highways, with the monsoons mist hanging right besides, sometimes passing through us – sometimes for tea, sometimes for a hot snack from the roadside vendor and sometimes just to click some gorgeous pictures, trying to capture the beauty of the place in our camera.
Read the complete account of our Meghalaya trip in this post : our 4 days trip to Meghalaya
Although we have been to many hill stations in both north and south India so far. Including Shimla, Manali, Palampur, Coorg, Chikmagalur, Ooty, Coonoor, Kodaikanal, Yercaud etc. But this is the first time for us exploring the hills of North East India. We found the landscape here very unique, and everything about the state really very beautiful. No wonder North East India is considered a world of extreme natural beauty in itself.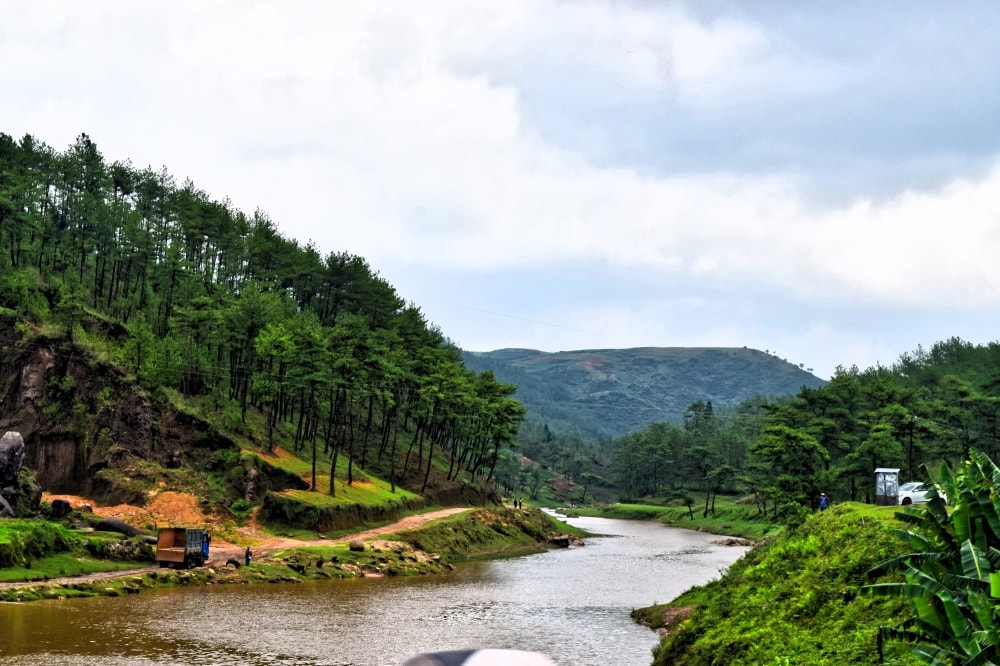 Checkout the details: Our 4 days trip to Meghalaya – the abode of clouds
Singapore
After the spectacular Meghalaya trip, it was time to dedicate one to our little daughter. Who braved the treks, steep stone steps and boat rides through the natural landscapes of Meghalaya. And thus, we decided to head to Singapore next. Across 4 days that we spent in Singapore, our daughter as well as our parents had a fabulous time. We spent time at Universal Studio, Singapore zoo, SEA Aquarium, River Safari, Night Safari, Marina Bay, Gardens by the Bay and other child centric attractions of Singapore. Overall, we had wonderful 4 days in Singapore. And the daughter enjoyed so much that every single day since returning from there, she asks to go back to Singapore. (We are still writing about our Singapore Trip..there are many more stories to follow, so, stay tuned).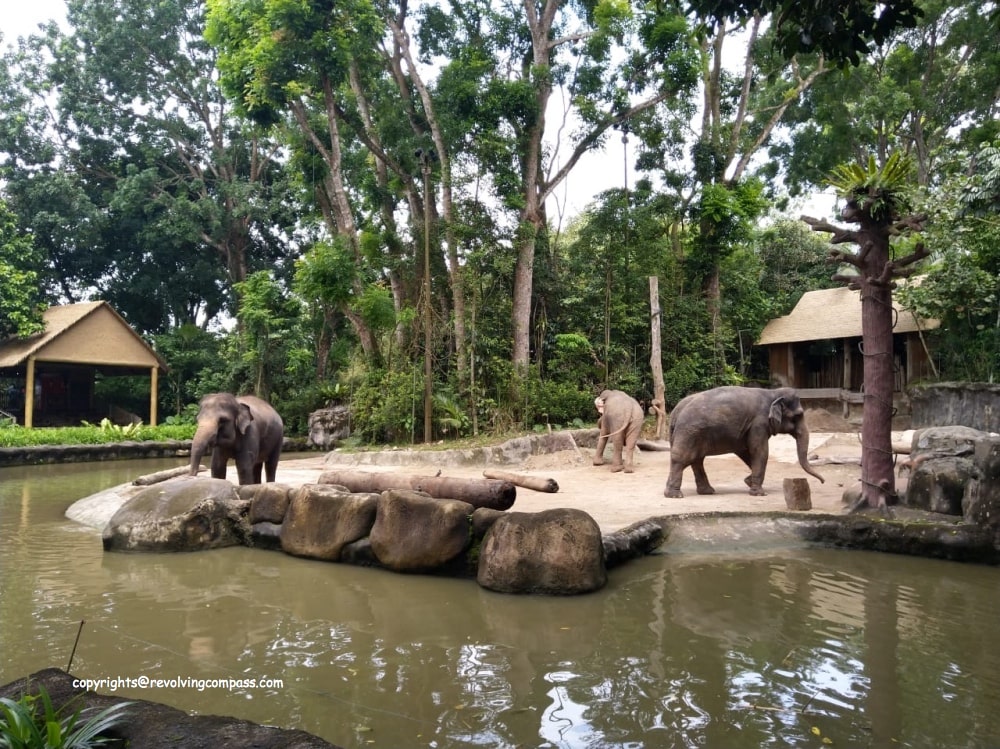 In Conclusion
The year couldn't have ended on a better note. Since the last destination was the one that is going to remain fresh in our little one's memory for a long time to come. (Until we take her somewhere which her child heart likes even better). honestly We hoped to travel more and conquer more destinations. But somehow, that couldn't be possible this year. But, we do have big plans for the coming year. And we hope to once again cover much more ground this year with our ambitious travel plans. We would like to take this opportunity to thank all our readers, who have been a part of our travel stories and journeys. Who inspire us to share our travel stories with them and keep exploring more and more wonderful locations.
Wish you all a very happy new year 2019!!