Kumarakom is a small town located on the backwater lagoons in the southern state of Kerala, India. It is famous for it is natural beauty. As well as proximity to a lot of other beautiful places in Kerala. We decided to spend one weekend in Kumarakom, unwinding from the hustle and bustle of life. And it really turned out to be wonderful. Although we have been to many other beaches in India that includes spending a week long Goa vacation, exploring things to do in Mahabalipuram,  exploring Pondicherry in 2 days, Alleppey and others. But, we found Kumarakom to be very serene and laid back in comparison. Moreover, we discovered that there is a lot more to do in Kumarakom, which we never knew of before we reached the place. So, here's a list of top things to do in Kumarakom, Kerala.
Unwind in a beautiful resort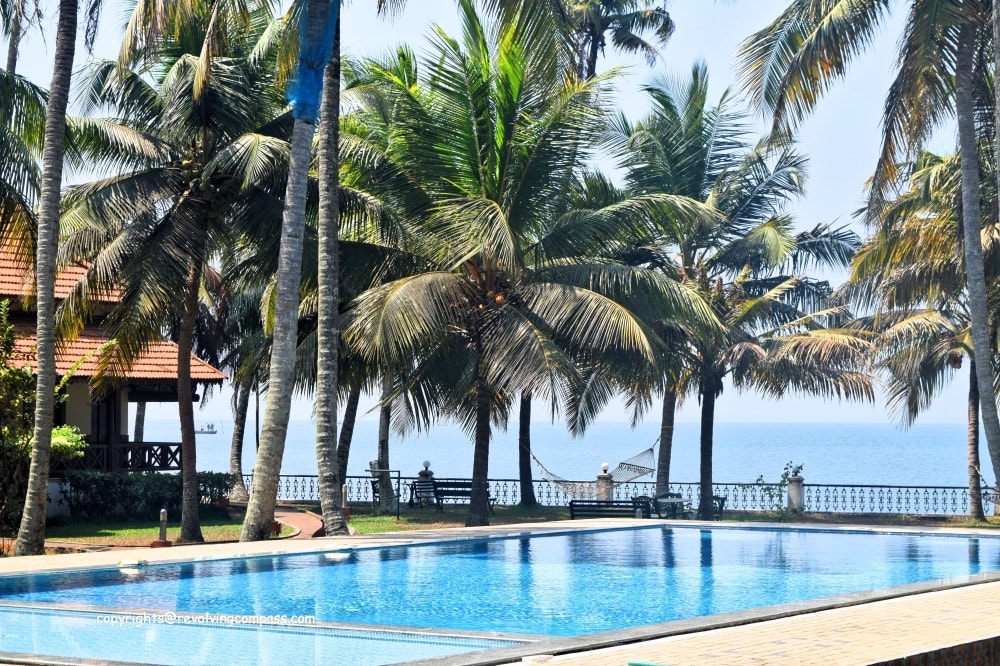 The peaceful atmosphere for Kumarakom will immediately take you in for an unwinding and relaxing vacation. Actually, this is exactly the kind of vacation we had here. In between our trips, we always try to including this kind of unwinding holidays. Like we did last year in Coorg , The Peepal Tree Kabini and on our trip to Yercaud. Now, we did that in Kumarakom. The backwaters of Kumarakom, particularly the banks of the Vembadan lake, are lined with beautiful resorts. And these range from the economy to the luxury range.
You will easily find the likes of Vivanta by Taj, Lemon Tree, Coconut Lagoon and various other resorts here. Most of the resorts have lush green lawns with outdoor sitting arrangements, coconut grooves with hammocks, vast swimming pools and beautiful cottages. Just relax, sleep, listen to the chirping of the birds, watch the boats go by on the lagoon, read a book or simply do nothing. Enjoy the warm hospitality of the resort and forget about all the worries of your daily life while you are here. The place is simply like a heaven for those yearning to take a break from the chaotic daily life and just relax. And it is also a favorite amongst honeymoon couples. Thus, overall, unwinding is one of the top things to do in Kumarakom.
Experience a houseboat stay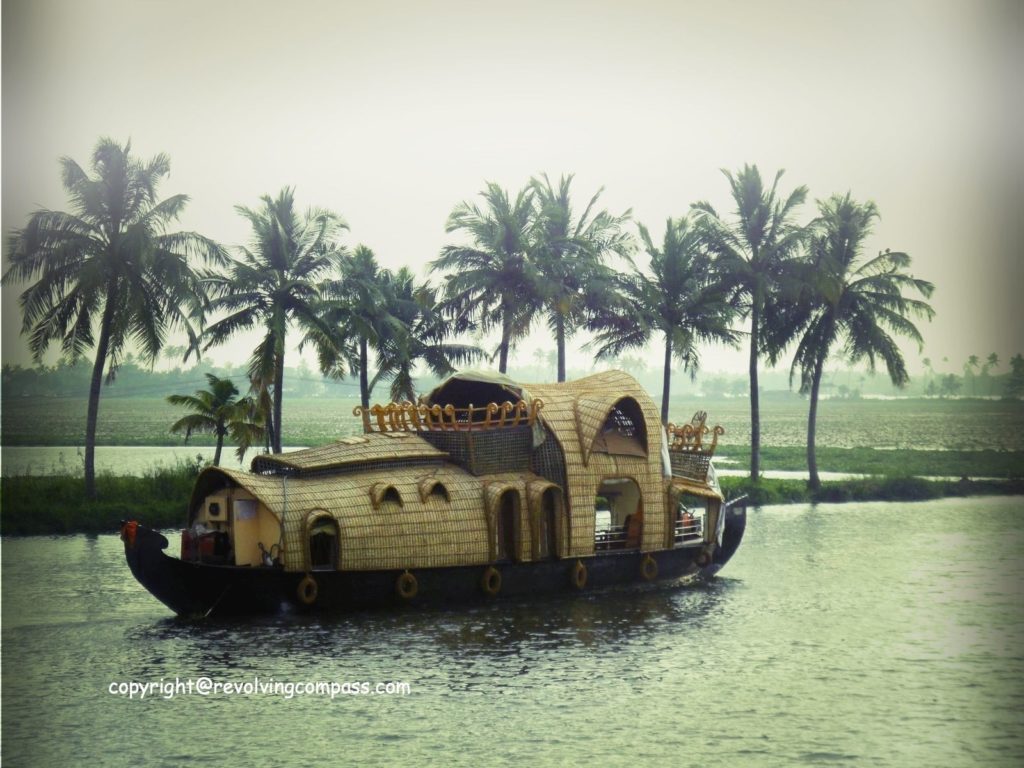 The houseboat experience of Kerala is one unique offering across India. Fondly referred to as the Venice of India, places like Alleppey, Kumarakom and the likes are famous for their backwater lagoons, canals and boats on the canals. But what makes them really unique is the houseboat experience. There are many providers offering overnight houseboat experience in Kumarakom as well. And many a times, the resorts themselves have tie up with these providers. So, that means the houseboat will come to your resort and you can onboard from there. We had a really extensive and unforgettable houseboat experience in Alleppey years before.
Checkout: 10 things to do in Alleppey
And we bet, the Kumarakom houseboats looked equally beautiful and luxurious. The houseboats come in different sizes, with the number of bedrooms varying from 1-6. And you can pick the one as per your requirement. You will have a cook and a driver onboard with you to serve your needs. And you can enjoy a relaxing day either on the deck or in your bedroom, feeling the waves and the cool breeze as the houseboat takes you through a tour of the vast lagoons. Thus, a houseboat experience is another must have in the list of things to do in Kumarakom.
Go boating on the backwaters and lakes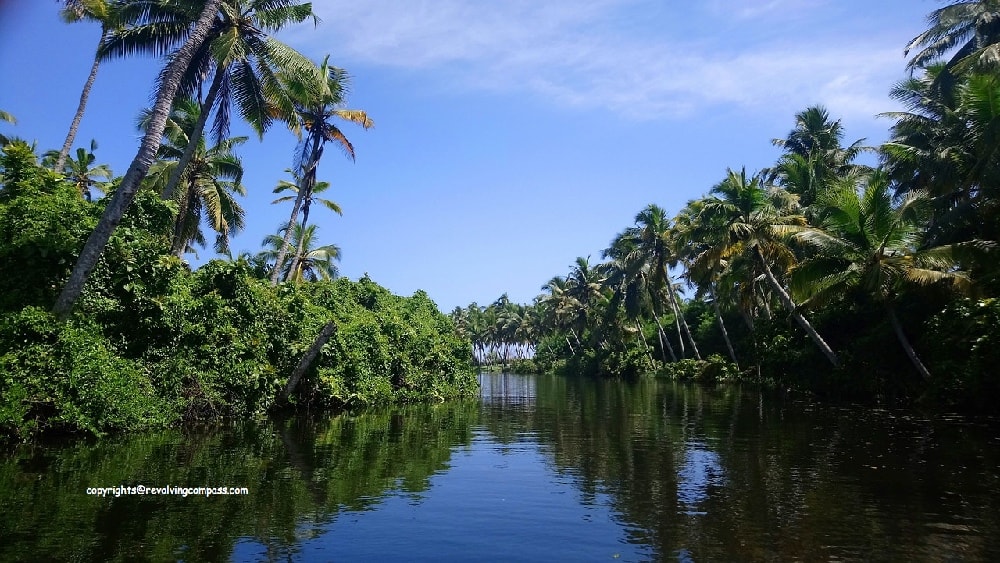 If you are not in for an overnight stay in a houseboat (Although highly recommended), due to lack of time or any other constraint, don't be disappointed. The backwaters of Kumarakom have got something else on offer for you. You can as well take a boat ride on the lagoons. The boat sizes vary and so does the duration of the ride. Your resort might offer you a number of choices and you can choose one from them based on your convenience. A boat might be a simple boat, manually operated or a "sikara", a little more luxurious one with seating and sometimes even a day bed.
Sikaras are mostly motor operated. You can take a ride of the whole lagoon through these boats in a short duration of as less as an hour. And the experience is one of a kind. Particularly as you enter the narrower canals, lined by the local houses. And that is where you get to see the life in the villages go by while you row through the canal. You will see people doing their chores, some fishing, some washing clothes or utensils, others just relaxing in their backyards by the canals. And this experience is what makes this boat ride a must do among the list of things to do in Kumarakom.
Go fishing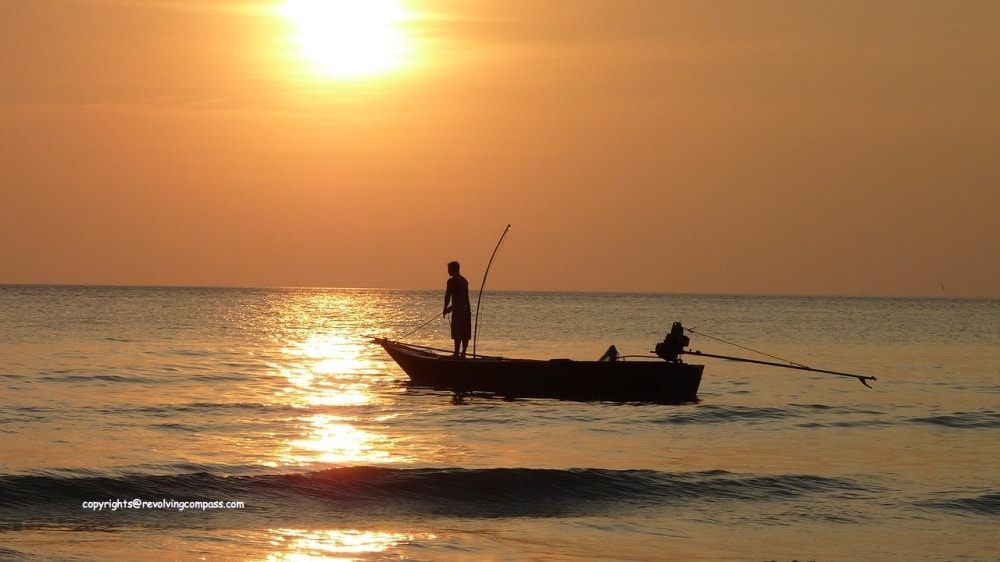 Fishing is a major activity in the backwaters of Kerala. So, if you like fishing, you can try some here. Often on houseboats, or, when your resort is located right on the backwaters, you can spend some time trying your hands-on fishing. When we were at the houseboat, our cook had caught fresh fish from the lake and cooked a meal for my husband. And even after years he fondly remembers that event. So, in short, if fishing is in your list of things to do in Kumarakom, you are going to enjoy it for sure.
Take an Ayurvedic Massage
Kerala is famous for it's Ayurvedic massages. You will find specialist in every nook and corner. And most of the resorts in Kumarakom have on premises spa. So, don't forget to add an Ayurvedic massage in your list of things to do in Kumarakom. There are different types of massages. The most famous ones being Shirodhara, Neck and Back massage, Foot Massage, full body massage, head massage etc.
Most of the time, the oil used for massage in Kumarakom is coconut oil, along with other Ayurvedic oils mixed in it. The aroma is shooting. And the massage really does good to the blood circulation in the body. Many specialists know very good acupuncture techniques. They are sure to make you feel very relaxed. If your muscles are strained or tired, or If you just want some boost-up, these massages are the one for you. So, I would highly recommend adding a massage in your list of things to do in Kumarakom.
Watch a sunset over Vembadan lake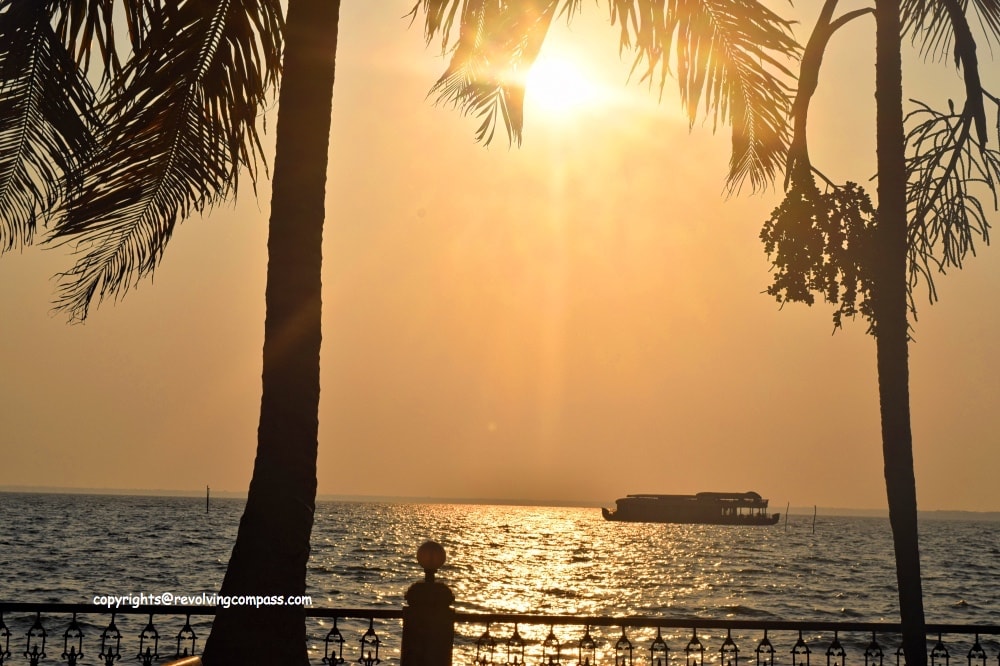 Looks like we are going to have a lot of endeavor with sunrises and sunsets this year. After watching the most bespectacled sunsets in the Thar Desert in Jaisalmer at the beginning of this year, we soon found ourselves watching yet another one over the backwaters of Vembadan lake. Our resort, Cocobay Resort, was located right on the bank of the lake. And as a result, it provided for one uninterrupted sunset watching across the lake, over the horizon. If you are a sunset person, do add watching a sunset into your list of things to do in Kumarakom. Sit by the lawn and watch the sun go down the horizon gradually, changing colors. And don't forget to take a note of it's changing colors over the lake water which produce nothing less than a magical effect.
Visit the Kumarakom Bird Sanctuary
Located right in the town of Kumarakom, and a stones throw away from most of the major resorts, the Kumarakom Bird Sanctuary is one famous for it's migratory birds. Particularly in the month of November to February, a lot of birds flock here. The bird sanctuary is dense and full of trees of different kinds. You can get glimpses of some rare species here. Including the rarely sighted Kingfisher. So, do add a visit to the Kumarakom bird sanctuary in the list of things to do in Kumarakom while you are here. We happened to go here at the last leg of our trip, just before checking out from our resort. Since the resorts are located at a walking distance from the bird sanctuary. And it opens as early as 6:30 in the morning. So, it is highly recommended to visit here in the morning, before the sun becomes strong.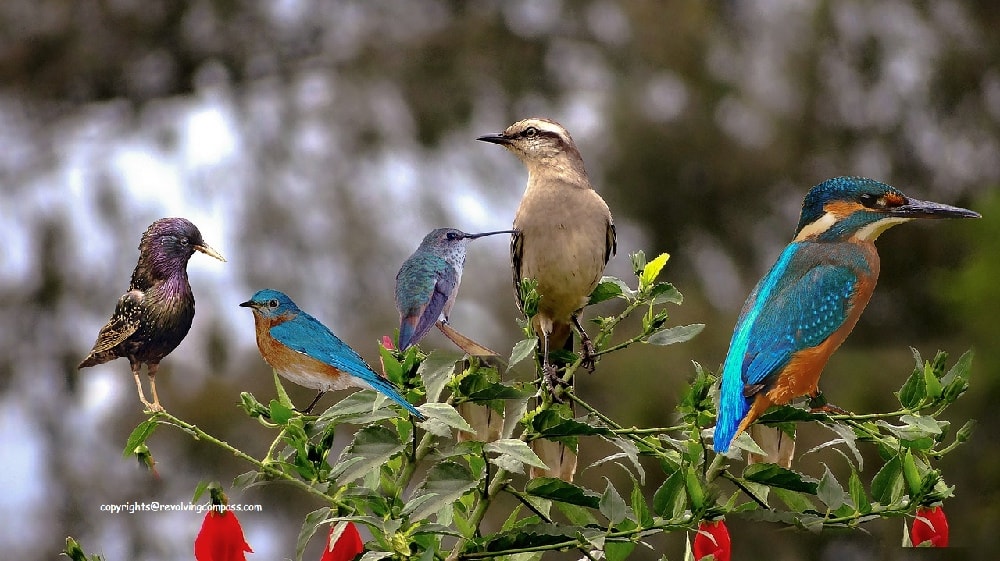 See the Aruvikuzhy waterfall
Kerala is famous for it's enchanting waterfalls as well. If you have got time, Aruvikuzhy waterfall should be in your list of things to do in Kumarakom. Since at a drive of almost 1.5 hrs from the village of Kumarakom, it makes for an ideal half day tour. Or a picnic getaway for half a day. There are other massive waterfalls as well in the area and it is best to visit them post monsoons since the volume of water at that point of time is the highest. However, most of the other waterfalls are a little farther the town of Kumarakom. And if you plan to visit them, you should plan for a longer stay in Kumarakom.
Take a tour of the village of Kumarakom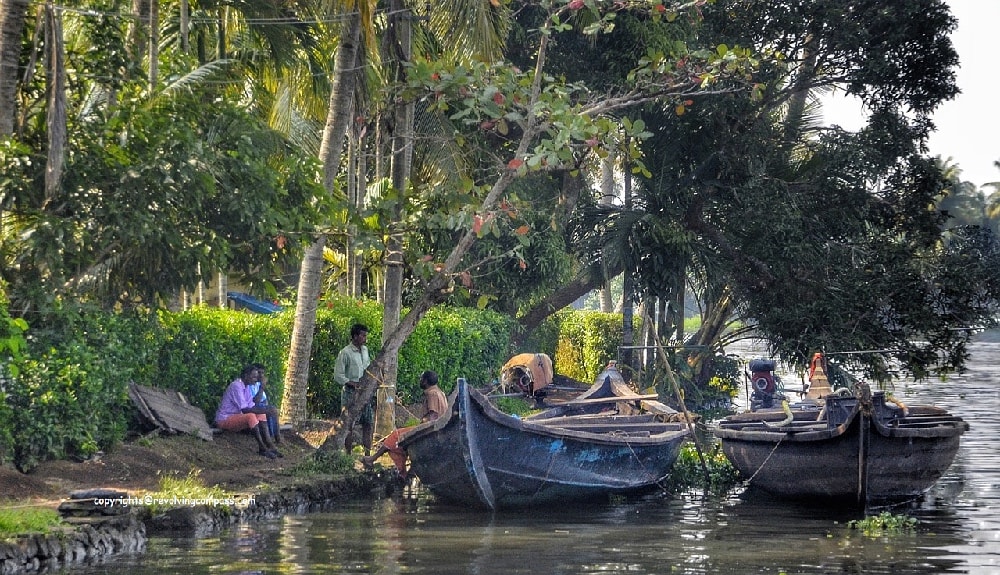 The life on the backwaters of Kerala is very different from life elsewhere in India. So, it's really interesting to visit the village, and see how the local people live. Most of the houses are located besides some canal. And the backyards often open to the canal. Many locals also have their own private boats on which they commute to work and for their daily chores. Fishermen sit by the canal since morning on a weekend and try to catch some fresh fish for the afternoon meal. While you will often get glimpses of local women doing their household chore by the sides of the canal.
One thing that remains unchanged over all is the warmth and hospitality of India. As you walk through the streets or you row in a boat through a canal the locals are going to meet and greet you with so much warmth in their eyes. And a lovely smile at their face. I assume life would not be as easy here as in a landlocked town. Yet, it's wonderful to see how well they have adopted to it, and how they are making the most of whatever nature has provided to them.
Go to Vagamon hill station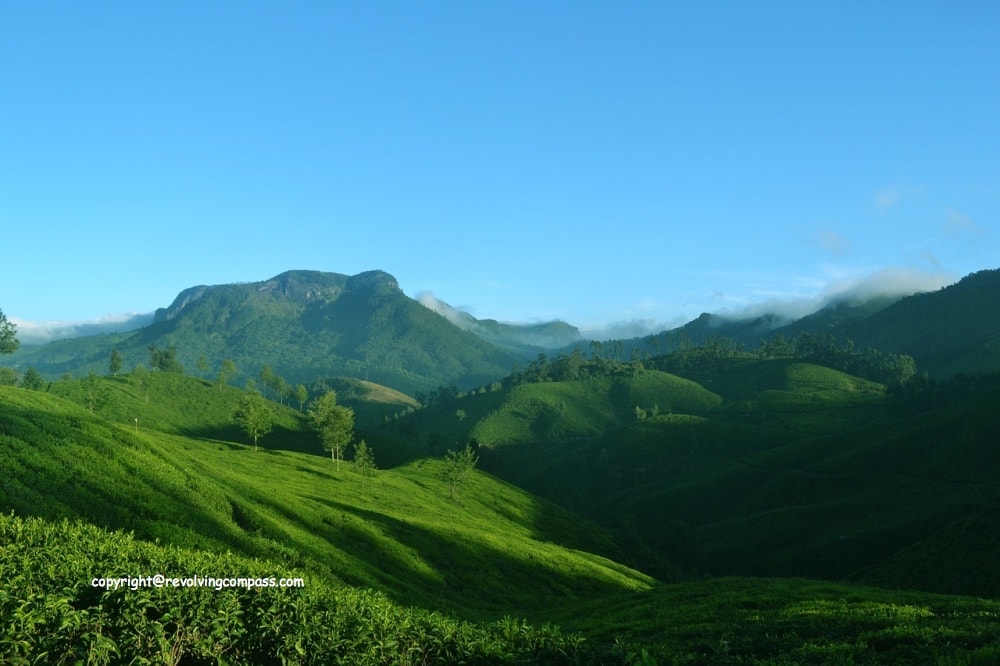 The hill stations of Kerala are as beautiful as the beaches and the backwaters. We know it very well, since we went to Munnar years back. And ever since, in all our chats on hill stations, the beauty of Munnar always gets a mention. Vagamon is another beautiful hill station, at a drive of almost 2.5 hrs from Kumarakom. So, while staying in Kumarakom, you would like to experience a difference of terrains for a day, head to Vagamon for a day trip. The hill station is small, lush green and an offbeat destination. Thus, you can expect less crowd. Eat at one of the numerous restaurants here, and walk through the lush green meadows. Enjoy a picnic on the green plateaus and interact with some locals. So, go ahead and add a day trip to Vagamon in your list of things to do in Kumarakom in case you are going there with more time at hand.
Tips on visiting Kumarakom
Kumarakom is at a distance of ~70km from Cochin. You can reach Cochin by air or by train and then from here, take a taxi to Kumarakom.
The nearest railway station from Kumarakom is Kottayam, which is almost ~15km from Kumarakom.
Most of the resorts are well equipped with basic facilities like food and drinking water, so, you need not worry about these. And most of them also have multinational cuisines including north Indian, south Indian, Chinese, authentic Kerala cuisine, continental and Italian to name a few.
Mostly, the resorts are able to arrange for a host of activities including boat riding, houseboat stay, Ayurvedic massage etc. So, you have to just reach there and inform them about your plans. These, however, come at an additional cost.
Carry comfortable cotton cloths, summer wears, with you. Since the place is slightly humid and hot. But not uncomfortable.
Don't forget to pack your swim wears with you.
In most of the resorts the staff understand English as well as Hindi, the national language of India. So, mostly communicating is not a problem.
Ideally a 2 nights trip should be enough for enjoying a peaceful break in Kumarakom. It can include boating, fishing, visiting the nearby village and bird sanctuary. But if you have more time in hand you can include more nearby places in your list. And you can do day trips to these places.
You might as well like
A scenic drive from Cochin to Munnar
6 must see places in Munnar, Kerala