Jodhpur, aka, the famous blue city of Rajasthan, India doesn't need any introduction. It is a favorite amongst tourists and travelers. And why not? It is a destination perfect for both solo and family travelers. Also, Jodhpur has so many places of interest and such mouth watering cuisines to satisfy your taste bud that time just flies once you enter Jodhpur. People flock here both solo and in groups or with families and at times spend even months in this beautiful city before heading back.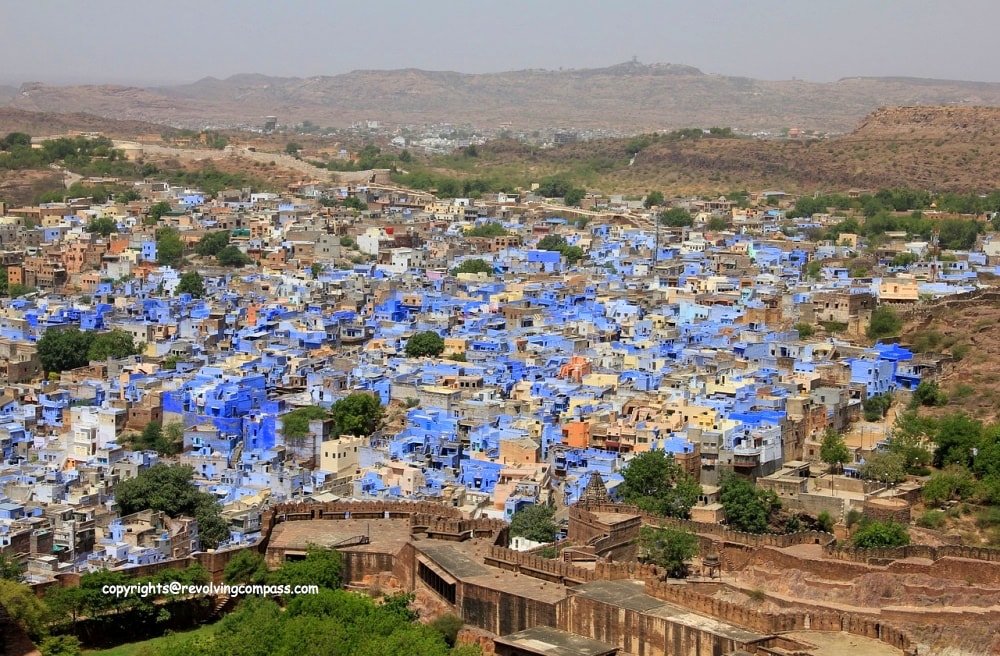 But, what if you are like us, who have to travel along with managing a day job which means you only have 2 days to spend visiting Jodhpur? So, here's the good news. Last winter we spent 2 days in Jodhpur exploring this beautiful city. And we felt, although not completely enough but still 2 days are a good amount of time to visit most of the iconic places and get a good vibe of the city of Jodhpur. So, Let us tell you, from our experience how best to spend 2 days in Jodhpur.
How best to spend 2 days in Jodhpur
2 days are definitely not sufficient to visit most of the places. We, however, have come to accept ourselves as time poor travelers. Hence, many a times, we spend 1-2 days in one destination and then move on to the next. What we firmly believe is that when you have got only that much time to spend at a place and time is ticking, it is best to make the most of your time. Like we have done on several of our previous trips, including those to Pondicherry in 2 days, Ooty, Mahabalipuram over a weekend, Florence, Venice through a hop on hop off trip, Rome, Amsterdam through a walking tour (including a trip to the Keukenhof Tulip Gardens) and now Jodhpur, to name a few. So, let us lay here a plan for you to spend 2 days in Jodhpur, based on our experience.
Day one of your 2 days in Jodhpur
The major attractions of Jodhpur include the Mehrangarh Fort, Rao Jodha Park, Jaswant Thada, Mandore Gardens, Kaylana lake, Bal Samand Lake, Umaid Bhavan Palace and Ghanta Ghar (Clock Tower). So, here, in this post, we focus on an itinerary of 2 days in Jodhpur that covers most of these places. But while you take this itinerary, don't forget to soak in the details and connect with the culture and tradition of Jodhpur. For instance, when you visit the Mehrangarh Fort, don't forget to have a view of the blue houses in the city. Or, when visiting the Ghanta Ghar, don't forget to try some mouth watering local cuisines or some street shopping around the place.
Mehrangarh Fort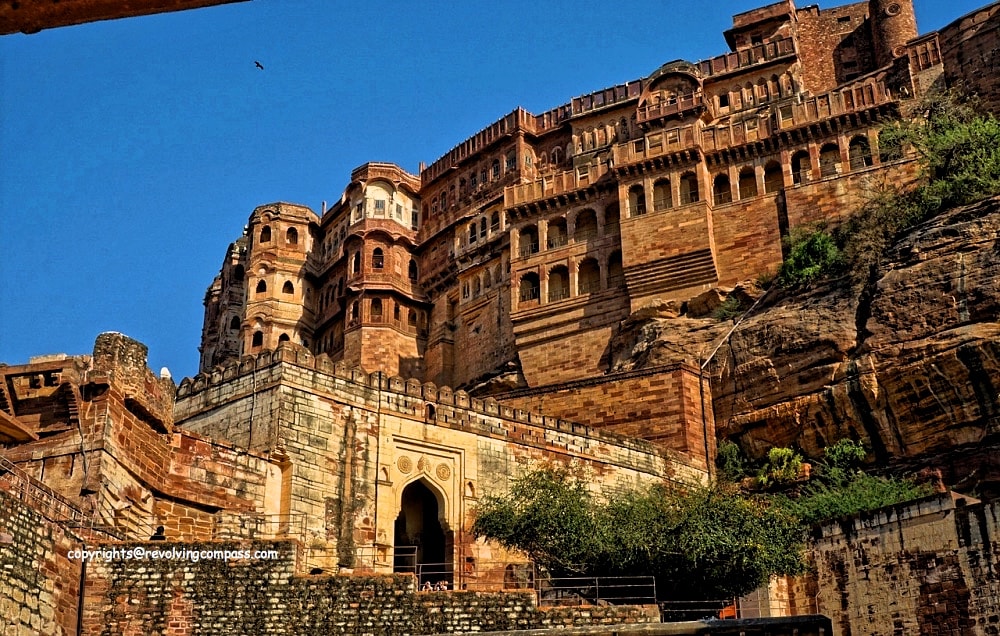 Post breakfast proceed to Mehrangarh Fort, the major attraction of Jodhpur. It is good to reach here as early in the morning as possible as the fort becomes crowded afterwards. The opening time is 9:00am. If you reach here by this time, it means you will get your entry tickets immediately, without having to wait in a queue. You can also hire either an audio guide or a guide in person. Mehrangarh fort is built by Rao Jodha, the founder of Jodhpur. It depicts a fine example of robust forts from the fourteenth and fifteen centuries. As of today, it is one of the best maintained forts in India. You will find every corner of the fort neat and clean, staffs well aware of their duty and guides well versed with the whole fort. You might as well spot some renovation work going on.
After having visited Mehrangarh fort, you can have lunch in the restaurant near the fort entrance / exit gate. As you start your journey back from the fort, don't forget to stop and have a look at the city of Jodhpur from the higher hills where the fort is situated. This part of the city is the oldest, and most of the houses are blue, producing a beautiful scenery. That's why Jodhpur is called the "blue city".
Rao Jodha Park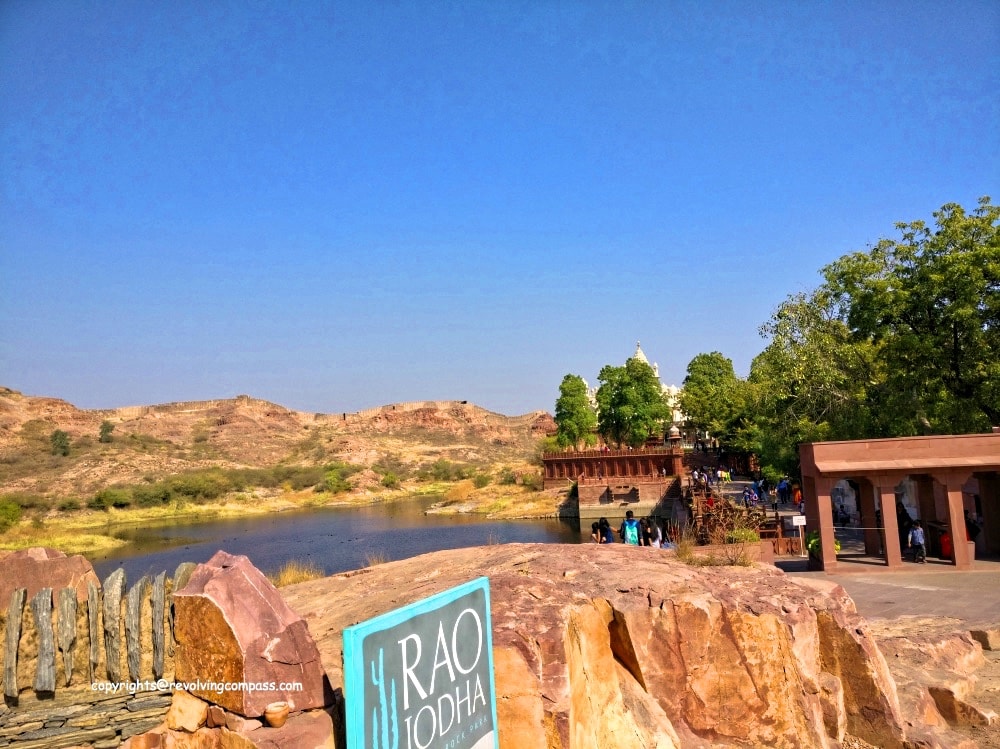 Rao Jodha Park is your second spot to visit on the first day of 2 days in Jodhpur. Since, it is the closest to the fort. Although a recent addition to the otherwise old area of Jodhpur, it was built in 2006 to restore the ecosystem of a wasteland in the region. You can see here various species of plants which are suitable to the desert climate. These native plants thrive well in rocky surroundings. Once an almost barren land, the park is now beautifully landscaped and very well maintained.
Jaswant Thada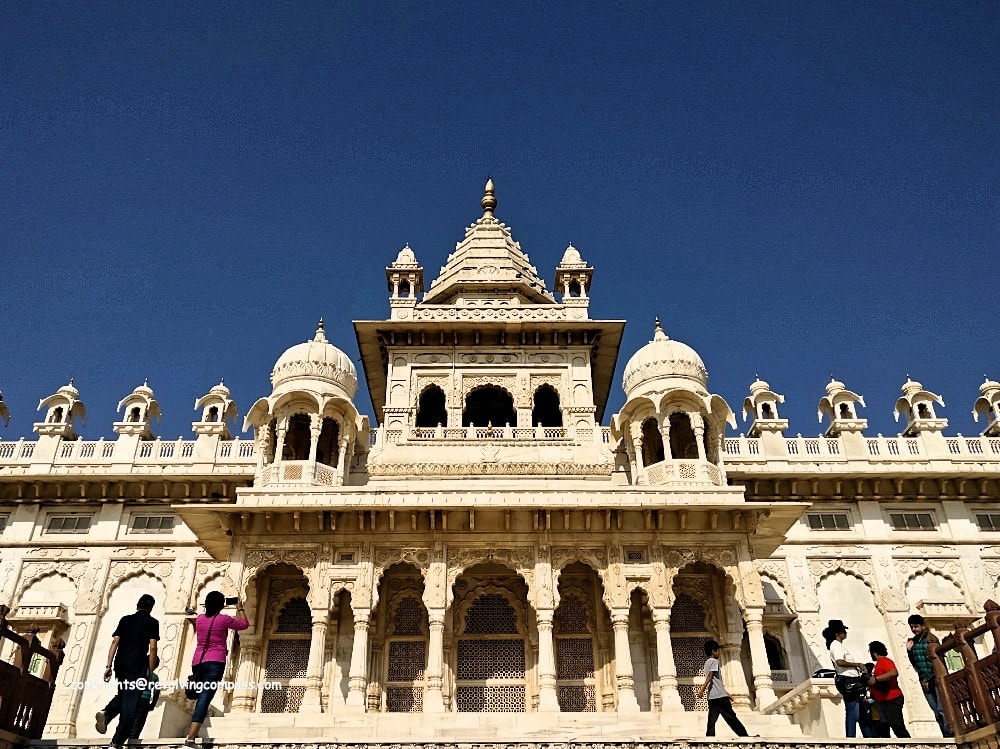 Jaswant Thada is the cenotaph of Maharaja Jaswant Singh II, built in his memory by his son. There are 3 other cenotaphs located in the premises of Jaswant Thada. It's located on an elevated plateau. And is made of fine marble with very intricate work. The garden around the cenotaph is very well maintained, producing an oasis of green in the middle of a rocky geographical region. At the entrance of Jaswant Thada is a beautiful lake and some really instagram worthy spots on it's banks.  Near the entrance you will find a small counter selling much needed refreshment options like fresh juices and iced tea.
Mandore Gardens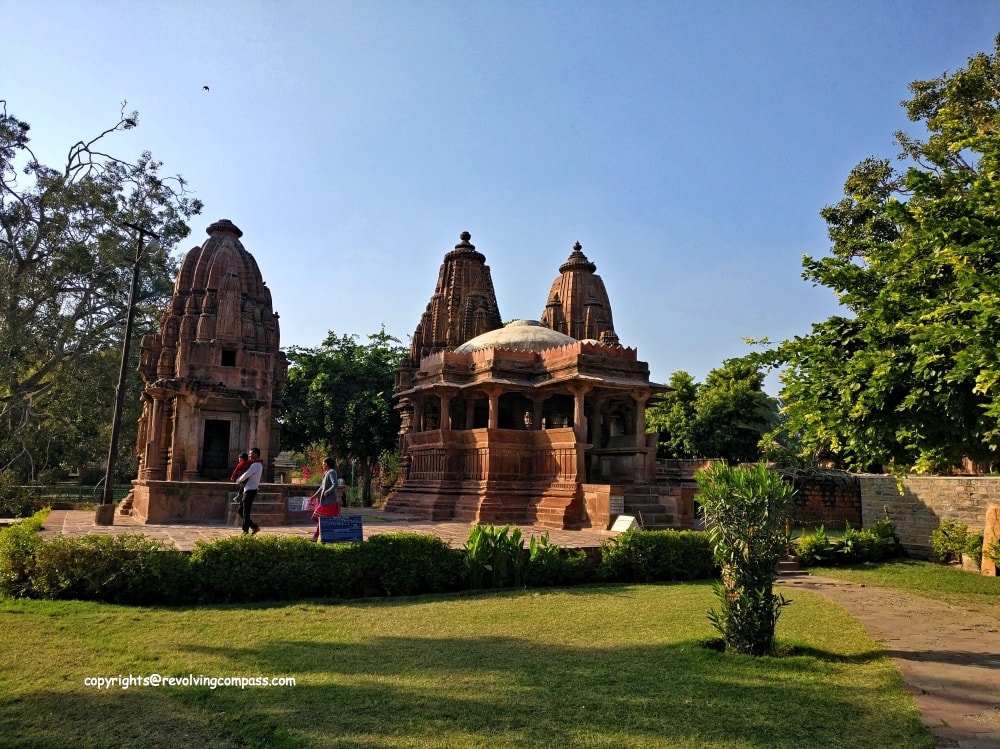 Mandore is the old capital of Jodhpur, which was later abandoned by the Maharajas as they moved to the newly constructed and more robust Mehrangarh Fort. Although you can find mentions of Mandore in eras much older in history, including the Ramayana. It's a refreshing garden around the cenotaphs of the Maharajas of Jodhpur. Although, it can do with a little more maintenance. As you enter the Mandore Gardens and walk towards the cenotaphs, you will be greeted by large groups of monkeys, for once, making you feel like you are in the monkey forest of Ubud. Next, as you lay eyes on the cenotaphs you will see their resemblance to several ancient temples, particularly those of Angkor Watt. It's a very worthy spot for photographers. Believe me, you will get some of your best shots here.
Day 2 of your 2 days in Jodhpur
Kaylana Lake
Start the second day of your 2 days in Jodhpur early on. Take a ride to the Kaylana Lake early in the morning, before breakfast. Catch up with the beautiful sunrise here, if possible. And return back for breakfast. Or, have your breakfast on your way back into the city. Although a manmade lake built by Pratap Singh in 1872, it is a huge one. It spreads over 84 square kilometers. The lake is also a paradise for bird watchers as they can spot some rare species here. And if you are someone who likes bird photography, this is the best spot for you in Jodhpur for the same.
Umaid Bhavan Palace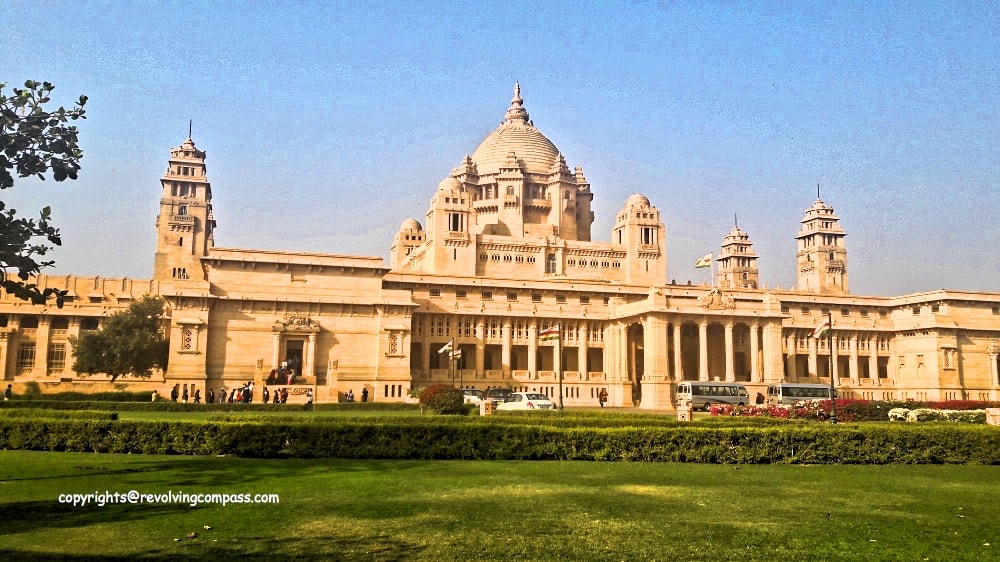 The home to the royal family of Jodhpur, Umaid Bhavan Palace is one of the largest private residences in the world as of today. It has a total of 370+ rooms. A part of this palace is managed by the Taj Hotel Group. While in other section, there is a small museum also. The museum has a fine collection of artwork, crockery, silverware and gold artifacts that once decorated and were used in the royal residence. On the other side of the palace lies a small car museum – a vintage collection of cars. Which definitely will interest car enthusiasts like hubby dear. The way to Umaid Bhavan Palace is also very well maintained with trails of blooming bougainvillea on both the sides and in the center. Visit here after breakfast and spend around one to one and half hour here looking around.
Ghanta Ghar and Sadar Market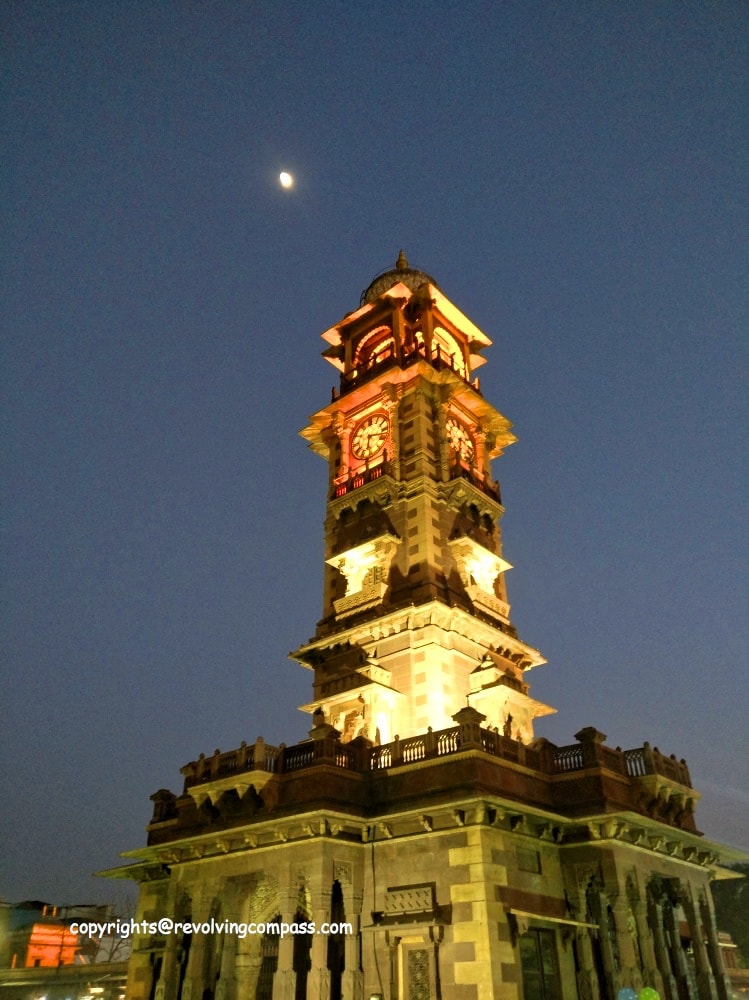 From Umaid Bhavan Palace, you can next proceed to Ghanta Ghar and Sadar Market. You can have lunch in this area. Since there are several restaurants and even road side outlets here. This is the perfect place to try some cuisines of Jodhpur, particularly the street food like samosa and jalebi with rabri and very famous makhaniya lassi. There is a particular samosa outlet named Shahi Samosa which is particularly famous. And another outlet named Shri Mishrilal is famous for its Lassi. The Sadar Market is also the main market of Jodhpur, so, in case you want to do some shopping here, you are in the right place. There are 3-4 government emporiums on the main road, which are your best bet if you don't believe so much in the art of bargaining.
At one end of Sadar Market lies Ghanta Ghar – the old clock tower of Jodhpur. As evening approaches, the square near Ghanta Ghar gets abuzz with activity. Vendors setup street side stalls selling various souvenirs and other items that Jodhpur is famous for. Near the Ghanta Ghar, there is a small step well as well which you can visit.
Bal Samand Lake
Another manmade lake around Jodhpur, Balsamand Lake lies on the Jodhpur-Mandore road. The lake is a famous picnic spot. So, visiting it after the Sadar Market gives you the perfect opportunity to pack some mouth watering delicacies from the market and head to the lake for a quick picnic. And while you picnic, catch the scene of a beautiful sunset across the lake. This will bring you to the end of your 2 days in Jodhpur. And we are sure you will feel you could make the most of your 2 days in Jodhpur.
Beyond 2 days in Jodhpur
If you have got time beyond 2 days in Jodhpur, there are some more treats for you. First of all, you could split the 2 days itinerary posted here over 3 days. And then you could visit some really wonderful places around Jodhpur in the next few days. Like, spend a night into the Thar Desert in a desert camp. Or, visit Osman and the infamous Jain Temple of Ranakpur. You can also spend a night in one of the nearby villages, in a homestay and get a proper local authentic experience and get to know the culture of Jodhpur better.
Summary of 2 days in Jodhpur
| | |
| --- | --- |
| Day 1 | Places to visit |
| 9:00am – 12:30pm | Mehrangarh Fort |
| 12:30pm – 1:00pm | Lunch @ Mehrangarh Fort |
| 1:00pm – 2:30pm | Rao Jodha Park |
| 2:45pm – 4:00pm | Jaswant Thada |
| 4:30pm – 6:00pm | Mandore Gardens |
| Day 2 | |
| 6:30am – 9:00am | Kaylana Lake |
| 9:00am – 10:00am | Breakfast |
| 10:30am – 12:00pm | Umaid Bhawan Palace |
| 12:30pm – 1:00pm | Lunch |
| 1:00pm – 4:00pm | Ghanta Ghar & Sadar Market |
| 4:00pm – 7:00pm | Bal Samand Lake |
Some tips on visiting Jodhpur
Jodhpur is well connected to most of the major cities of Rajasthan including

Jaipur

, Jaisalmer and Udaipur by road as well as rail route.
Train tickets will need to be booked in advance. While for road journey, either bus tickets can be taken a little in advance, or a car can be hired from one of the many tour agencies operating in these cities.
Jodhpur has a hot climate for most of the year, like most of Rajasthan. So, the best time to travel here is between October to March. However the shoulder season of monsoons from August onwards is also a good time to visit, with less crowd around. Durning winter, in December and January, the nights can get really cold. You will need a warm jacket or sweater during the morning and evening hours.
There are many beautiful havelis and palaces in and around Jodhpur which have been converted into hotels now. However, for an authentic experience, it is best to stay in a homestay. On our visit to Jodhpur, we stayed in Jaswant Niwas Homestay, and had a wonderful time here.
Carry light comfortable cotton dresses since they will be best suited for the weather of Jodhpur, particularly during the day.
Also, wear comfortable shoes as there will be a lot of walking around for sight seeing, sometimes on cobbled and inclined pathways, particularly inside the forts.
Food, snacks and water are easily available where ever you go in Jodhpur, so, you need not worry about these at all. And the bonus is that most of the places are very economical for the taste and the ambiance that you will get.