Meghalaya is one of the north eastern states of India. Surrounded by the Indian state Assam, and the neighbouring country Bangladesh, it houses the Khasi, Jaintia and Garo hills. Pertaining to the structure of the hills and the climate of the region, clouds get trapped in Meghalaya and a lot of rainfall happens almost all through the year in certain areas. Thus the name "Meghalaya" which means "The abode of clouds" in Sanskrit. But there is so much more to Meghalaya than the clouds. Beautiful, dense and green meadows and forests, massive waterfalls, vast rivers and lakes with crystal clear water, mysterious caves, living root bridges and small beautiful villages that have well preserved their traditions and cultures, are a few to count on. In short, it's like a hidden gem for those who love nature and it's wonders.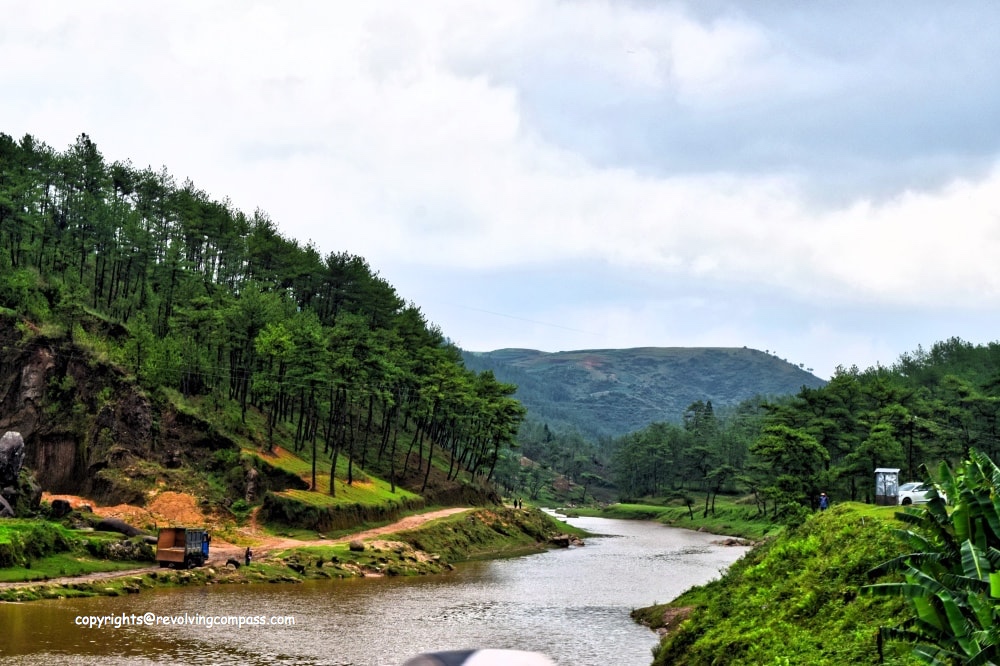 Our 4 day trip to Meghalaya
After having wonderful trips to the hills of both north and south India, we finally decided to head to Meghalaya. With memories of our trips to Shimla and Manali, Palampur, Coorg, Munnar, etc. still fresh in our memories, we found ourselves ready to explore north east India next.
As a result, we just had an amazing 4 day trip to Meghalaya. Friends were surprised to hear that we went to Meghalaya for just 4 days. And had a wonderful trip. On our 4 day trip to Meghalaya we had a taste of almost all the wonders that this place has got to offer. Apart from the specific sites, I must mention that on this 4 day trip to Meghalaya, our journey itself was nothing short of the destinations. As on every single day on this 4 day trip to Meghalaya, as we travelled through the winding mountain route, our eyes were transfixed on the beautiful green meadows, villages and forests that passed us one after the other. While the clouds played hide and seek with us. And we stopped randomly on the way to just let the waves of cottony clouds pass through us. Or just to soak in the beautiful surroundings.
Let us take you through the amazing 4 day trip to Meghalaya that we just finished.
Day 1 of 4 day trip to Meghalaya
Meghalaya has an excellent road network, however, it lacks a busy airport. Shillong, the capital of Meghalaya, is well connected by a 4 lane highway to Guwahati, the capital of Assam. The most convenient way to reach Shillong is to take a flight or train to Guwahati from any other part of India. Take one which arrives in Guwahati in the morning hours, preferably before 10am. We ourselves took a 3 hours flight to Guwahati and reached here by 9:30am. It is best to book a round trip cab from Guwahati to Shillong and use it for the full duration of your trip. We had booked an Innova from Guwahati. And we were on our way to Shillong by 10:00am. There is one very good veg restaurant on way from Guwahati to Shillong, Jiva Veg, where we stopped for lunch around 12:30 pm . Afterwards, we stopped on the way at Umiam Lake.
Umiam Lake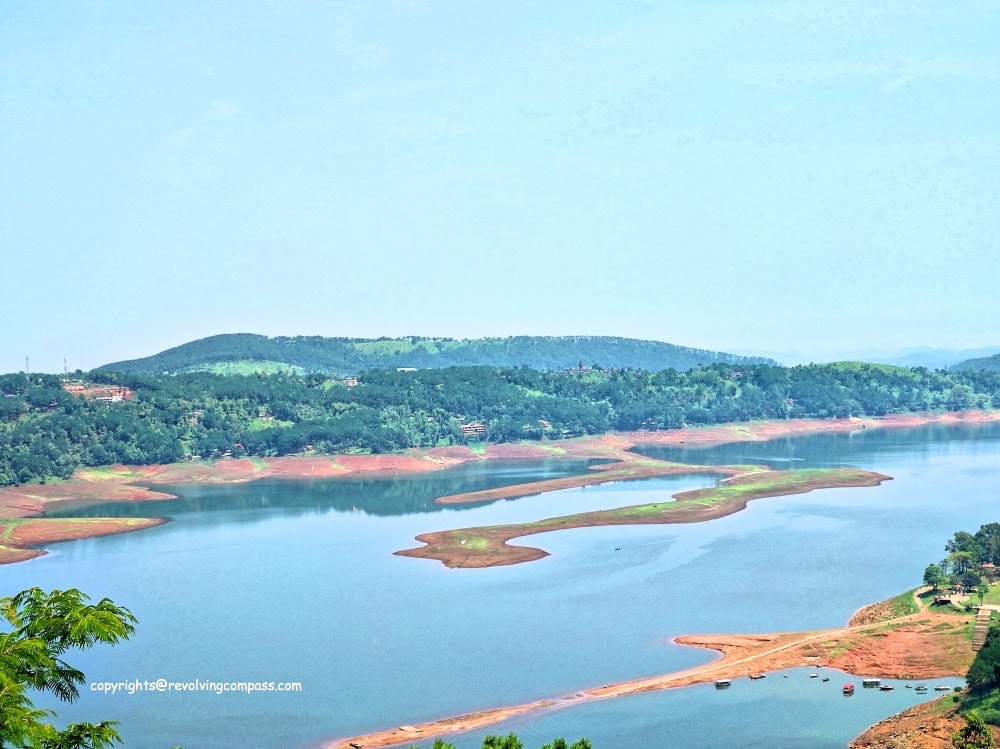 Umiam Lake is a vast and beautiful lake on the way to Shillong from Guwahati. Surrounded by the hills of Meghalaya, it produces a beautiful sight to behold, both from far and near. From the parking lot, there is a way to the lake through a landscaped garden, which has a small refreshment counter, restrooms and a small children's play area as well. One can do a speed boating, a streamer boating or just take a stroll along the side of the lake, which is as refreshing as ever.
Dew Drop Inn homestay
After having spent some good 1.5 hr at Umiam Lake, we proceeded directly to our homestay, Dew Drop Inn. We reached here by 4:00pm. After checking in into our respective rooms, we soon ventured on the terrace cum balcony of the homestay. Where there is a simple seating amidst beautiful flowers. We ordered some snacks and coffee from the in-house restaurant and enjoyed them as the temperature slowly dropped and the clouds in the sky turned denser. This homestay is located at a height from the main city of Shillong, thus providing an uninterrupted and beautiful view of the city at night, and the mountain ranges beyond the city during the day time.
There is an in house restaurant adjacent to the house, and a small kitchen inside the house as well, both with their own menu. After having a hearty snacks, we chatted and roamed around, took some rest, and had a light dinner at night before retiring to bed.
Day 2 of 4 day trip to Meghalaya
Having slept off early the day before and enjoying a very peaceful sleep, my eyes opened at 4:30am. I was surprised to see that the daylight had already spread in the sky and it seemed to be a bright day ahead. Today, we planned to proceed to Cherrapunji after breakfast. We started around 8:00 am for Cherrapunji.
Elephant falls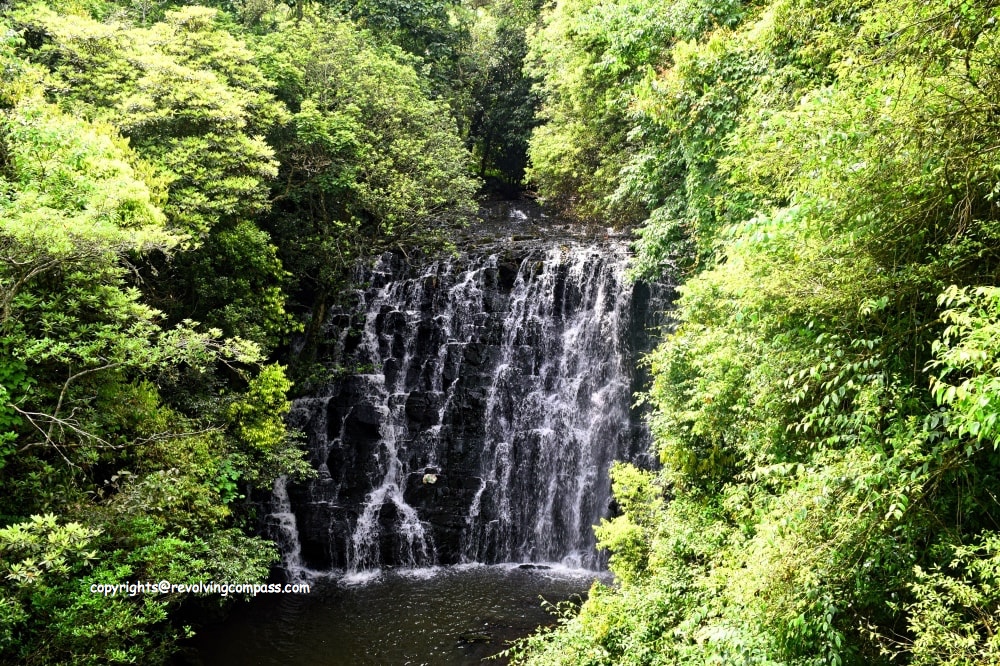 Just outside the city of Shillong, we stopped for a look at the beautiful elephant falls, our first official site of the day on our 4 day trip to Meghalaya. The falls have a good current. And they cascade in 3 steps from mountain top to the bed of the valley. There are stairs to go all the way to the bottom of the falls. Here, one can witness some other smaller streams joining the main waterfall. From here, we started back on our journey to Cherrapunji.
As soon as we left the city of Shillong, we started our ascent through the winding hills of Meghalaya. And here waves of clouds passing right through us greeted us. And beautiful meadows stretched all around. Hence, we stopped several times en-route on official as well as unofficial view points to experience this exceptional natural beauty. On one of the view points, there is a zip-lining setup, right across to beautiful green hills on the other side. We did zip-lining here before proceeding.
Mawsmai Caves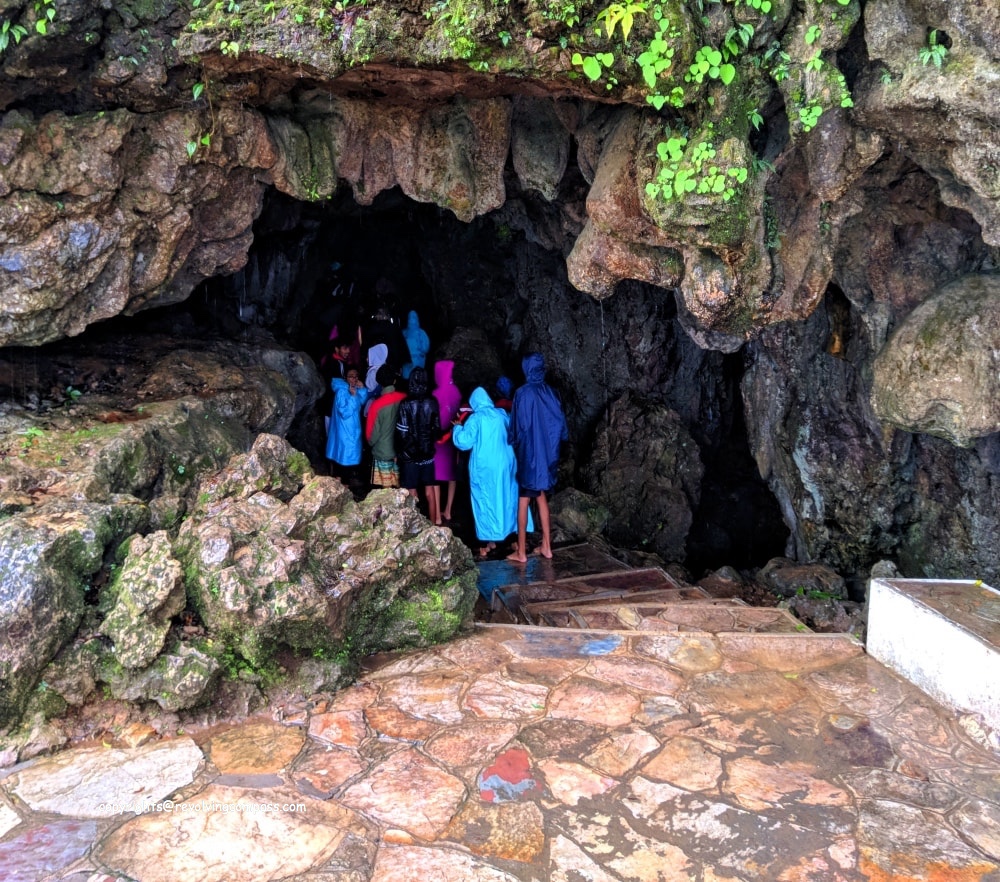 Our next stop was the Mawsmai Caves in Cherrapunji itself. Natural limestone rocks are the major attractions of these caves. And once inside, you will truly feel like an explorer. Although there are several other such caves in Meghalaya, these have been enhanced to make it easier for access to common people. Still it's a good bit of adventure to trek inside the cave, crossing narrow stretches, steep rocks, and small streams of waterfalls inside the cave. It won't be advisable to take very small kid along inside the cave as they might find it difficult to trek through it. Also, one should leave their shoes at the entry, where the tickets are checked, since it's difficult to trek on the watery rocks with your shoes on. Rain sandals are fine though.
Seven Sister Waterfalls
After the adventure of zip-lining and cave trekking, we were all hungry. Thus from the caves, we decided to head to the nearest decent restaurant. On the way we stopped to have a glimpse of the seven sister waterfalls. And on the opposite side of the highway was another beautiful stream of gushing water where we went down the stairs, all the way to the water. It was a beautiful experience. From here, we went ahead to stop at a Jain Restaurant for lunch around 2:30pm. The restaurant had a pre-pay system and it was pretty crowded. It took us a little over an hour to finish lunch and start off from here. We reached our homestay back around 5:00pm after having stopped through the mist and cloud at several places on the way to enjoy the views.
PS: Cherrapunji is credited to host the double decker living root bridge. However, it takes a good 4 hours or more to visit it and return back. Since it was just a 4 day trip to Meghalaya, we avoided visiting this living root bridge. But, if you have more days at hand, we recommend you stay overnight in Cherrapunji and visit the double decker living root bridge on the next day before returning back to Shillong or continuing directly on the next day trip from Cherrapunji itself.
Day 3 of 4 day trip to Meghalaya
The next day, we aimed to start off even earlier as we intended to visit Mawlynnong – the cleanest village of Asia, the living root bridge nearby and then finally the Umngot river at Dawki.
Living Root Bridge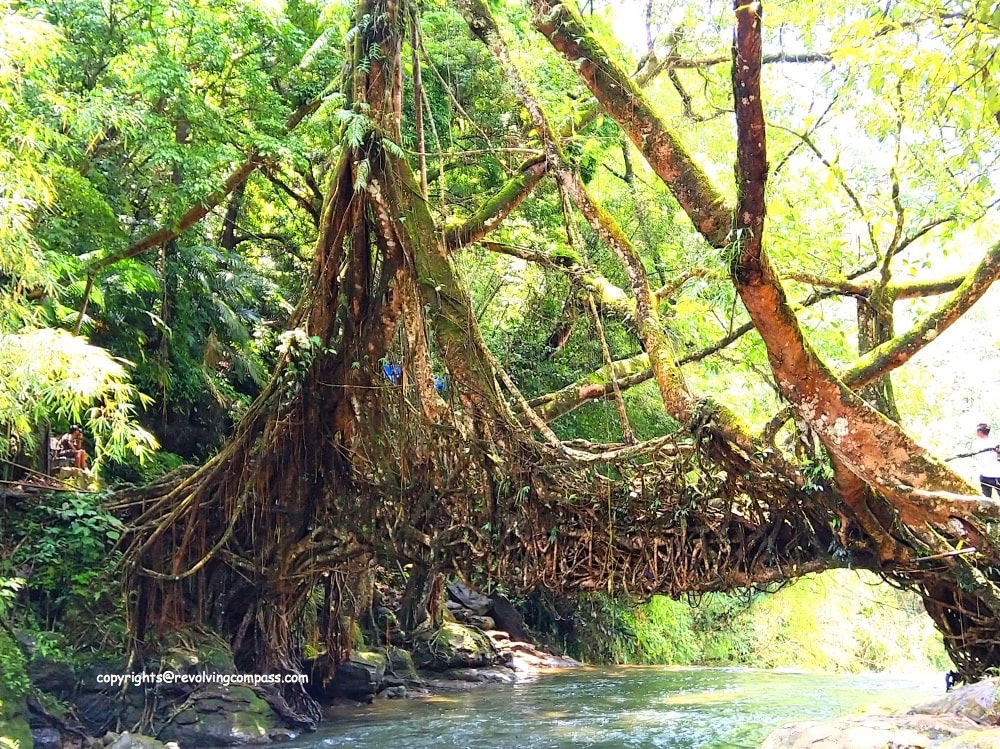 We stopped first at the living root bridge in Meghalaya. From the parking lot to the bridge there is a small trek of almost 10 minutes. And it passes through a small village. There are several small refreshment stalls on the way where you can buy drinking water, cut fruits or other packaged juices. The trek also helps build the thrill of stepping foot on the living root bridge. Nothing that one writes is going to do honesty to the feeling you will have once you set foot on this unique wonder of nature. It is not allowed to stand on the bridge, so keep walking. Cross the bridge to the other side, and then you can take the steps all the way to the beautiful clear stream of water that flows below the bridge. On the other side, you can trek further up to a beautiful view point which gives uninterrupted views of the plains of Bangladesh.
Mawlynnong Village
The village which is awarded the certificate of the cleanest village of Asia is definitely a must visit. It is just 2km from the living root bridge, so, next we visited here. Dotted with small houses, beautiful narrow streams of water flowing through lush greenery and beautiful bamboo tree houses setup as viewpoints, the village is nothing sort of a fairy tale place. Explore through it's lane. And have your lunch here, as there is no place for lunch after this point unless you hit the highway back.
Dawki & the Umngot River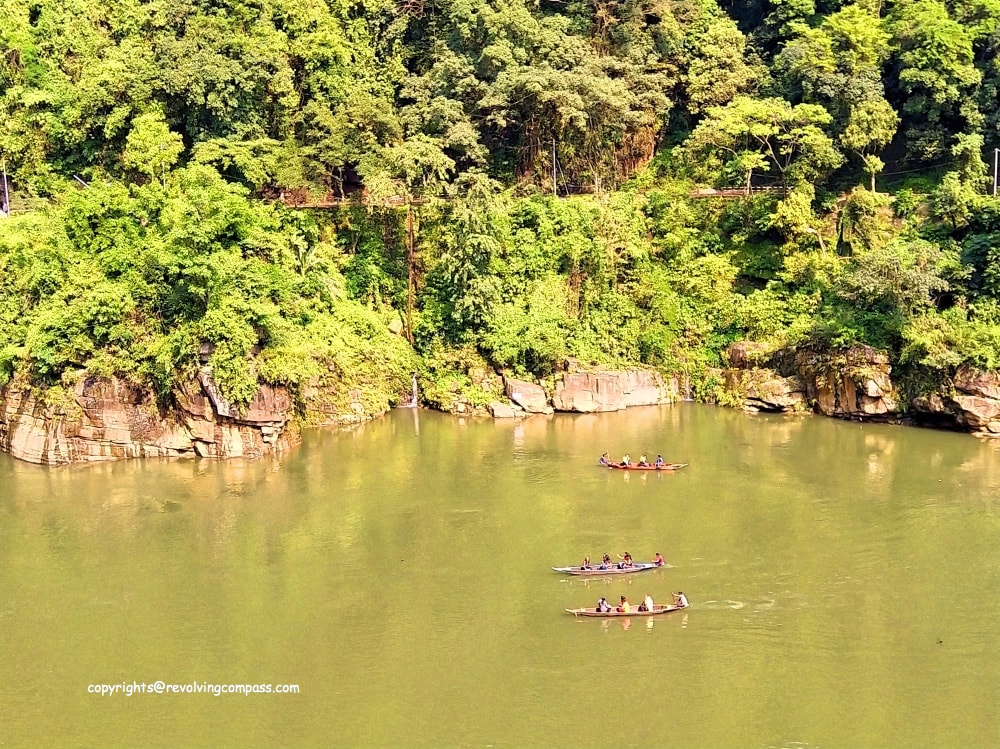 From here, we proceeded on the journey to Dawki. The roads at this stretch are not in good condition. But the scenery around more than makes up for it. You can see the plains of Bangladesh on one side. While the hill besides the road on the other side is dotted with numerous natural waterfalls. We counted well over 30 gorgeous waterfalls of Meghalaya, big and small. And stopped on some of the massive ones to experience them better. Finally, we got to Umngot River in Dawki. The river is not transparent at this time of the year. But the boat ride on the river was an experience of a kind. Once on the river, you feel you are in a different landscape altogether. And it will closely remind you of sailing between the islands of Thailand. And once again, you will cross several waterfalls along the mountain that lines the river. A tropical paradise indeed!
Bangladesh Border
After visiting Dawki, we crossed the bridge and took a 10 mins drive to the India-Bangladesh border. Visiting borders always has a different kind of bearing on us. As it somehow fills us with the emotions beyond descriptions. Similar was the experience of visiting the Bangladesh border. From here, we took to the main highway and returned back to our homestay in Shillong. On our way back, dense mist surrounded the highway, reducing the visibility severely. Hats off to our driver who drove patiently and safely through the testing and winding roads on the cloudy evening.
Day 4 of 4 day trip to Meghalaya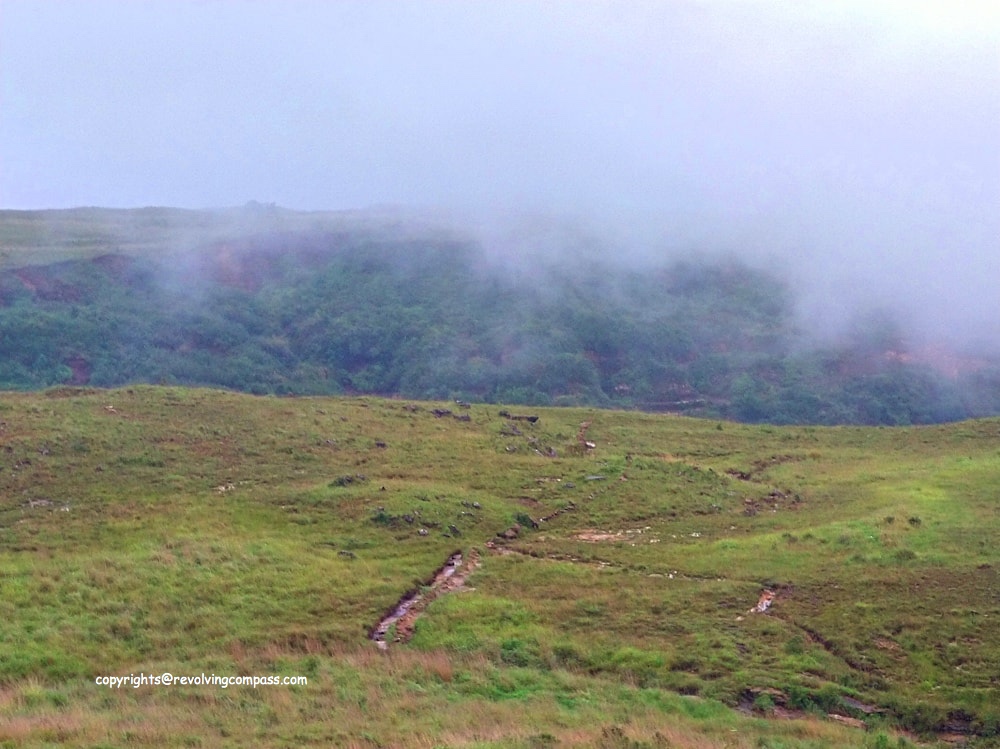 Finally arrived day 4 of our 4 day trip to Meghalaya. And we were in no mood to say goodbye. However, even Meghalaya wanted to show us a little more before we left. As, the morning today was a bit different. I woke up to thunders and dark hovering clouds around 5:00am. And then it rained heavily till 8:00am. After that beautiful sunshine greeted us. Shining on the wet roads and the mountains. There after, we finished breakfast a little more leisurely today. And then started on our way back to Guwahati around 10:00am.
On the way, we stopped at cafe coffee day for some refreshment around 12:00pm. But the refreshment proved to be heavy enough for us. So, we didn't stop further for lunch and headed directly to Guwahati airport. Finally, we reached here by 3:00pm to catch our 5:30pm flight on time. As the flight took off, we said goodbye to the views of the hills and the clouds hanging over them. Overall, it was one of the most memorable trips of the lifetime. And yes, it is very much possible to do a 4 day trip to Meghalaya. So don't let lack of time deter your trip any further. And if you have more time, include some more attractions across Shillong on your way.
Tips for your 4 day trip to Meghalaya
Carry light rain jackets with you because it can rain anytime in the Abode of clouds. We carried these kind of rain jackets with us on our trip.

If you have a kid with you, better carry rain coat for the kid. We are glad we carried one for ours and it proved helpful not just with sudden rains but also when we went near waterfalls.

Wear comfortable waterproof walking shoes or sandals.

Meghalaya can be visited all through the year. If you want to experience the clouds and the lush green vegetation and volumes of water in the waterfalls then the monsoon months are best for you.

However, if you want to experience crystal clear waters of the Dawki river then you should visit in the winter months before the rains start.

Don't stay in the city of Shillong if possible. The city is crowded and often faces massive traffic at the entry and exit of the city in morning and evening hours. The whole stretch of highway towards Cherrapunji is dotted with several homestays, so, stay in one of them, or in Cherrapunji.

Veg food is easily available at most of the places. Chinese food like noodles, momo, rolls etc. are available everywhere. Some high end restaurants offer north Indian and south Indian food as well. Non veg food is abundant all around.

If you want to take some souvenir with you back home, buy some small bamboo stuff like miniature furnitures, wooden stuff like miniature glass set, wooden kitchen items, and show pieces made out of wood.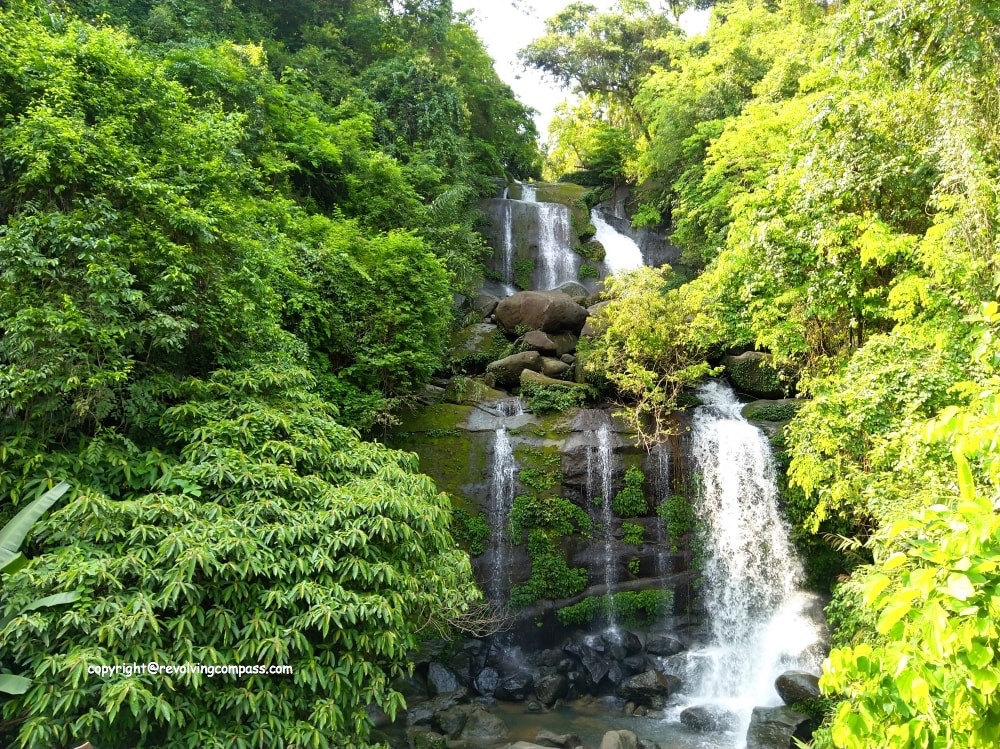 Summary of 4 day trip to Meghalaya
| | |
| --- | --- |
| Day 1 | |
| 9:30am | Arrival in Guwahati |
| 10:00am | Start from Guwahati to Shillong |
| 12:30pm – 1:30pm | Stop for lunch at Jiva Veg Restaurant |
| 2:30pm – 4:00pm | Umiam Lake |
| 4:30pm | Arrival at homestay |
| Day 2 | |
| 8:00am | Start for Cherrapunji |
| 8:45am | Elephant falls |
| 10:00am | Ziplining on the way to Cherrapunji |
| 12:00pm | Visit the limestone caves |
| 2:00pm | Seven sister waterfalls |
| 3:00pm | Lunch |
| 5:00pm | Back to homestay |
| Day 3 | |
| 8:00am | Start for Mawlynnong |
| 10:30am – 12:30pm | Visit the living root bridge and view point |
| 1:30pm | Lunch @ Mawlynnong village |
| 2:30pm – 4:00pm | Umgot river, Dawki |
| 4:30pm | Bangladesh border visit |
| 5:00pm | Back to homestay |
| Day 4 | |
| | After breakfast head back to Guwahati |
Conclusion
Earlier, we had a memorable trip to Shimla and a great couple of days amidst fresh snow in Manali, two of the enchanting hill stations of north India. Then an year later, we went to Palampur, once again exploring the mountains of North India. Furthermore, we have been to several hill stations in south India. Including Munnar, Ooty, Coorg, Chikmagalur, Kodaikanal, Yercaud etc. But, we must say, just as different the terrains and landscape of Northern Himalayas are from the Southern hills like Nilgiris. So, are the landscapes of Meghalaya. Overall, it's a unique experience, and a beautiful one to visit them. Do visit if you have not already. They are simply amazing.