We went on a day trip from Bangalore to Mysuru/Mysore in July 2010. And it was quiet a well spent day. Mysore is a major weekend getaway from Bangalore. Since, it is conveniently located at a driving distance of 2.5 hours from Bangalore. The place has all the different flavors of travel to offer – a small hill, temple, church, historical palaces, a refreshing garden, and a big zoo. When we planned our trip, we started early in the morning around 6AM to avoid getting caught in the city traffic. This was our first day trip post our wedding and thus a special one. We enjoyed it thoroughly. And thus we decided to pen down a perfect itinerary for you to enjoy a day trip to Mysore. So, here it goes.
6:00 AM
Starting from Bangalore
Start as early from Bangalore as possible. Off late, Mysore has also developed into a major economical and business hub of Karnataka. There are numerous vehicles complying on the Bangalore to Mysore route thereby increasing traffic a lot. So, the earlier you start, the better your chances of reaching Mysore on time and utilizing rest of the day for site seeing in Mysore. We started early in the morning. Thus, we were already in Mysore by 8:30am.
7:30am
Breakfast on the way
The way from Bangalore to Mysore is dotted with numerous food outlets. And you will be pretty much spoilt by options on offer. However, our favorite are the South Indian outlets that serve delicious dosas in the morning. We had breakfast at Hotel Kamat en-route to Mysuru almost around 7:30am. There are even fast food outlets like MacDonalds and KFCs. You can as well stop at one of these if you would like to have fast food breakfast. We reached the city by 9:30AM.
8:30am
Lalit Mahal Palace
We started with a visit to Lalit Mahal Palace and so can you. It is a massive architecture in beautiful white color, with beautiful landscaped gardens and great interiors. Actually, this is an old palace turned hotel. But all measures have been taken to maintain it's ancient charm. Many of the artifacts from the palace are used in the decor of the actual hotel. And I feel this adds to the charm of the place. We visited the areas accessible to public. Then we sat for a while in the well manicured garden of the hotel. It takes around half an hour to cover everything that is to be seen in this hotel cum palace.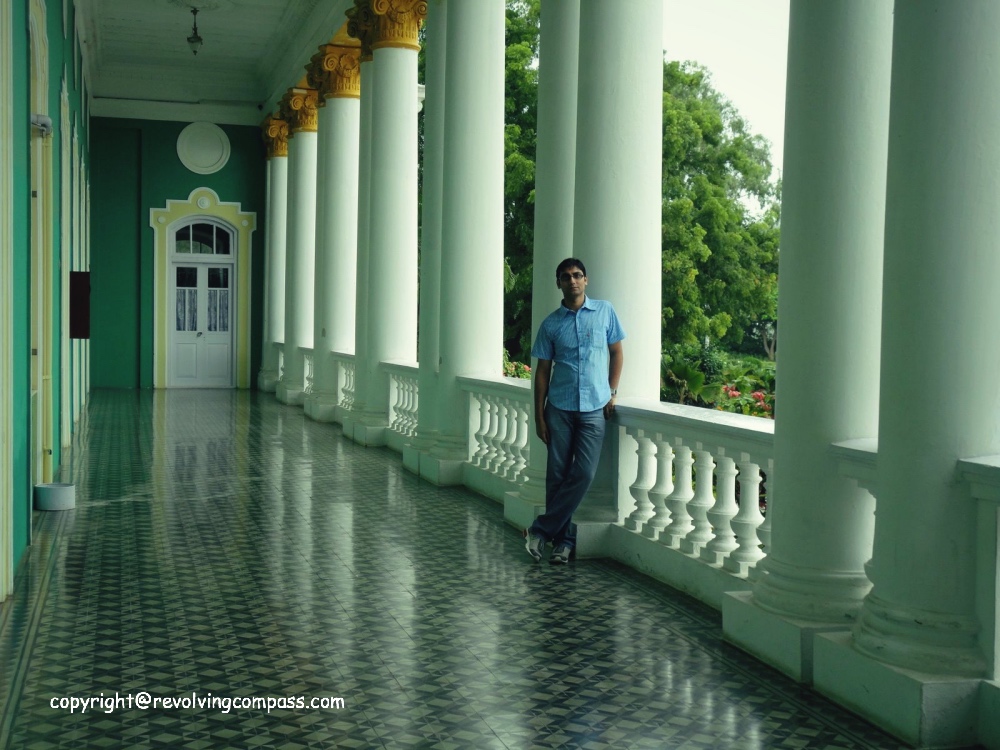 9:30am
Chamundeshwari Temple
Next you can head to Chamundeshwari Temple. It is set on a small hill. And the drive uphill is beautiful. Once you reach uphill, you get a wonderful view of the town of Mysore from there.  The temple is named after Chamundeshwari or Durga, the fierce form of the Hindu Goddess. And, the temple is dedicated to the same Goddess. The temple is considered as a 
Shakti Peetha
. It is also listed as one of the 18 maha Shakti Peethas in India. And, that makes this temple a must visit on a trip to Mysore. Actually, there is an official website of this temple, with all the timings and other details mentioned in it.
Here
goes the website. Initially the shrine was built by the Hosala kingdom and later the upper portions of the shrine were developed by the Vijaynagara rulers. As a result, the temple has a unique mixed architecture to offer.
You need to take off your shoes when visiting this temple. There is a counter where you can deposit your shoes for a minimum amount of INR 5. And then you can head to the main temple. There are many street vendors around selling the puja offerings like garland of fresh flower, coconut and other stuff. You can buy from them if you want.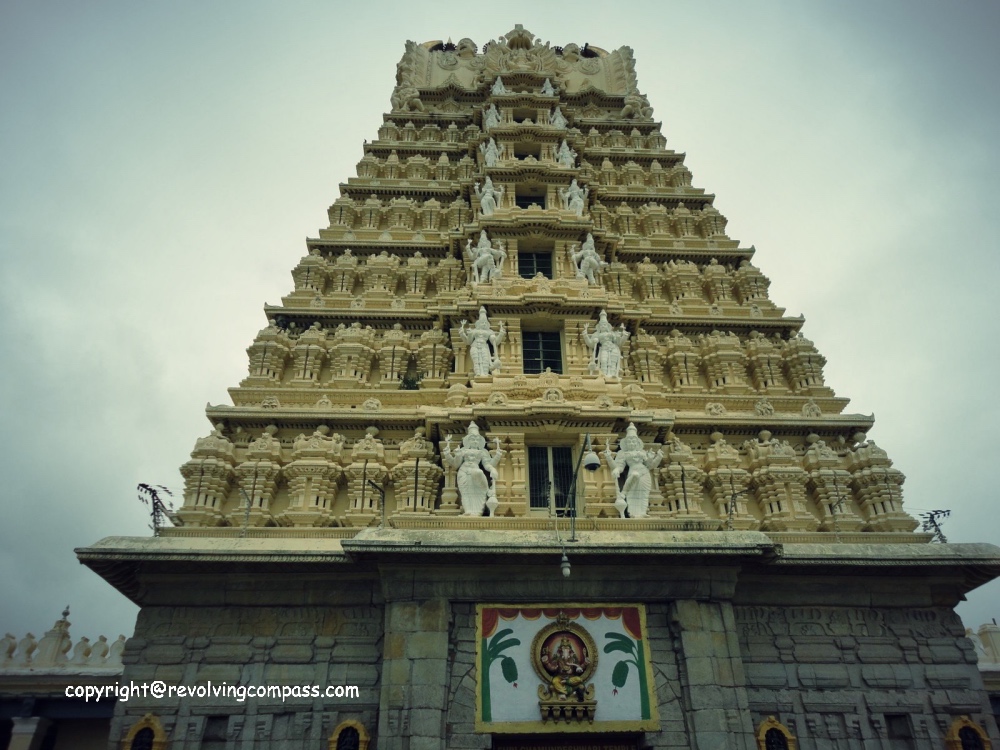 10:30am
Nandi or Bull Temple
On the way fromChamundeshwari Temple, there is a Bull temple. It is nothing but a big statue of Bull made out of a stone, like the many others that you will find across Karnataka. The statue is stationed on a plinth. A small flight of stairs lead up to the temple. Nandi or Bull is actually the animal that is designated as the vehicle of the Hindu God Shiva. This Nandi statue is 4.9 m tall and 7.6 m long. However, the speciality is that it is carved out of a single huge granite stone. Nevertheless, it is beautiful. You can just stop by for 5-10 minutes on your way downhill and then continue your journey.
11:00am
Mysore Palace
From here, proceed to the infamous Mysore Palace. We spent quiet some time marveling the interiors of the palace, the possessions of the kings and queens of Mysuru and the royal atmosphere. Mysore palace is a very beautiful palace. It is the official residence of the Royal family of Mysore, who ruled from 1399 to 1950 AD. The descendants of the Royal family still reside in Mysore Palace. However, a huge part of the palace is open to the public now for viewing. Attractions inside the palace consist of the artifacts used in the ancient times, a huge wedding hall where royal weddings are still commenced, beautiful carvings, pictures of all the royal kings etc.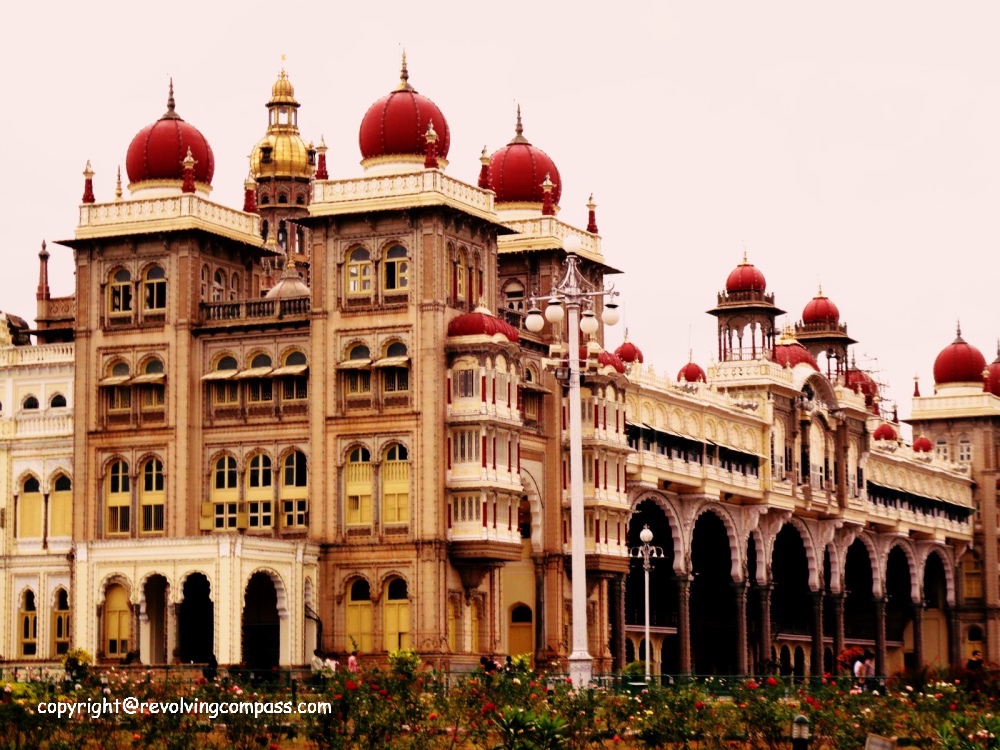 Photography is not allowed inside the palace. So, you have got to deposit your camera before entering. Also, you need to walk inside the palace bare foot. So, you can deposit your shoes at the shoe counter. Once you enter inside, there is a dedicated path to be followed, which is lined by ropes tied to pillars. So, you need not worry about which path to take while visiting inside this massive palace. It easily will take two hours to cover the grounds of Mysore Palace fully.
The palace also has a very beautiful garden. The garden is well maintained and is host to beautiful flowers of different varieties including a big garden dedicated to roses. You can spend some time admiring the beautiful landscaping as well. (And, you might start feeling like staying over in this palace 🙂 )
1:30pm
Lunch
It will be noon by the time you head out of Mysore Palace. So, from here you can proceed for lunch. Normally, I have witnessed that when you take a guided tour , or book a cab to Mysore for the day trip, the guide or the driver always take you to one particular restaurant that specializes in South Indian thali. Looks like definitely they have some tie up for brining in guests and they are getting some goodies out of it. Anyways, there are many other restaurants in Mysore, of all kinds. So, I will rather suggest, put your phone and it's network to use, look at some nearby restaurants and their reviews and then head to one for lunch as per your choice.
2:30 pm
St. Philomena's Cathedral
Post lunch you can proceeded to St. Philomena's Church. It is a catholic church constructed in 1936 using the neo gothic style of architecture. It's complete name is Cathedral of St. Joseph and St. Philomena. It is also fondly called St. Josheph's cathedral. It is known as one of the tallest churches in Asia. The height of this church is so much that I was really having a hard time being able to capture it in my camera in one single snap. There is an interesting history of being built and rebuilt, associated with this Church. If interested, you can read more here. As of now, it is one of the must visit spots in the town of Mysore.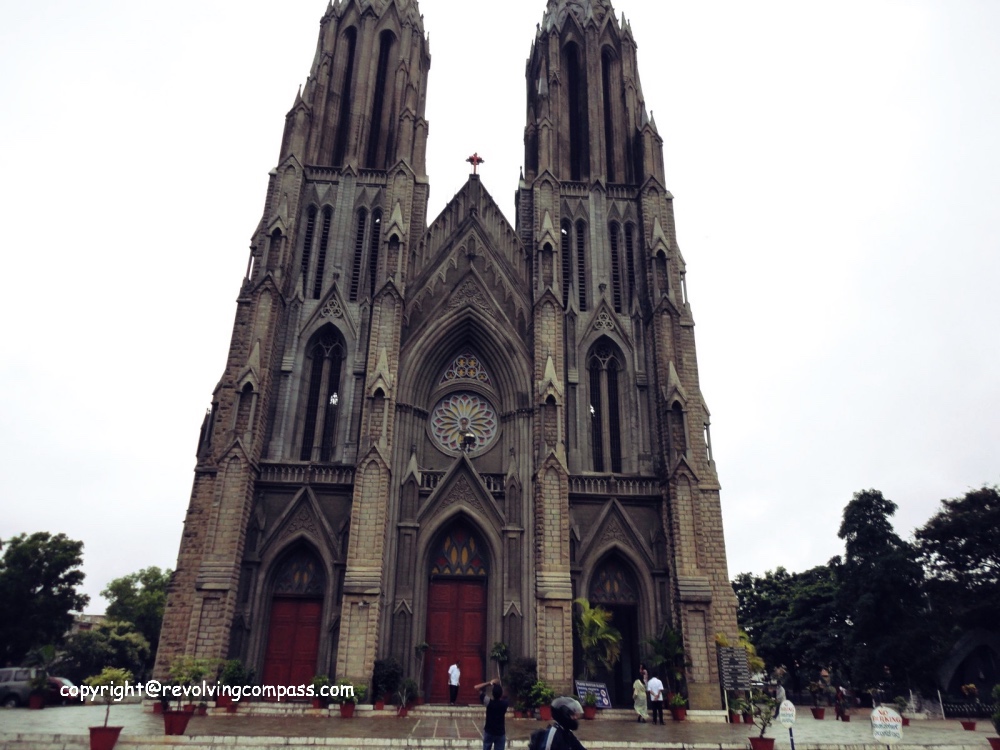 3:30pm
Brindavan Garden
From the church, you can next visit Brindavan Garden. The garden is located on the outskirts of Mysore. It takes almost half an hour to reach here from the main town since the last stretch of road leading to the garden is not in a good shape (At the time of this writing). I hope the road gets rebuilt as soon as possible since this is one of the major spots that tons of visitors like to visit every day. Actually, this Garden is built adjacent to the Krishnarajasagara Dam, across the river Kaveri. And, it has a very refreshing aura to it, it gets very pleasant in the evening with the scent of the flowers further boosted by the numerous colorful water fountains big and small. It's a very refreshing place. You can as well go on a boat ride on the water body in the garden.
You can reach here by 4 or 4:30 pm and then enjoy the scenic views and the fresh scent of flowers. Or, you can simply relax in the lawns of Brindavan Gardens. There are plenty of hawkers selling Indian snacks and ice-cream. You can enjoy these snacks while you cover the expanse of the garden. As the evening approaches and it gets darker the lights start getting turned on into the garden, adding splash of color to each and every corner of it. Towards 6:30-7pm there is a musical fountain show conducted at the amphitheater of the garden. You can enjoy this show and there after exit the garden.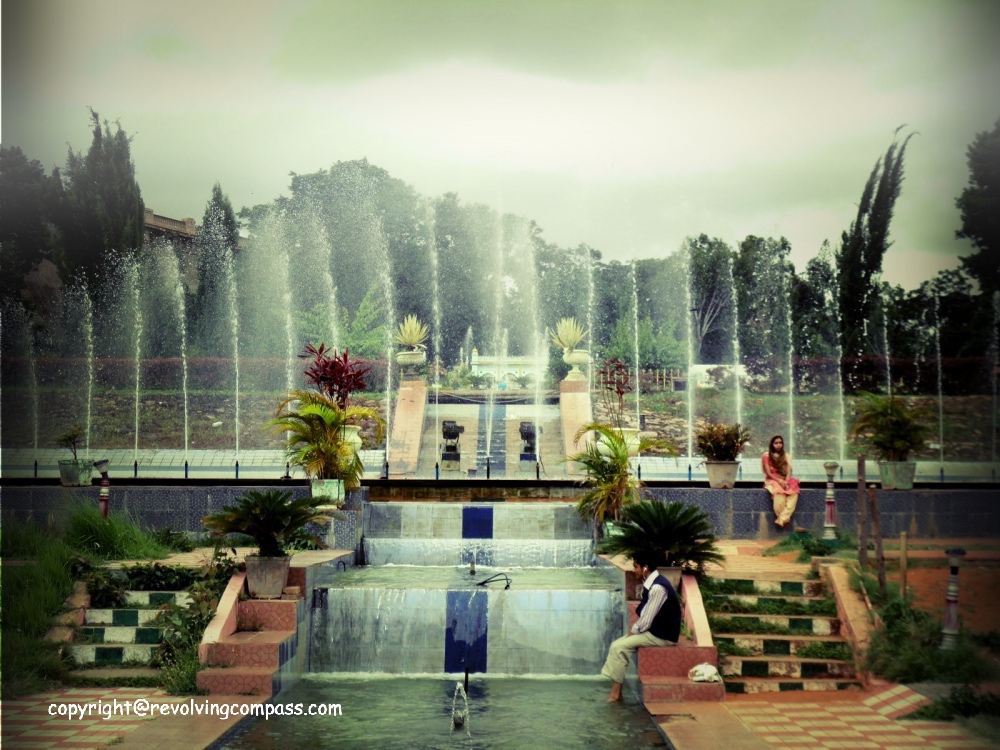 7:30pm
Back to Bangalore
From here, you can start on a backward journey to Bangalore. Usually, the journey back takes a little more time since the traffic is normally higher. On the way, half way through, you can stop for dinner on the side of the highway. Again, there are multiple options for dinner and you can choose a hotel as per your liking. We prefer the Adigas hotel on this stretch which has nice options of meals as well as lighter dinner recipes on offer. The restaurant also has a usable restroom alongside. You can as well try other restaurants as I have heard most of them are quiet good. With the dinner time included, you will reach back to Bangalore by 10-10:30pm at night if you follow this itinerary.
In conclusion, it will be a day well spent.
General tips on visiting Mysore
Wear comfortable walking shoes as you will need to do a lot of walking during this day trip
Carry some snacks and water with you. Although there are multiple outlets along the way to keep you supplied with enough food and water
I would insist once more that start from Bangalore as early as possible , otherwise you may end up wasting a major chunk of your day trying to reach Mysore.
There are regular trains also complying between Bangalore and Mysore so you can take one as well. But the train travel time will be longer since you need to include the time taken towards your journey to and from the railway stations.
There are regular buses also between Bangalore and Mysore
If you have time, stay in Mysore for a few days. Since there are plenty of weekend getaway options around Mysore, you can base yourself in this beautiful city and then visit these weekend getaways over a period of a few days. I will soon dedicate a post to these destinations that can be conveniently visited from Mysore.
Did you know that Mysore is one of the cleanest cities of India at this point. So, definitely that adds to the pleasure of visiting this town.