During our 2 days in Jodhpur this time, we stayed with Jaswant Niwas. Since we were visiting in the peak season. So, it was difficult to zero down on the right stay option in the right budget. Thanks to Ambuj Saxena of bnbnation who helped us discover Jaswant Niwas, Jodhpur. Having stayed in different homestay like Little Chillie Shimla, Casa Coorg, Peepal Tree Kabini, Norwood Greens and The Lodge at Wah in Palampur, and having wonderful experiences at each of these homestay, we had no doubt saying yes to a stay in yet another homestay.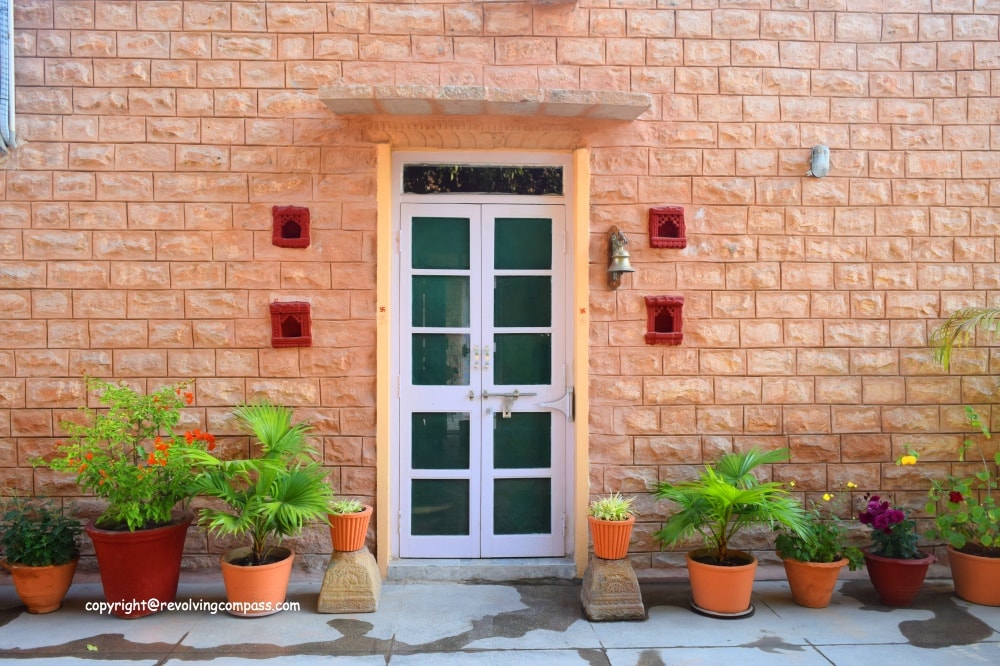 And what do you expect from a homestay? To feel at home when you are away from home. And have a homely atmosphere where you stay. But, how many times have you stayed in a homestay that made you feel right at home? As if you were visiting your own people, say, your relatives. Well, that is what sets Jaswant Niwas clearly apart. Since, from the very moment that we landed at the premises of this homestay, we never felt like we were staying in a home which we hadn't been to before. And with people whom we had never met before.
An introduction to Jaswant Niwas Jodhpur
As the name suggests, Jaswant Niwas is named after MAHARAJ JASWANT Ji II of DEOGARH (MEWAR, RAJASTHAN). The rulers of Deogarh have directly descended from CHUNDA (CHOUNDA), and for this reason are designated as CHUNDAWATS. It is an almost 60 years old residence. Initially, it's owner  was Maharaj Himmat Singh Ji of Jodhpur ( Present ruler Maharaja Gaj Singh Ji II's uncle ). Later, the current owner of the property, L.T. Col. Randhir Singh of Deogarh, a retired Army Officer and a 1971 war veteran purchased the property from the Maharaja.
L.T. Col. Randhir Singh is also the present RAO SAHIB of  DEOGARH'S UNCLE. Presently, his son Mr. Hemant Raj Singh Chundawat is running the homestay, while staying with his wife, son, mother, father and two extremely friendly pet dogs at the premises itself. In his previous career, he worked as a tea planter in West Bengal for 13 years, before relocating near his roots in Jodhpur in 2009. Thereafter, he worked for 6 years in the 'Mehrangarh Museum Trust' as Manager Admin. While working on this post, his responsibilities included looking after the Jodhpur Fort (Mehrangarh Fort), Jaswant Thada , Mandore Cenotaphs and Nagaur Fort (Ahichattragarh Fort).
The hosts and the hospitality at Jaswant Niwas Jodhpur
Everything at Jaswant Niwas is personally supervised and managed by the family. The family not just makes sure to meet and greet each and every guests. But, amidst managing their own personal life and taking care of the home and homestay, they ensure to spend quality time with the guests. Which really makes the guests feel right at home. Also, they also make sure to take care of the big and small needs of the guests. Either be it your need for tea, coffee or small snacks anytime. Or, a help contacting vendors for hiring cabs for your sightseeing.
Mr. Hemant, in particular, is as interactive as knowledgeable. Descending from the royal family itself and having worked on administrative posts managing several royal properties. The kind of insights and stories that he has got to share are unmatched. No guide books or history books can provide such enriched information to the visitors of Jodhpur. And not just about the history and the culture of the place. But, he is equally well versed when it comes to the geography of the region and the places to see. In conclusion, he can literally give you insider tips on anything you are looking for in Jodhpur. Be it the offbeat places to visit. Or, the best time to visit the popular sites. Or, where to eat or where to shop etc.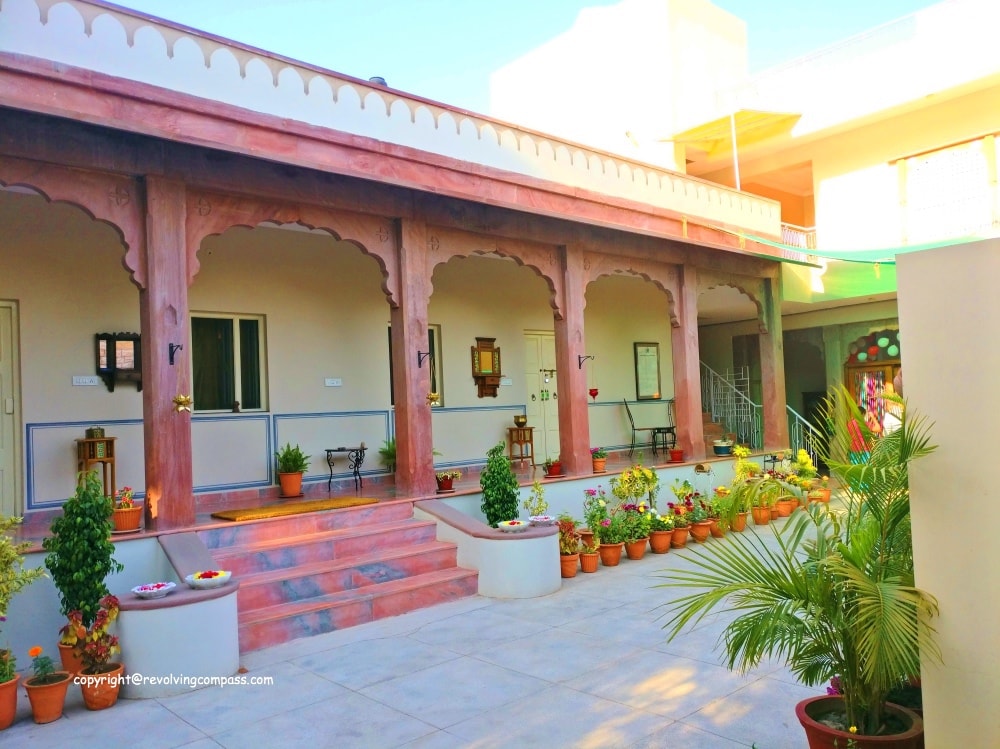 Coming to his wife, she appears as the truly doting housewife. Her passion reflects in everything that you experience in the homestay. Right from the homely and tasty breakfast to the amazing way she has decorated each nook and corner of the home. She also loves interacting with the guests. And also personally supervises the food and other facilities to ensure ultimate comfort of the guests.
The house of Jaswant Niwas Jodhpur
Beautiful Decor
The front portion of the house is used by the family as the residence. Then, towards the back there is a separate portion with a set of 3 rooms on the ground floor and two on the first floor for guests. The corridor and the porch are very well decorated with lush green china palms and a lot of seasonal flowering plants. Alongside the plants you will find various artifacts in metal, marble, wood, glass and clay placed all around. Overall, giving a very aesthetic feeling to the place. On top of that, there is a lot of inclusion of locally made handicrafts and comfortable linens.
Multiple room choices
A lot of thought is put in each and every room of Jaswant Niwas, Jodhpur to ensure the family can cater to all kind of visitors. For instance, two of the rooms are king size. Then, one is queen size. Plus there is one twin room. And finally one which can be shared by group of friends. Also, the queen size room on the ground floor is made easily accessible for wheel chairs as well as old people. You don't need to climb any stairs to access this room.
The ever comfortable and useful dining space
There is a metal table with chairs set near the porch. Here, you can enjoy your tea or snacks in the open air. And also chit chat with each other or bond with the host. While right besides is the door to the enclosed dining area. The dining area of Jaswant Niwas Jodhpur has multiple tables so that different families being hosted at the same time can each have their own private space. How thoughtful! Coming to the décor, the wooden furniture and crockery units go amazingly well with the white washed walls, and the wooden panels in the ceilings. The tables are dressed up with local hand block print linen. The LED 'diyas' on the wall and a few family pictures of the hosts complete the whole setup.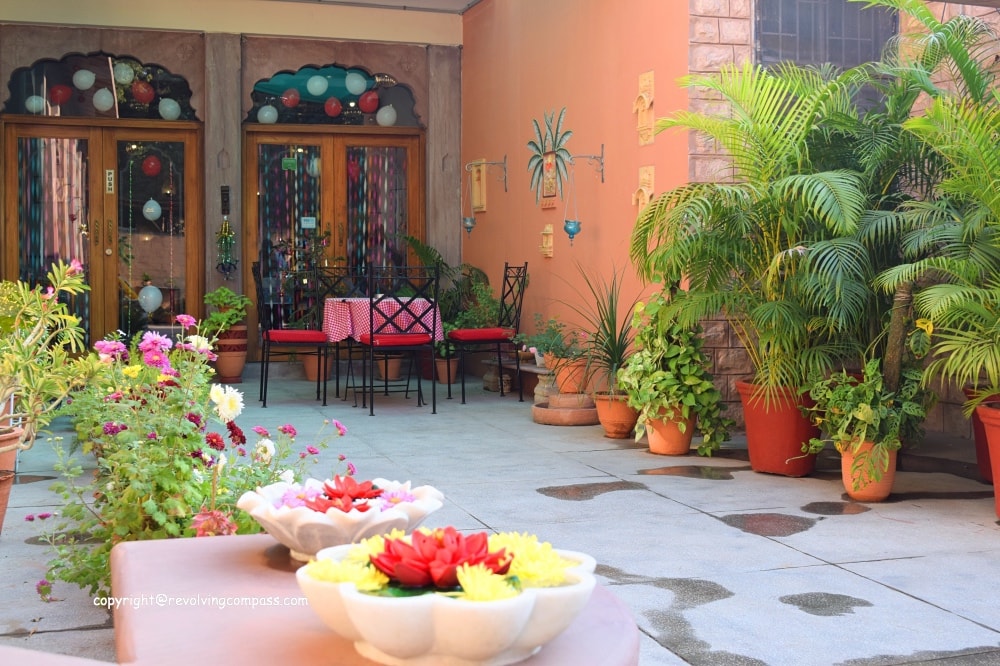 The rooms at Jaswant Niwas Jodhpur
The rooms at Jaswant Niwas are equally tastefully decorated. With artifacts that are signature of Rajasthan, and wooden furniture. The rooms are each quite spacious. And each one has an A/C, a wooden Almirah to store the guest's belongings and a study table. Then there are basic amenities like hot water kettle, tea and coffee pouches, sugar and milk pouches, coffee mugs and glasses etc. The lighting fixtures are beautiful. The bathroom is equally spacious and has a fitted geyser for hot water requirements. Things are just perfect with the luxury of a hotel right inside the room of a home away from home.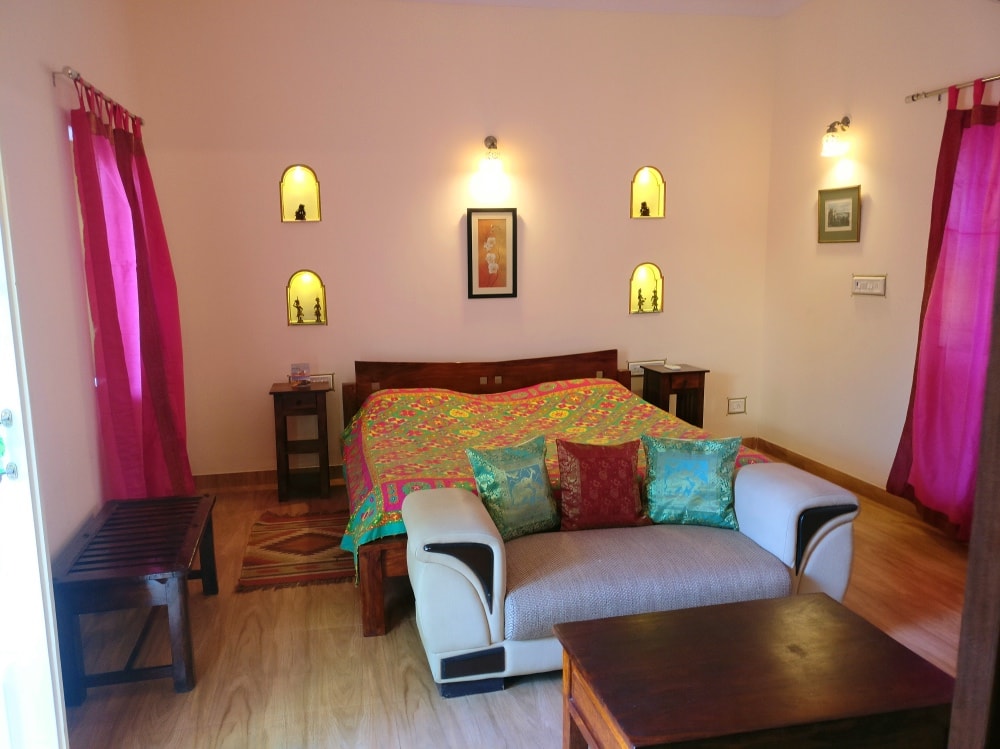 The food at Jaswant Niwas Jodhpur
The package that Jaswant Niwas Jodhpur provides is a bed and breakfast one. Breakfast consists of fruits, and a choice between parathas or egg preparations. We opted for parathas. Although the standard breakfast timings are followed. But, if one wants an early breakfast, all they have to do is to inform the hosts of their timings a half an hour beforehand. And the hosts make sure to provide the breakfast on time. The Parathas are freshly cooked and served in your plate right from the tawa, alongside curd. They are homely and delicious. Believe me, it's hard to stop once you start munching on them. Tea and coffee is also a part of the breakfast.
And in the evening, you can again have tea or coffee, just let the hosts know of your needs. Not just the food, but it is the whole setup that adds to the experience. So, you will have a platter of hot and homely food while having chats amongst yourself and with the hosts as well. Also, we had a special need of a glass of milk twice a day for our little daughter as well as non-spicy parathas for her which the hosts wonderfully took care of.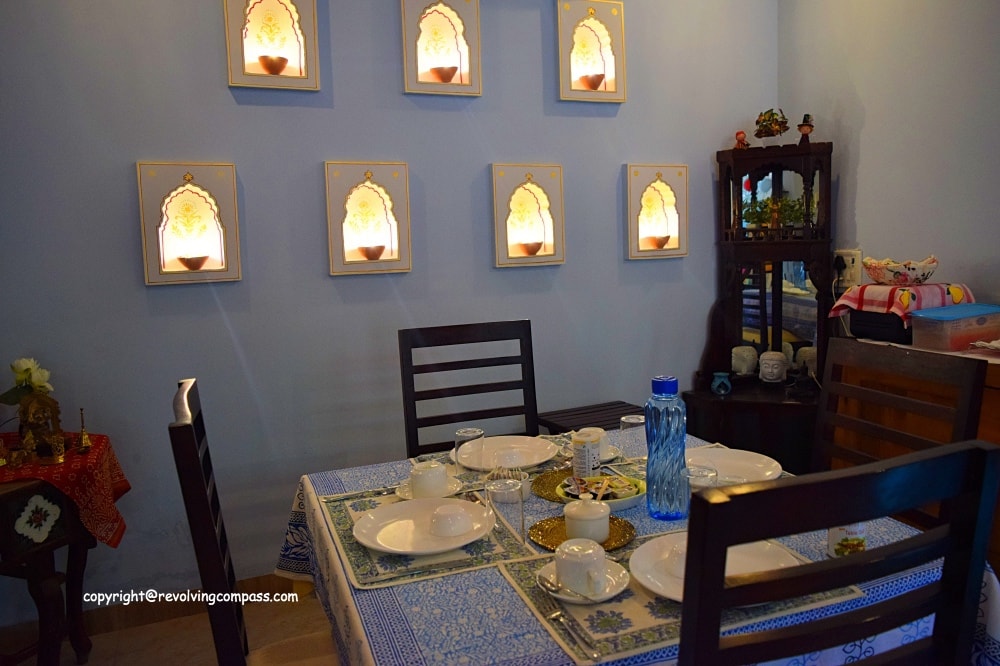 Location of Jaswant Niwas Jodhpur
Jaswant Niwas Jodhpur is located near the Airport Road. The exact address is "583 Baggi Khana Road, Nehru Colony, Ratanada". The location seems to be perfect given that it is not a very crowded or touristy part of Jodhpur, rather a residential area. There are a few fine dine restaurants, shops and hotels at a stone's throw away. And Umaid Bhawan Palace is walkable from the homestay. While ghantaghar is located around 4km from there. For the main market and other locations that one wants to visit, an uber cab can be conveniently summoned. It is also centrally located between the railway station and the airport of Jodhpur.
Some beautiful memories from Jaswant Niwas Jodhpur
Sharing sahi samosa with the hosts
Sahi samosas is a famous outlet in Jodhpur. And we were keen on tasting it's samosas while here. So, we packed a bunch of Samosas end of the day and headed to the homestay. And guess what, we shared the samosas with our hosts over cups of hot steaming tea while we sat and chatted away with them on different topics ranging across the history, geography and politics of the kingdom of Mehrangarh to the current city of Jodhpur.
Playing with the pet dog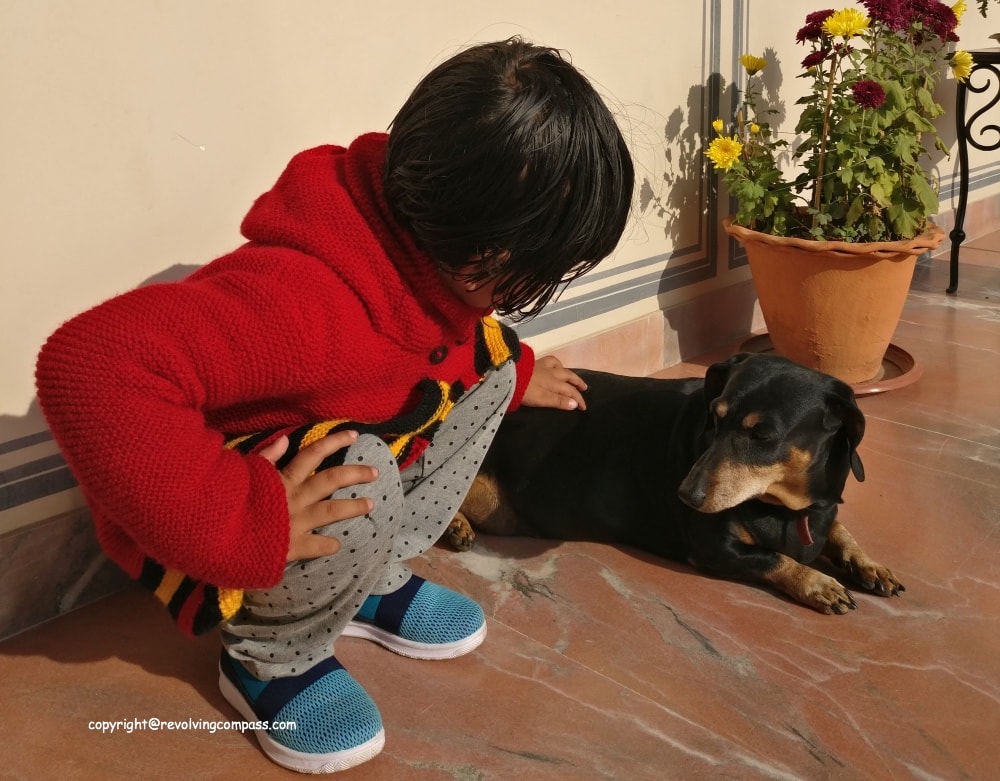 The pet dogs of Jaswant Niwas Jodhpur are nothing less than an attraction in themselves. Although the hosts are thoughtful enough to keep the dogs inside when the guests arrive, and let them out only if the guests are ok with it. We love dogs, so, we got to meet the dog immediately. And guess what, our little daughter immediately befriended her. No need to mention that for the rest of our stay, our daughter was seen more with the dog than with us. 😀
Chatting with Mr. Hemant and his wife
It was a real delight chatting with the hosts time and again during our stay. As mentioned earlier, they are very knowledgeable across topics. And thus the topic of our chats went far and wide spanning across lesser known historical facts and geographical regions of the area, tips on sightseeing in Jodhpur, shopping tips, general chit chat about their day to day life and their family and a lot more.
No sugar with the tea
Well, this might surprise you but I personally felt it to be very touching. My father is a diabetic and thus I know the importance of sugar not being instantly added to the tea or coffee. The hosts took care of providing sugar separately so we could each use it as per our own requirements. And they even offered sugarfree for my father.
The see-off by the hosts
Finally, when it came to say goodbye, little did we know that there were still memories to be made. We had some hearty snaps with the hosts. And thereafter, as we waited for our cabs to the Jodhpur train station, standing near the main gate. The hosts also stayed there with us till the cabs arrived and they saw us off. Mr. Hemant personally guided the cab drivers to reach the spot without a hassle and made sure the cab arrived as requested.
In Conclusion
We had such a warm and homely stay at Jaswant Niwas, Jodhpur. If we return to Jodhpur in future, we won't have a second thought about staying with Mr. Hemant and family. Overall, it was such a wonderful experience. Honestly, the kind of authentic cultural experience that we had at Jaswant Niwas Jodhpur, we are sure we won't have got that anywhere else.
PS: Though we were invited by Jaswant Niwas Jodhpur to stay over with them while at Jodhpur, the views and opinions expressed here are solely our own and completely based out of our own experience during our stay here.