This post is about how best to spend 3 days in Kodaikanal. It will help you make the best of your available time when visiting here.
Hills and mountains always keep fascinating me. So, I always keep looking for a chance to travel to some hill station and spend some time in the lap of nature, away from the hustle and bustle of city. 
And the best part is, same is true for my wife also. Thus, i
n the course of keeping my passion alive, I have traveled some of hill stations in south India (like
ooty
,
munnar
, coonoor). But this is the first time I am crafting my journey in words : a trip of 3 days in Kodaikanal, my first blog. Through this, you will also get an idea how best to spend 3 days in Kodaikanal.
About Kodaikanal
Kodaikanal
 is a 
city
 in the hills of the 
taluk
 division of the 
Dindigul district
 in the 
state
 of 
Tamil Nadu
, 
India
. 
Its name in the Tamil language means "The Gift of the Forest" . 
Kodaikanal is referred to as the "Princess of 
Hill stations.
" Although nearby hill stations like Ooty and Munnar have become highly commercialized, Kodaikanal still enjoys the advantage of being a quaint hill station. As, it doesn't have so much of foot fall. So, it retains all its essence. It mostly comprises of a close community, a few beautiful schools, hospital, other basic infrastructure. And, on top of that, it has some beautiful visiting spots. And then, it's economy is mostly driven by the hospitality industry.
Our travel plan to spend 3 days in Kodaikanal
Though I am proud owner of a car. But when I decided to spend 3 days in Kodaikanal, I also decided not to drive but to rent a cab and just enjoy the journey on the backseat with my wife. Staring on panoramic views and scenery on the way which runs from Bangalore to Kodaikanal. Mostly, you will be traveling through NH7 and NH44. And these highways contain very exciting and refreshing view all around. Road till Kodaikanal is in very good condition and if you are a driving enthusiastic, definitely you will enjoy each and every bit of your driving. Even the ghat section is not so dangerous with almost no hair pin bend. So with regular driving skill you can be able to enjoy the driving.
Travel Plan highlight – 3 days in Kodaikanal
Our plan was to start early morning on 29th Dec (which was Saturday),2012.  And again come back to Bangalore by evening of 1st January. 2013. So we booked a cab for 4 days. Although, we spent close to 3 days in Kodaikanal and rest 1 day in travel. Since it was a year end holiday season. Although there was some rush for hotel booking. And most of good hotels were getting unavailable. So considering this we had already booked our hotel long back. We booked a cottage in Kodai Resort for 3 days.
Route followed for our trip of 3 days in Kodaikanal
Bangalore->Hosur->Krishnagiri->Dharmapuri->Salem->Namakkal->Karur->Dindigul->Kodaikanal.
This is NH7 route and the most straight and shortest route. You can easily find this route on google map by selecting option NH7.
1/ 3 days in Kodaikanal – Journey Start Day
Finally our journey for Kodaikanal started on 29th December, 2012 at 4:15 AM. And we decided to start little early in the morning so that we reach Kodai as early as possible and spend most of our holiday time in the hills. 
Hence we called our cab at 4:00 AM in the morning. And the c
ab reached our residence at Old Airport Road at 4:05 AM. Thus we started our journey for spending 3 days in Kodaikanal from there at 4:15 AM. It was complete dark outside and city roads were also empty. So our cab started zooming within city itself and in no time we reached Karnataka-Tamilnadu boarder near Hosur where cab has to take RTO permit. And, here only we had to pay the first toll also. In total, in this route you will find total 7 tolls booth till Kodaikanal which will cost you around 300 one way.Include electronic city elevated expressway toll  to it, and it will be a total  of 8 and sum up Rs 40 more. Thus, if you are going by cab then RTO permit will cost you an extra Rs 400.
Anyways after taking RTO permit and paying the first toll, we again started our journey. The road is so nice that you can easily drive at a speed of 100-120 kmph and that's what my cab driver was doing (but for private vehicle driver I will suggest to drive at a speed in which they feel comfortable) . And, after around 2 hours of drive morning light started spreading gradually and we were amazed by the enthralling view of the highway. There were green fields on b
oth side of road
, small hills and nicely placed flowers on divider.
Crossing Salem
At 7:00 AM we entered Salem. The driver wanted to have some tea and we stopped in Salem city for 10-15 mins. He quenched his thirst for tea. After that again we stared our journey towards Kodai. Salem is around 200 KM from Bangalore and we covered this distance in around 2 hours and 45 minutes (including the 20-25 minutes time spent on RTO permit and tolls). As we kept moving ahead, we were enjoying the nice view of highway. I couldn't restrain myself from clicking some pictures of highway from high speeding car. Though due to speed of car, it was very difficult to take proper snaps , but still was able to take some view-able snaps which are posted below.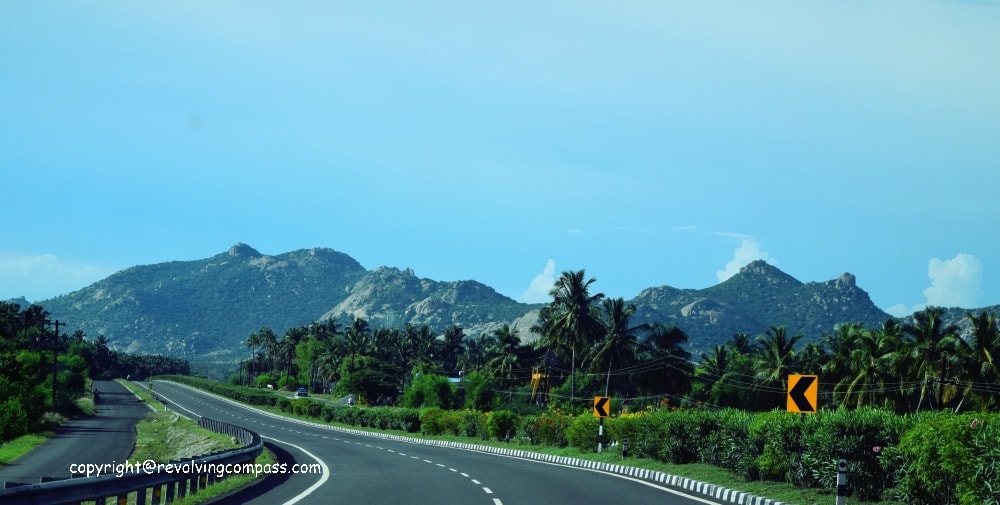 To Dindigul
We kept crossing different towns and "Patti" (villages) which came into the way and finally reached to the road approaching Dindigul. Here you will find a flyover and before starting of flyover a signboard will be placed indicating Kodaikanal on left. Take the left to service road. After going some distance, take right to Vathaalgundu (at this place a sign board will be placed indicating Dindigul 4 KM).
From this place till Vathalagundu,road 
repairing
 and widening work was in progress and hence slow and careful driving was required in this stretch (of around 10-15 KM).
 After Vathalagundu, one can see an Indian Oil Petrol Pump on the right side (here a board will be placed indicating 'Dindigul 43 KM'). Take right from here. 
And on the Ghat (hilly) road
Now we reached to a place where a board was placed indicating Kodaikanal 48 KM. From here onward ghat road starts. As I had already indicated this ghat road is not so dangerous and easy to drive. This full stretch of 48 KM is very scenic , full of greenery,valleys and sight of hills and clouds hanging on top of hills. In between you will find a number of water falls and valley view points, among them the first will be "Rat falls". You will find "Silver cascade fall" also on the way.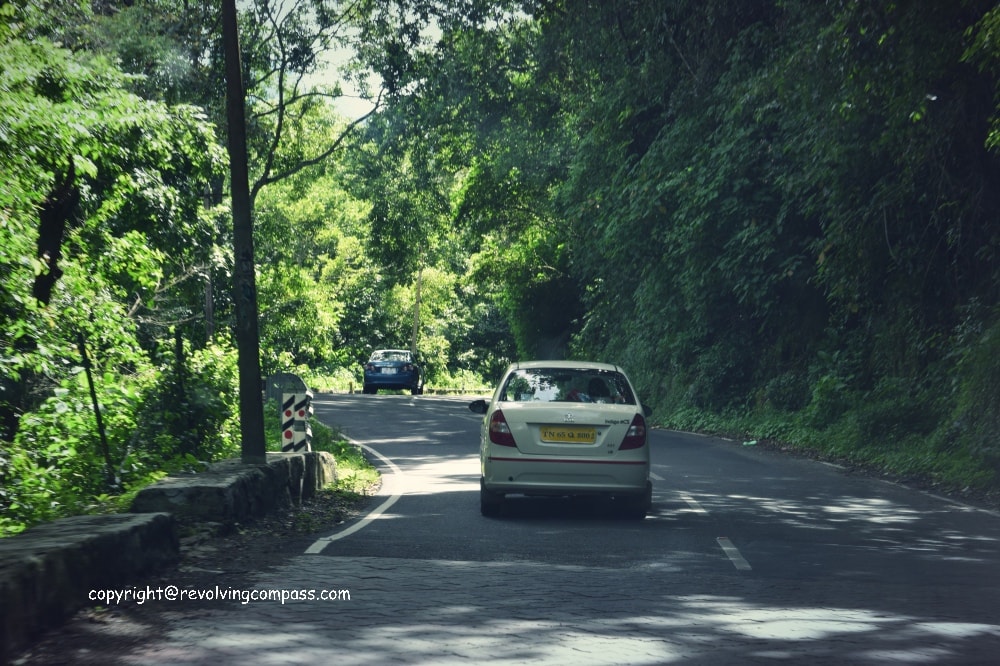 Read about the highway experience in details here.
Our Destination : Kodai Resort
Finally we reached to our resort 
– "Kodai resort" 
at 12:30 PM
, it is very near to Kodaikanal bus stop (around 500 mtrs). 
Trip-meter
 was displaying a total distance 463 KM.Time taken for this journey was around 8 hours and 15 minutes including lots of toll stopping and two breaks for tea and breakfast.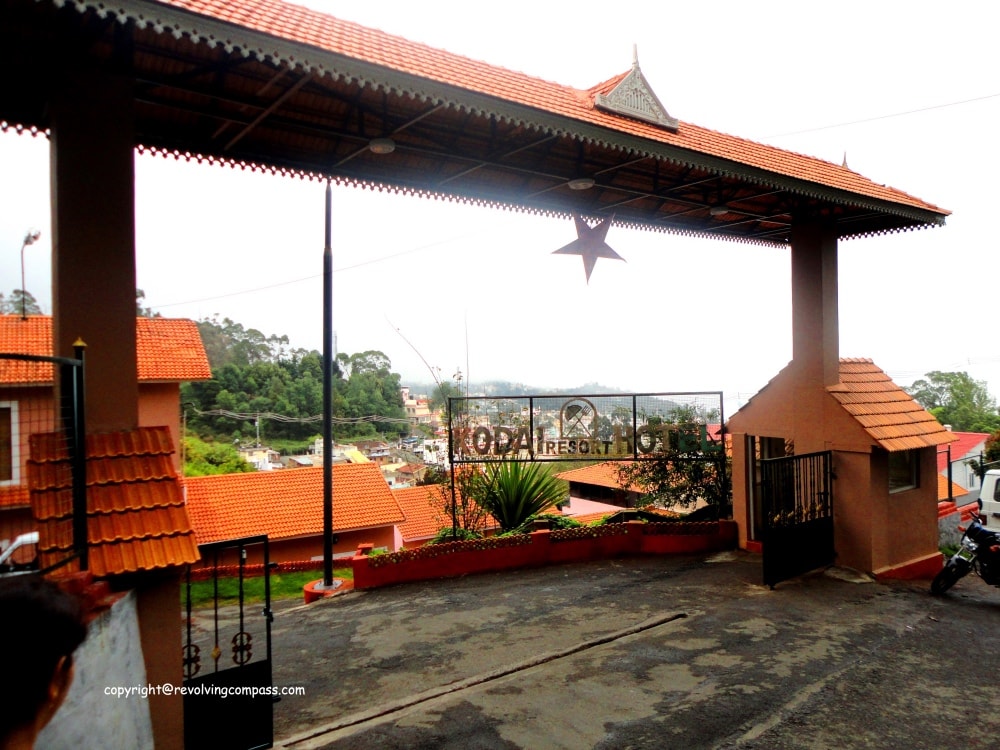 The resort has a huge lawn, very well maintained. In the center of the lawn there is an arrangement for campfire. Further, two sides of the lawn have the rooms. While other two sides are open to the mountain views. There is a small zoo also at one end. Some local birds and animals are kept in this zoo for the entertainment of the kids that travel here with their family. Although we must say, the animals didn't look into very good shape.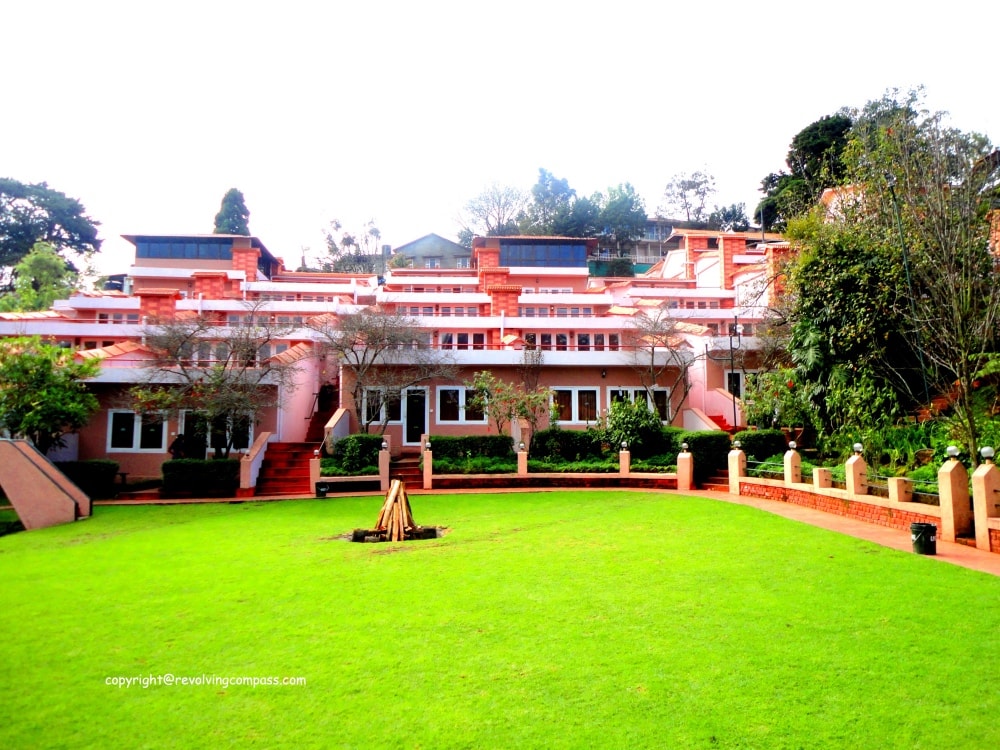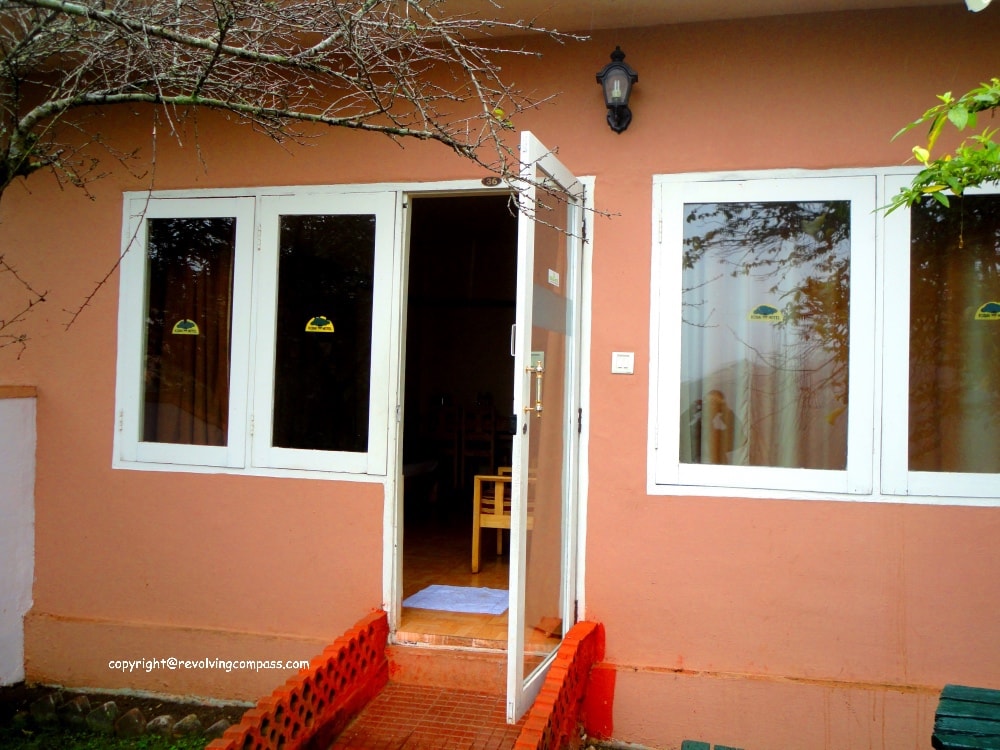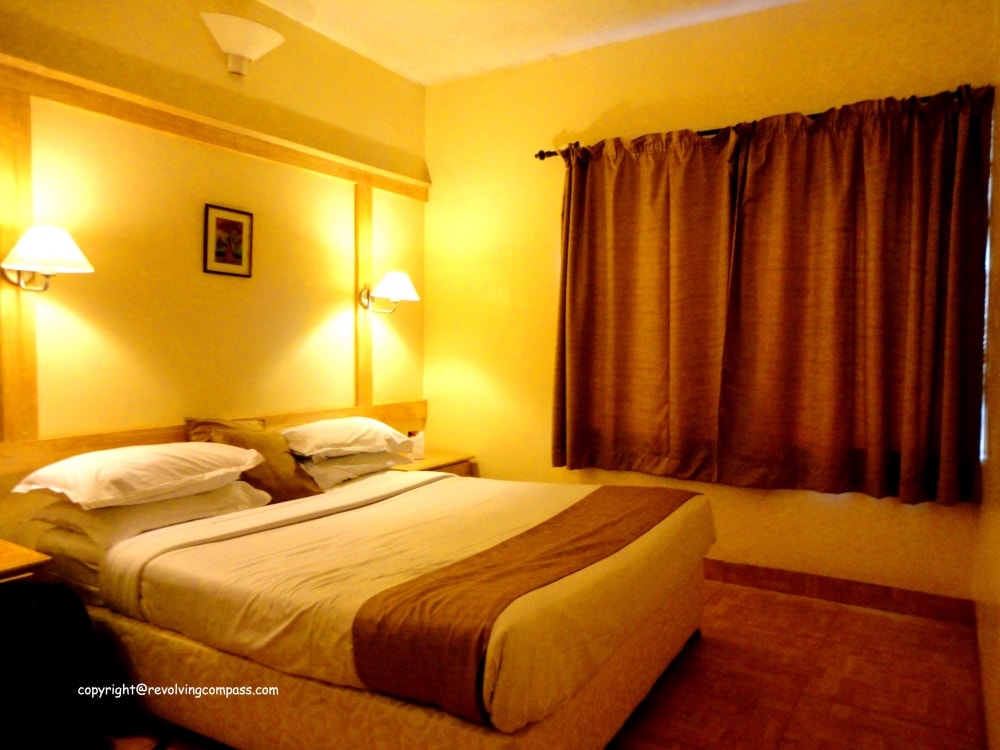 After checking-in resort we decided to have lunch in the restaurant of resort. After lunch we started exploring the resort. We took a walk in resort and in its garden and explored different facilities/amenities of resort which included game,library, shop etc.
Coaker's walk , Kodaikanal
After resort exploration, we went to the Coaker's walk which was just 150 mtrs away from our resort. Coaker's walk is a very famous tourist destination in Kodaikanal. It is 
500 metres from the bus-stand, constructed by Lt.Coaker in 1872. It is a 1-kilometre paved pedestrian path running along the edge of steep slopes on the southern side of Kodai. On a clear day one can view the deep valley and 
stunning panoramic view of the plains. Entrance fee for walk is Rs 5 per person and Rs 10 for camera.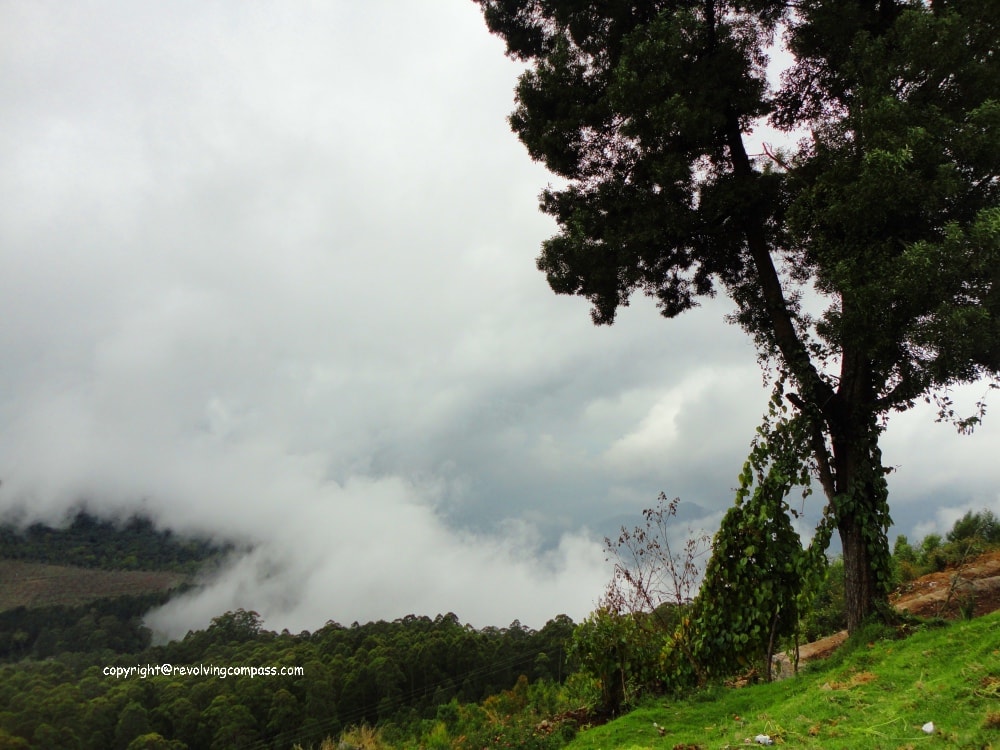 We completed the full 1 Km of walk (one way). Finally we settled ourselves on a bench placed on side of walkway from where one can enjoy the panoramic view of valley, plain and towns. Overall, it was full cloudy day and clouds were coming and touching us.The valley was covered with layers of cloud and nothing was visible. After 15-20 mins clouds started moving away and we got a glimpse of the green valley. Here clouds kept playing hide and seek. They were coming and going. But it was a nice experience to find ourselves in between the clouds. After spending 1 hour there we came back to our resort for taking rest and enjoying the view from our cottage's big glass windows. At night we had dinner in the resort itself and then we took a walk in our resort's garden.
In the center of the garden, there was a place for camp fire. Resort staffs brought woods for lighting camp fire. They placed and assembled woods nicely but the Rain God was not in favor of camp fire that night and it couldn't happen. Though it happened on the night of 30th and 31st.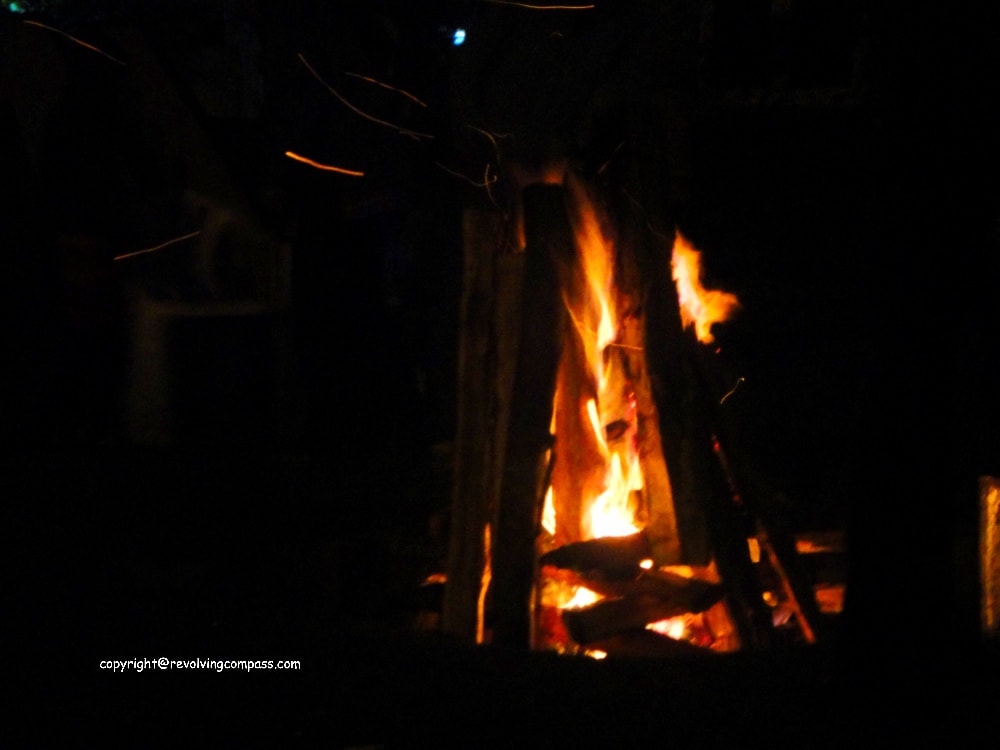 2 / 3 days in Kodaikanal :Sightseeing
We had decided not to

rush for numerous
 sight seeing. We rather wanted to spend time peacefully in the resort and nearby places, spending enough time on each spot.So, we had kept day 2 for visiting some selected places.We started around 9:30 AM from our resort for sight seeing. Places visited on the day were:
Guna cave
Named after Kamal Haasan movie Guna whose shooting
was done 
here.It is a very deep cave with dangerous slopes. Area around the cave is guarded with iron grills.You can get the view of cave from a distance only.I came to know that around 40 accidental deaths have happened at this place and hence under precautionary measures it has been guarded with grills. Be careful on slopes. From here you can get a view of valley also. Full path is covered with many parallel lines of long trees with 
many many
hanging-jumping monkeys on the tree.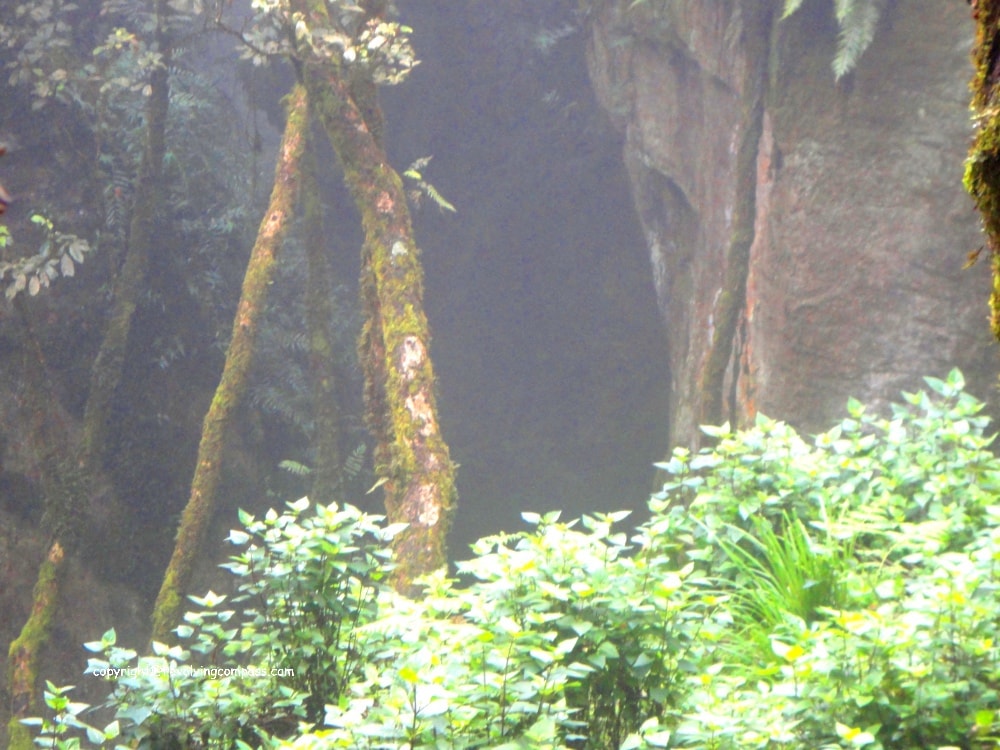 Pillars rock
A nice valley where two rocks are standing side-by-side and will give you a feeling of "
Petronas Towers" of Malaysia. View of the valley is very nice from this place. It was a very cloudy day and after a wait of 15-20 mins we were able to see the Pillars rock, which was covered under clouds till then. Clouds were coming and going, giving a hide and seek view of pillars rock.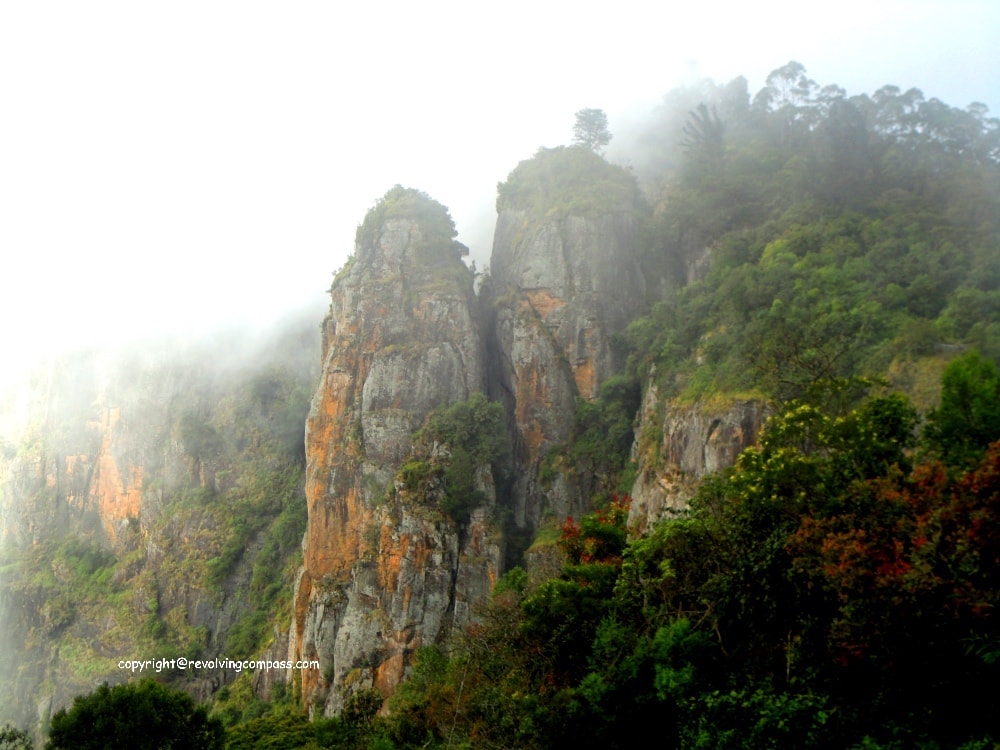 Green Valley view
Again this is a view point with 
excellent panoramic view of the plains.
 There were lots of shops there, ranging from woolen clothes to wood crafts to fruits. We bought some fruits and few of wooden stuff.
Kodai lake
A big lake in between the Kodai town.
Rowboats and 
pedalos
 can be hired at the Kodaikanal Boat Club, The Carlton. Horses and bicycles can be hired beside the lake for short periods. The 5 kilometres path that skirts the periphery of this lovely lake is a 
favorite
 walk for the locals and tourists alike. We preferred to do a complete walk of 5 km on periphery of the lake and enjoyed it a lot under the influence of a very pleasant weather.
On the way between the above places, we also visited some spots with nice tall trees standing in rows. They were very good spots for taking snaps.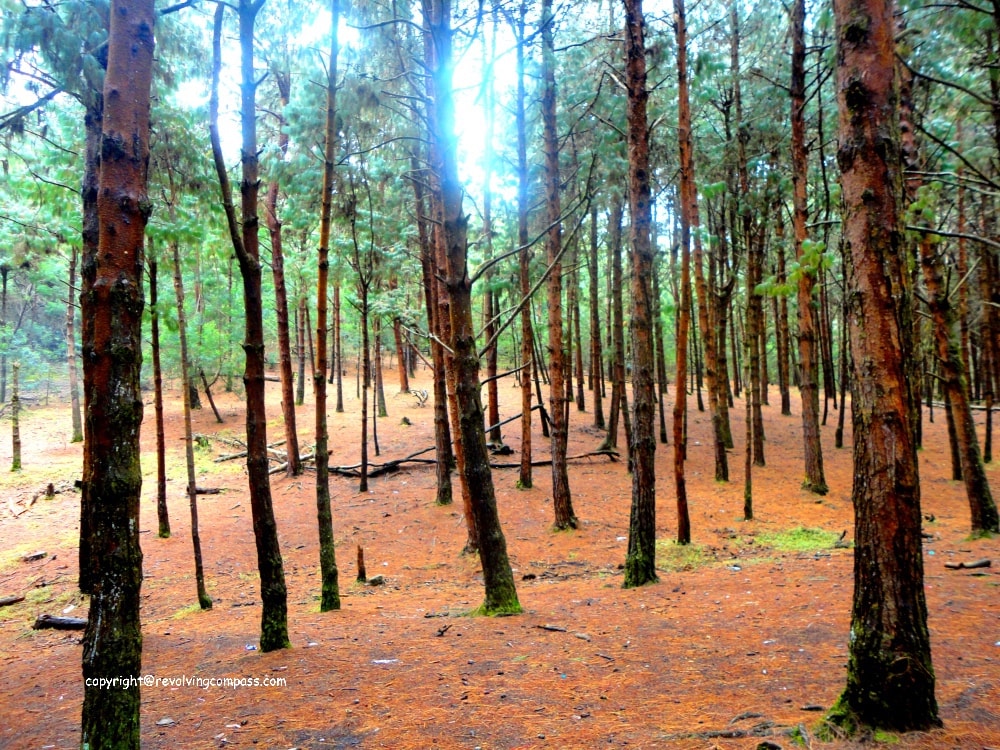 After this we came back to our resort around 2:30 PM and had lunch there. After lunch we used the gaming facility of resort and played chess and 
carom. In the night we enjoyed the camp fire for some time before dinner.
3 / 

3 days in Kodaikanal 

: sightseeing continued
Bryant Park
It was a very pleasant morning, partially sunny and partially cloudy with pleasant breeze. A perfect time to take a gentle walk. And this is what we decided. After breakfast we went to the Bryant park ( a botanical garden around 150 mtrs away from our resort). This is also one of the most sought after tourist destination in Kodai. We did a full stretch walk in park and few photo shoots.We entered into the park from the gate which falls towards our resort(and Coaker's walk) and we came out from the gate which faces the lake.Yes, from lake side also you can enter into this park. Again we spent 1 hour in walking around the lake and did some shopping in shops lining the periphery of the lake, preferably shop full with wood items (which was one of the most preferred shopping items for my wife).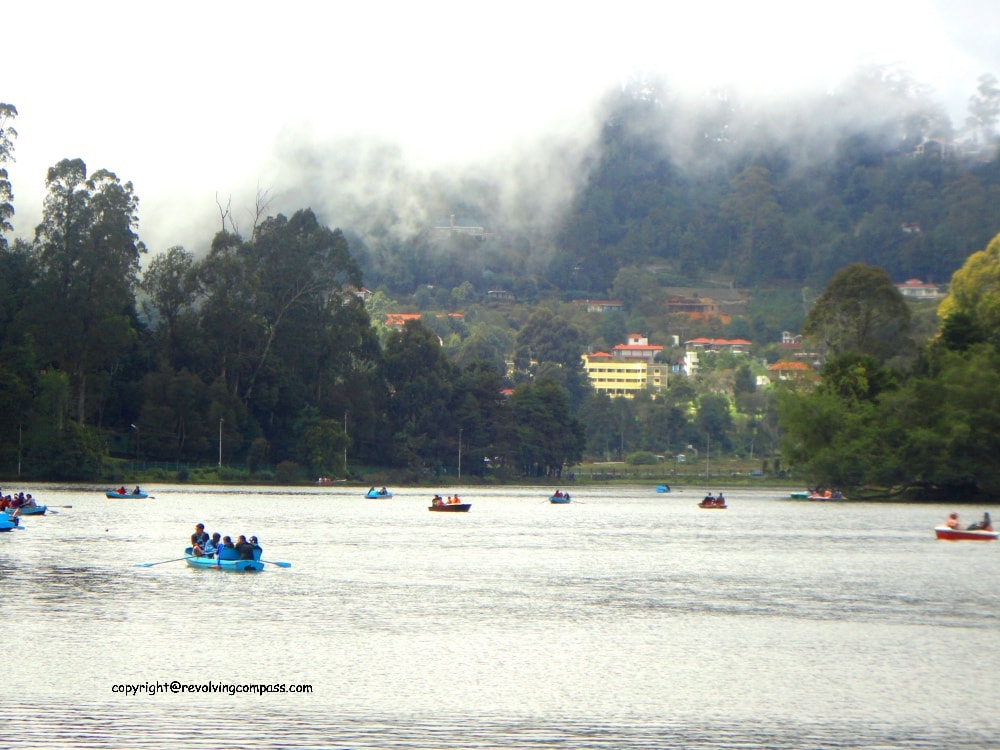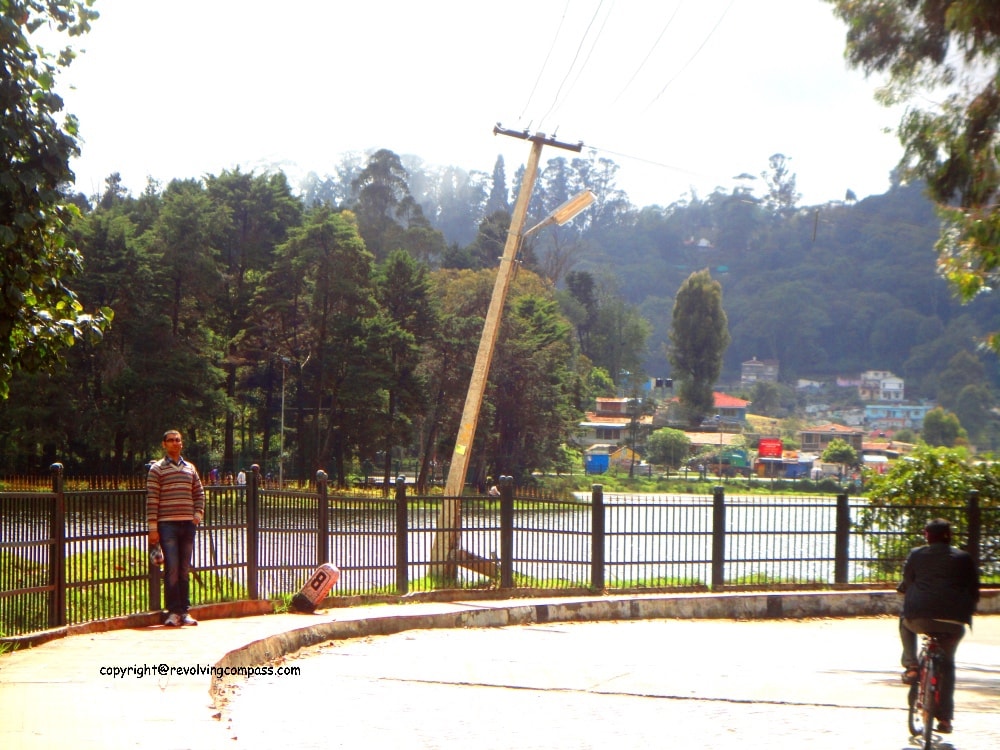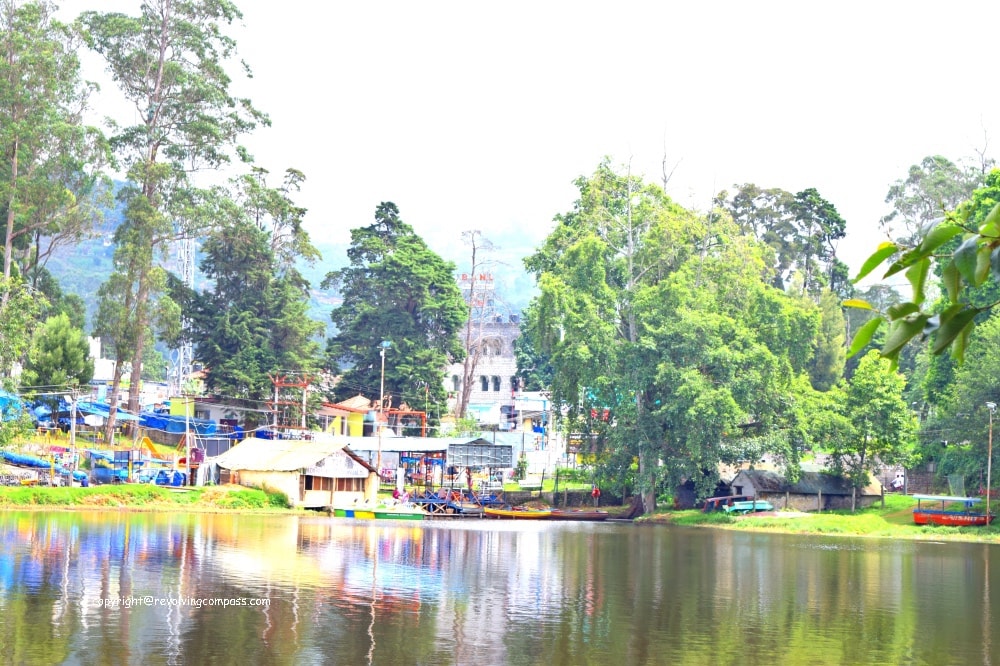 And some games in the resort
Then we came back to our resort, had lunch there and again played carom. In evening we went to Coaker's walk, enjoyed the flood of clouds once more. We spent some time watching flying clouds and the view of town and valley behind them. In the night there was an event organized in around the camp fire in the resort, for saying 
goodbye
 to 2012 and to welcome 2013.It was full of music, dance and some games.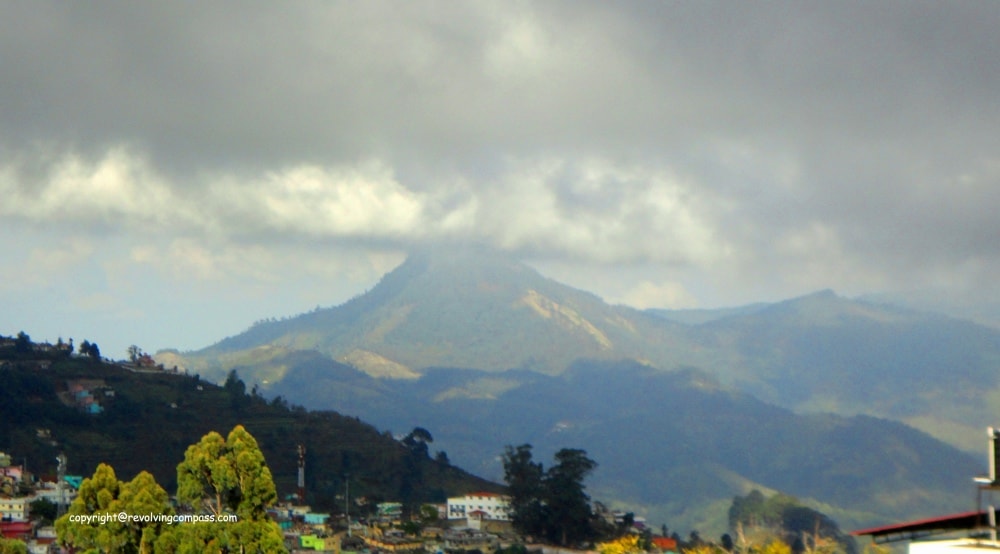 Finally at end of 3 days in Kodaikanal : Back to Bangalore
This was the day to say goodbye to Kodai and to start for Bangalore. We decided to start around 8:00 AM after breakfast so that we could reach Bangalore by 4:00 PM and meet some friends on the night of 1st Jan. As planned after breakfast we started from Kodai at 8:15 AM. Again back to home journey with completely refreshed mind on the same breathtaking views of highway. Again couldn't refrain myself from taking some snaps of the highway.With all the tolls stop and one break of 20 mins, we finally reached back to our home around 3:50 PM.
This was the end of one more memorable and amazing journey, 3 days in Kodaikanal, full of fun and enthrallment.
There are many other places in Kodaikanal which we didn't covered since we spent just 3 days in Kodaikanal. But they can be considered for sight seeing. Some preferred one includes: 
Bear Shola Falls, 
Berijam Lake, 
Pine forests, Kodaikanal Solar Observatory, Kurinji Andavar Murugan temple.
Other options for traveling
Other than private 
vehicle or cab, you can use buses or trains also for travelling to Kodaikanal from Bnagalore. You can use private bus services as well as state bus services like KSRTC.
You can take a train from Bangalore to Kodai road. Kodai road is the nearest station from Kodaikanal which is around at a distance of 80KM. From Kodai road either you can take bus running to Kodaikanal or a taxi.
Other option is to go to Madurai or Coimbatore from Bangalore by train or flight. From there you can take a cab or buses to Kodaikanal.
Food outlets on the way
A2B (Anand Bhavan), Kamat, MacDonald – but all these before Salem, in between Krishnagiri and Salem. After Salem, still you can find various restaurants, may be not so famous name but you can get decent food. Like we tried in one. 
***************************Wish you a nice and memorable trip*****************************