After tiring and prolonged work schedule for many weeks, we decided to head towards a place where we could score a completely new experience. And also which could revive our energy to carry out the everlasting demand of  IT Job. At least till we get chance for next enthralling journey. We were looking for a place which is comparatively less explored. And, where we could get a historical essence with divine feelings. That is when we visited Lepakshi Temple. 
After giving it some thought, we reached to a conclusion that this would be a short one day trip somewhere near to Bangalore. Then after further exploration we settled down for a place named "Lepakshi". As,  it could have been easily covered in one day trip. Also it had all that we were carving for. So began our trip an early morning on a foggy day.
Lepakshi background

Lepakshi is a small village located in the Anantapur District, in Andhra Pradesh, India

The famous Veerabhadra temple that dates back to 1583, and is dedicated to Veerabhadra, is located here. It was built by the brothers Viranna and Virupanna. And, this temple is one of the most notable examples of the Vijayanagar architectural style. Also, it is famous for its sculptures. These were created by the artisans of Vijayanagara empire. Also, it has idols of Ganesha, Nandi, Veerabhadra, Shiva, Bhadrakali, Vishnu and Lakshmi. A huge Nandi bull made out of a single granite stone is one of the major attractions near the main Lepakshi temple. And, the place is renowned for being one of the best repository of mural paintings of the Vijayanagar Kings. Many old Kannada inscriptions dating back centuries can be seen on its walls.
Legend 1 from Lepakshi Temple : Legend has it that the Naga of the Nagalinga was carved out of a single stone by sculptors while they waited for their mother to prepare lunch.

Legend 2 from Lepakshi Temple : Another legend gives the town a significant place in the epic Ramayana. It says , this was where the bird Jatayu fell, wounded after a futile battle against Ravana who had abducted Sita and going to Sri Lanka with her. When Sri Rama reached the spot, he saw the bird and said compassionately, "Le Pakshi" — 'rise,o bird!!' in Telugu. 
And that is where the place is believed to have got it's name from.
Where is Lepakshi Temple ?
Lepakshi is around 135 KM from Bangalore. In fact, it is very near to Karnataka and Andhra boarder. The most preferred and also the best route to take is NH7, Bangalore-Hyderabad highway. This is the same road which connects the Bangalore International Airport to Hebbal Flyover. It was fun to drive on NH7, although it was tough driving till International Airport due to ongoing construction and heavy traffic flow towards the Airport. (The construction is now over , though). But once we crossed the BIA, there was very less traffic and 4 lanes road with divider. Thereafter it was fun to drive. And finally, the road leading to Lepakshi temple is also in good condition. It is a narrow road but compensated by very less amount of traffic.
Directions to Lepakshi Temple
After crossing the Karnataka-Andhra boarder keep looking for APTDC restaurant and sign board directing towards Lepakshi. You can find these around at a distance of 3-4 Km from the boarder point. At this point you will need to take a left turn on a road which goes to Lepakshi. From this point temple will be of around 18 KM. In the way you will see two big statues of stork (one kind of bird). Keep going straight.
Our experience
We started at 6:45 AM from our house in our own car and reached at Lepaskhi around 9:30 AM with one break in between for fuel filling and breakfast. It was really fun to drive on NH7. We spent around 15-20 mins near Nandi statue and around 2 hours in exploring Main temple. Around 12 PM we started from Lepakshi and by 2:30 reached back to Bangalore.
The Basavanna Temple
1 KM before the main temple there is big Nandi statue, another major attraction of Lepakshi. As said, it is the biggest Nandi statue in India. A very nice park is built up around this statue and is very well maintained. You can spend sometime here and can take some good snaps.
Wonder 1 : Nandi at Basvanna Temple
At 27ft in length and 15ft in height, it is a colossal structure, reputedly India's biggest monolithic Nandi. Its grand size and the perfectly proportioned body make it a popular photo-op with visitors. Can you imagine such a huge structure cut out of one single stone!! The whole area has been developed in the form of a park, around this Nandi. You can visit, roam around or just sit in the park.
There is a beautiful small pond as well at one side.
The Veerbhadra Temple, Lepakshi
As soon as you step into the temple premise, it will start tracing an impact of its enriched cultural and ancient engineering marvel. It is a true splendid creation which compelled me to think about the master skill posed by the engineers, architects and whoever else were involved in creating this masterpiece.The whole Lepakshi temple is made of stones depicting our never vanishing traditional and cultural integrity. Various deity of God and Goddess have been carved out on the walls and pillars of the temple. You can see various sculptures all around in the temple, all made of stone and some are crafted on walls and pillars. Another attraction is roof painting speared all over on the roof of temple depicting glorious ancient Indian culture and traditions. 
As soon as you enter the temple, you get a feel of it's vastness. You will immediately step into a courtyard that runs all across the main temple. The courtyard is neatly lined with Verandah on all sides, with endless pillars, intricately carved.
Upon crossing the courtyard, you can proceed to the main temple. A flight of stairs lead to the main temple. I bet you will be mesmerized with the carvings on the pillars and walls of this temple.
Wonder 2 : The Hanging pillar of Lepakshi Temple
As you walk through the temple, you arrive at a pillar which does not rest on the ground fully.There are about 70 pillars at this fabulous 16th-century temple of stone in Vijayanagar style, but this one is the best known and a tribute to the engineering genius of ancient and medieval India's temple builders. However, it is a bit dislodged from its original position. A paper or a thin piece of cloth can be passed from below the pillar and it comes out absolutely unhindered at the other end.
Legend 3 of Lepakshi Temple : It is said that during the British era, a British engineer tried to move it in an unsuccessful attempt to uncover the secret of its support. However, upon moving the pillar, the whole structure of the temple started shaking (due to the kind of balance with which the pillars are placed, you move one – you move all). The engineer was so petrified, he ran off for his life. 
Wonder 3 : 

The Shivling of Lepakshi Temple
From near this pillar, you can step out in the courtyard of the temple. Now, you are in the backside of the main temple. From here, walk towards the right, and take a turn at the end towards right once more. You will soon witness a huge Shivling. But the Shivling is also hooded under a multiface snake (the naag). This is a unique Shivling. We haven't witnessed any such Shivling in the rest of the country so far.
Wonder 4 : The incomplete Kalyan Mandapa of Lepakshi Temple
After crossing the Shivling you will arrive at a structure that looks incomplete. It is a Kalyan Mandapa (a marriage hall).
Legend 4 of Lepakshi Temple : It is said the if this Kalyan Mantapa had been completed, Lord Shiva and Ma Parvati's marriage would have happened here. It's construction was started by the then King's accountant while the king himself was on a trip. When the King came back, he was utterly furious with the accountant for having spent the kingdom's money on this construction without the King's knowledge or approval (I feel it was more of an ego clash that the king had). He immediately ordered the Kalyan Mandapa construction to be stopped. And so it remains incomplete, till date.
Wonder 5 : The eye on the wall in Lepakshi Temple
Right across the incomplete Kalyan Mandapa, one can witness a red mark in one of the walls . And this strongly resembles an eye. You must be wondering how come an eyemark on the wall!! So, there's a legend behind this too and this is how it goes:
Legend 5 of Lepakshi Temple : It is believed that the King was so furious with the accountant on having constructed the Kalyan Mandapa that he inflicted a punishment on the accountant. The punishment was that his eye be popped out . And, that explains the eye mark on one of the walls. I am not sure how true it is. But it does look barbaric. I guess this is the only temple that I have visited so far, with blood marks present on it's walls.
Wonder 6 : Sita's footprints inside the Lepakshi Temple campus
Moving further , after crossing the Kalyan Mandapa, you will arrive at a huge footprint in the temple floor. Almost as if someone stamped with strength on the floor. This footprint is believed to be of Goddess Sita. Interestingly, this footprint is always wet. You can see water from underneath constantly sipping and washing this foot. Although, the source of this water is unknown. Yet, it is believed that since it is the footstep of the divine Goddess, the water appears magically as a sign of respect to her. And you can try to dry or wipe out the water, it slowly seeps back into place. Interesting..huh!!
Legend 6 of Lepakshi Temple : It is said that when Ravana was abducting Goddess Sita, and taking her to Sri Lanka, they stopped at this temple to rest for a while. That is believed to be the source of the footprint that is seen in the floor of the temple premises.
And last but not the least:
Wonder 7 : the Priest of Lepakshi Temple
Well, this did need a special mention. Although nothing to do with historical significance or architectural wonder, I couldn't help feeling that the priest of Lepakshi temple is a wonder in himself. As you step inside the temple, he will greet you with a charming smile. And the first thing he will ask you is which language you know. Whichever language be your preference – hindi, english, tamil, telugu, kannada, Malayalam – he will interact with you in that language. He will explain to you enthusiastically about the wonders of this temple and their legend. And then he will leave you at your own to explore the place. No pressure of worshipping, no unnecessary bothering. And even if you are not there to offer your prayers, no problem. You will still be welcome. You can just visit the premises like a tourist at a historical site.
Rest of the Lepakshi temple
Apart from the special wonders and legends of the temple, there are many other interesting spots:
The longVerandahs with infinite pillars,
The chambers for meditation accessible through the Verandahs
A small temple of Ganesha
A leafless tree that is believed to be standing since ages
And there are countless more. In conclusion, it is a must visit in our opinion.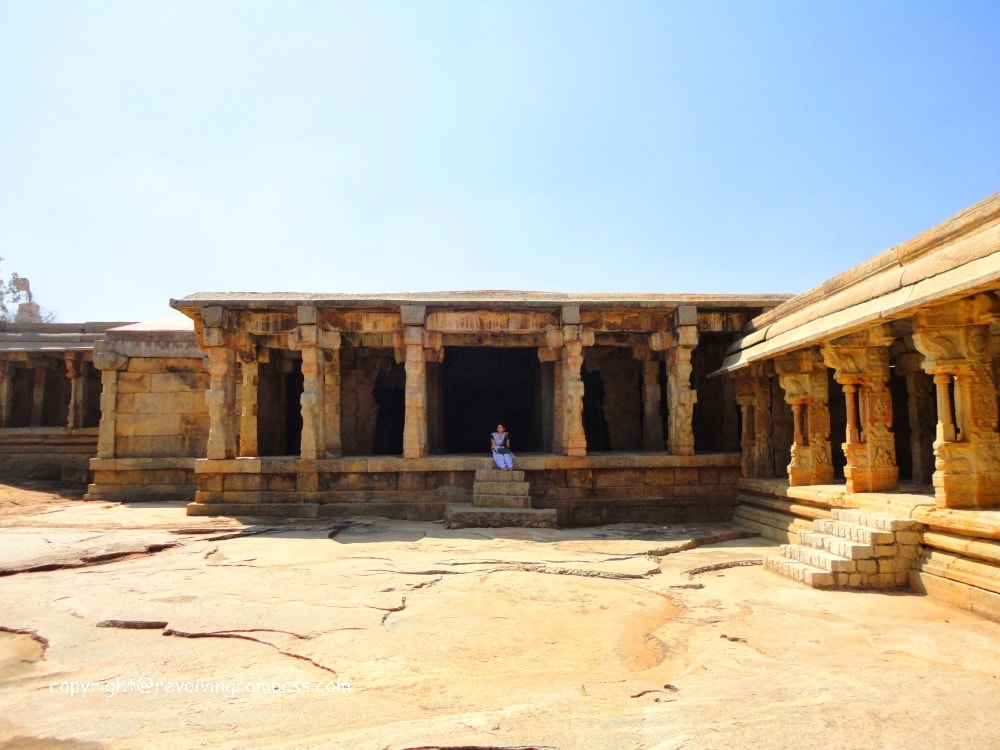 What we loved about Lepakshi Temple
Overall it was a wonderful trip that we had. We went to Lepakshi temple without knowing much about the legends and the wonders of the place. So, I guess we loved the place even more than usual. Also, we loved the fact that it was not at all crowded here. And, it is indeed an offbeat destination very near to Bangalore that many don't seem to know about. Overall, there were hardly one or two other souls visible here and there. Thus, giving us an experience of utter tranquility.
Tips for visiting Lepakshi Temple
Travel Options
Best is by your own vehicle. You can take cab from tour operator. Other option is to take Buses plying from Bangalore to Hyderabad. You will need to get down near boarder check-post. From there you can take auto/tempo running towards Lepakshi.
However, be prepared to drive through fog and mist if you are starting early in the morning.
Food

outlets on the way
Kamat (after crossing 

Chikballapur town)

, APTDC (Near Andhra-Karnataka boarder, where you will take left turn for Lepakshi Temple ), Cafe Coffee Day while returning back, on the other side of the highway.
Other tips
Try to reach as early in the morning as possible. Since the temple premise is all stones. And, you will not be allowed to enter with your shoes on. So as the day advances, the stones tend to become very hot, making it really difficult to walk across.
Bring your water bottle with you. There are not many provisions near the temple.
Wear comfortable cotton cloths, it is mostly hot all through the year in this area.
Do visit the bull temple as well as the main temple.
We had a little hiccup almost 5km before reaching the temple. The village people had come out on the roads and were protesting against some water shortage issue. They had blocked the roads and were not allowing anyone to cross. Ultimately, we had to leave the highway and loop through the fields. So, it gave the trip a little adventurous edge too 😀 We will suggest : check the local news, ensure everything is peaceful. Although incidences like these are one in a million.
There is no entrance fee to temple.
It is good to offer some minimal money to the temple, that will go towards it's sustenance. It's up to your free will.


***************************Wish you a nice and memorable trip*****************************