If you read about our adventure during our night tour of Paris, you might already know we recently did a tour of Europe. Before Paris, we did go to Italy, and spent 6 marvellous days in Italy. A couple of them in Florence. Here, we take you through one of our lovely walking tours of Florence.
If you don't walk during your trip to Europe, I can't agree you have experienced it the right way. And by walk, I mean a lot of walking. That is, more than five kilometers a day easily. The beauty and culture of Europe is best experienced through walking tours. So, when we planned our Europe trip, we decided to include walking tours profusely into it. And our first was a walking tour of Florence. We designed it ourselves. For this, we put the places on a google map, starting from our apartment. In fact, we designed two different walking tours of Florence during our stay.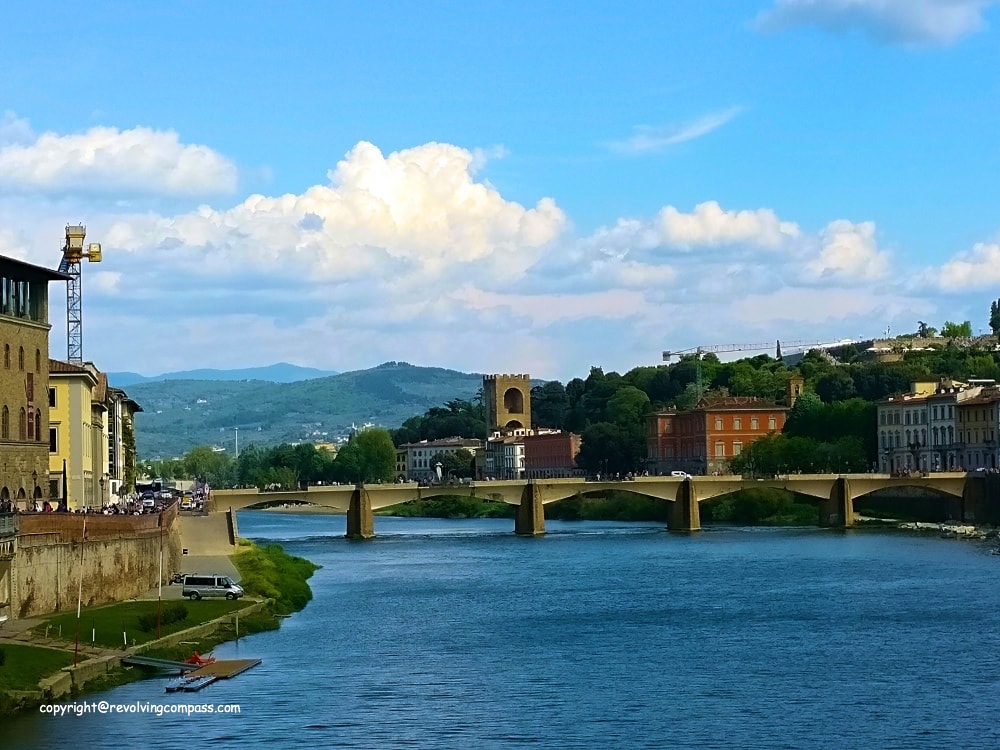 Our first walking tour of florence
The first walking tour of Florence that we designed, started from our apartment and went through the bank of the river Arno, all the way to the other side. Along the way, we made several stops in this walking tour of Florence, to cover the beautiful cultural and historical spots.
The day we arrived in Florence, we had half a day after checking into our apartment. We got fresh and took some rest. As we stepped out of our apartment, we  were more than delighted to find a vegan restaurant nearby. ( We will soon write about our experience as vegetarians in Europe ) Thereafter, we had a sumptuous meal here before heading off to our first walking tour of Florence. We took almost four and half hours to complete the tour and return back to our apartment, Palazzo Dei Campi. But it was far from exhausting. So, without wait, let me take you through the places that we covered during this walking tour of Florence.
Stop 1 : The banks of river Arno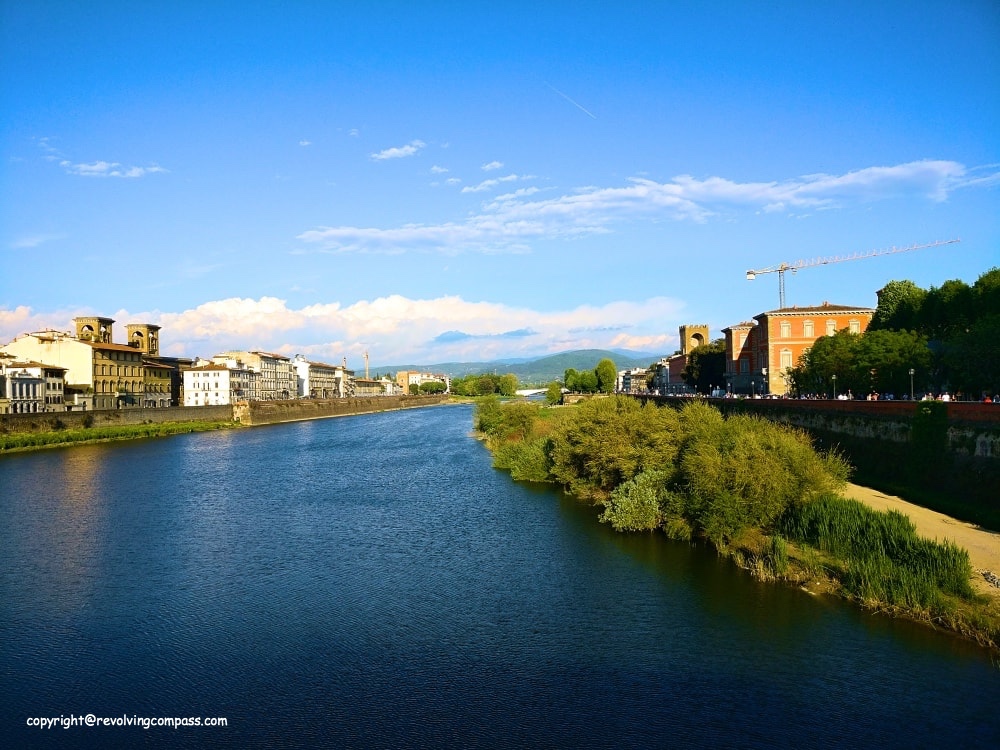 We started straight from our apartment (as you can see in the map at the end of the post) and after a left and a subsequent right, walked straight. Until we arrived at the banks of the river Arno. It was evening, and the view of gradually setting sun across the river was just mesmerizing. We couldn't help but stop by the pedestrian walkway on the banks of the river and soak ourselves in the eternal beauty that was spread in front of us.
On one side you can see the river getting narrower and on top of it Ponte Vecchio – the beautiful bridge from ancient era abuzz with tourists and locals alike. While glimpsing on the other side, you can see the river expanding. And the beautiful Tuscany terrains spread on it's border along with the fairytale mountain ranges in their backdrop. Overall, a picture perfect spot that seems to be leisurely created by a great artist. Not to mention, the water is so crystal clear that you can see almost till the river bed. Hats off to the people and government of Florence who have worked together to preserve this beauty.
Stop 2 : Uffizi gallery
Further, we proceeded along the bank of the Arno for another 500 meters, to arrive at Uffizi Gallery. It is one of the most famous museums of art work in the world. In fact, it holds on display a number of master pieces of art from the renaissance period. The arts on display here are the creations of Botticelli, Giotto, Cimabue, Michelangelo, Leonardo da Vinci and Raffaello and many others. As we arrived here, there was a festive mood all around. In the courtyard of the museum were several artists sitting and creating live sketches of those interested. I felt like being surrounded by the greatest works of arts. And the feeling was enthralling.
We sat in the courtyard of Uffizi Gallery for sometime, resting our foot and observing the abuzz atmosphere. PS: This is one place where you have to be particularly beware of the pickpockets. Since it is very crowded and it's common for people to bump into or brush by each other while making their way in and out of this area.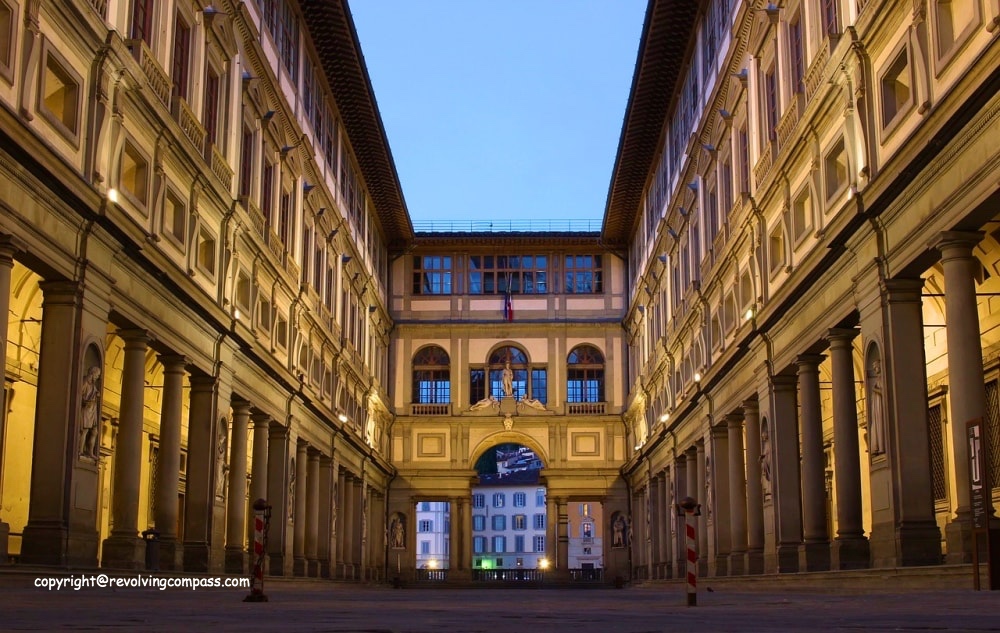 Stop 3 : Ponte Vecchio
From Uffizi gallery, we proceed a little further along the banks of river Arno to arrive at the Ponte Vecchio bridge. It's one of the several bridges built over the river Arno. And it is also believed to be built on one of the narrowest parts of the river. It has shops on both the sides, which was common in ancient days. Although, in the earlier era these were mainly butcher shops. But, now, they are predominantly goldsmith and jeweler shops. These shops have on display intrinsic gold ornaments, sunstone ornaments and even diamond ornaments on sale.
However, for us, the attraction was a spot halfway through the bridge, between the shops. This spot was the perfect location to admire the beauty of the river Arno and the Florence that spread around it. I don't think I could see any other spot through my trip with such a magnificent view of the river and it's surroundings. It was just so surreal. We took some beautiful snaps here, filled our bottle with water from one of the public fountains and then proceeded on further journey.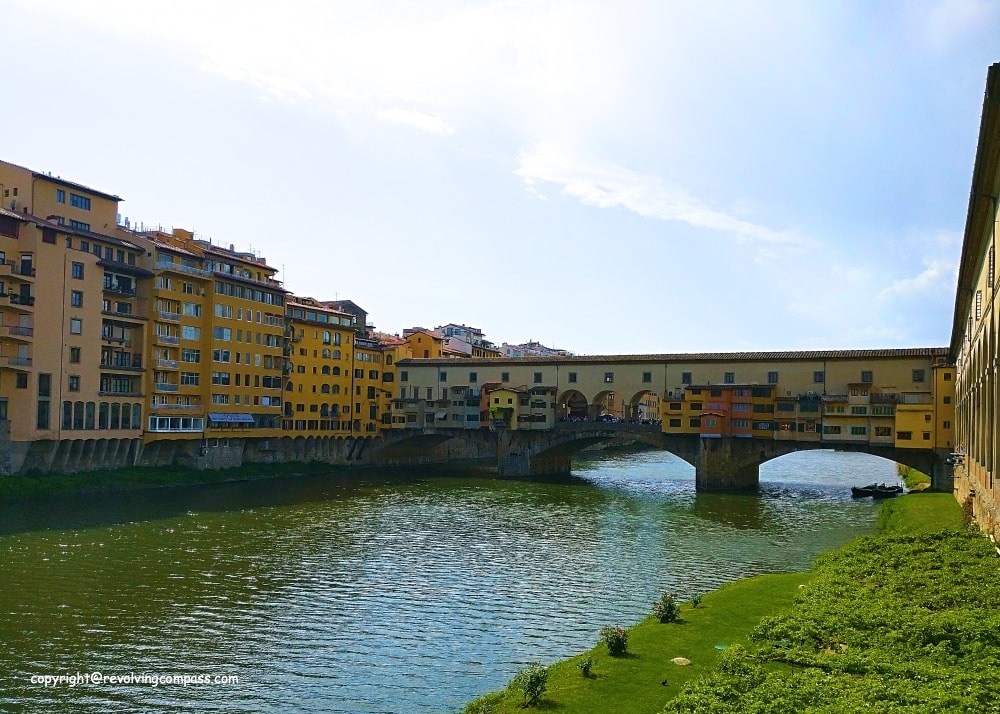 Stop 4 : Pitti Palace
Keep walking straight post thePonte Vecchio Bridge and you will soon arrive at the Pitti Palace. Referred to as the Palazzo Pitty in Italian, it was a town residence of a banker named Loca Pitti. It's more than 5 centuries old and still stands robust. Now, it stands proudly as the largest museum complex in Florence, Italy. The Palace looks nothing less than a grand one. It has already stood the test of time through centuries. And the beauty is that it still seems as if it was built just yesterday.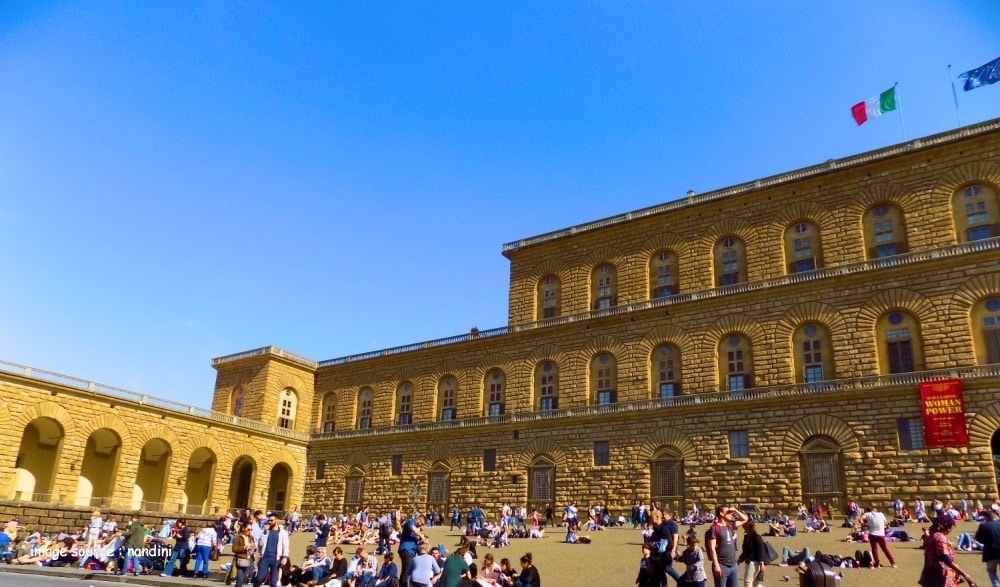 Stop 5: Boboli Gardens
Right through the heart of Pitti Palace, there is way to the most flourishing gardens of Florence, the Boboli Gardens. So, they will be your next stop during this walking tour of Florence. The Giardino di Boboli or Boboli Gardens is home to several old sculptures dating as long back as the 16th centuary. Lush green and beautiful, the gardens are ever refreshing. There is an entrance ticket to the Boboli Gardens. You can buy it right in front of the Pitti Palace. And then go through the entrance of Pitti Palace behind it, to enter into the vast stretch of green that consists of the Boboli Gardens.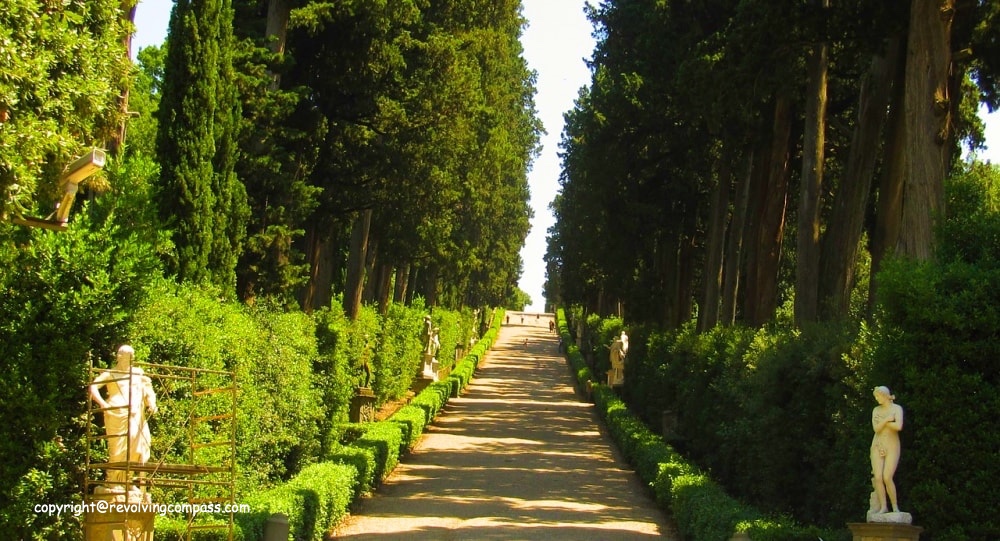 Stop 6: Small garden by the river Arno
From the Pitti Palace, we continued our walking tour of Florence by tracing our steps back till the Ponte Vecchio bridge. Upon arriving at the bridge, we walked down on the other side of the bridge towards Piazzale Michelangelo. However, almost a kilometer afterwards, we arrived at a beautiful spot. I am not sure of it's name. As, it was not something we had marked in the map. We just spotted it and decided it was worth spending sometime. You will arrive here after crossing the second bridge post the Ponte Vecchio Bridge.
There is a way down to the bank of the river here. We could see people playing volleyball, or just sitting leisurely and having a picnic by the bank of the river. You can go down and enjoy a closer view of the river from here. Just near here, besides the roadside, there is a small green garden. We stopped by here and sat by the garden for quiet some time. The little one loved chasing the pegions here while some of us sat on the boundary wall lining the bank of Arno.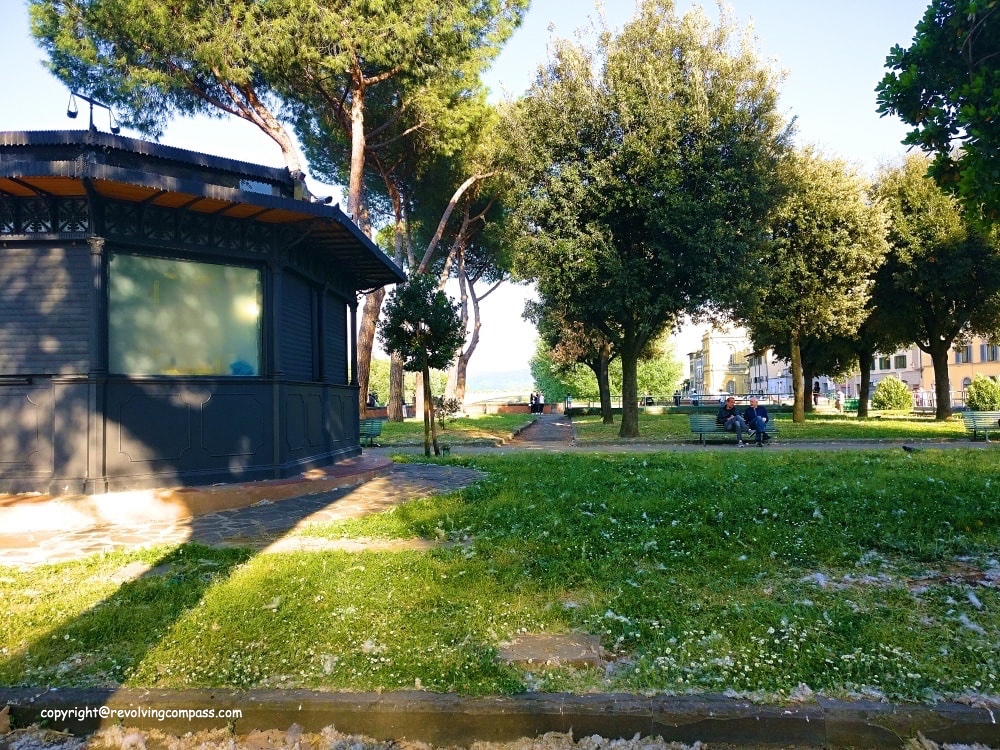 Stop 7: Giardino Bardini
Giardino Bardini, the seventh stop on our walking tour to Florence, is a beautiful garden just opposite the small garden where we sat and relaxed. This is another renaissance time masterpiece lined with beautiful layouts and great sculptures. The garden has been opened to public only recently and is not so well known to many. However, it is perched upon a small hill. As a result, it provides not just greenery and refreshment, but a great view of the whole city of old Florence. Although you need to climb several stairs to reach to the top, I would recommend it strongly for the views that you will get from the top.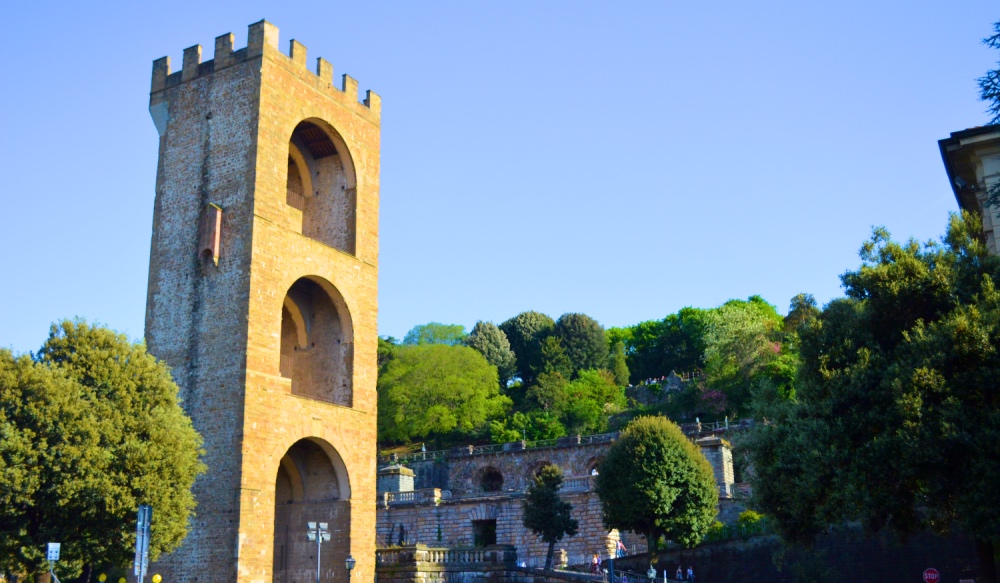 Stop 8: Piazzale Michelangelo
This last spot on our self planned walking tour of Florence doesn't need an introduction. This is the most famous florentine Piazza. It was developed by Giuseppe Poggi in 1869. And is dedicated to the famous renaissance artist Michelangelo. It has bronze copies of several of his marble sculptures including the world famous David. Although the original David stands in Galleria Dell' Academia which we did cover in our morning walk tour of Florence 
Map of our walking tour of Florence
After visiting Piazzale Michelangelo, we traced our steps back to the bank of river Arno. And then from there, we headed back to our accommodation. Although, if you look at the google map, it shows a walking trip of 6.3km, it might have been close to 7 km for us if we take the round trip in conclusion. Did we feel exhausted? Not at all. If anything, we felt rejuvenated and were more than ready to take up more such walking tours. In fact we didn't walk the 7km stretch at a go. We took stops at every beautiful corner to admire the place. And we also took snacks breaks on the way and kept refilling our water bottle. All this kept us fresh as ever through the walk.
I guess the evening weather was also supportive. With mild and cold breeze blowing and the temperature just soothingly cold for us. Overall, this walking tour of Florence turned out to be one of the most cherished memories of our trip in Europe.
In conclusion
By the time you reach this last spot, you will be definitely needing some rest. So take some rest and head back to your accommodation, like we did to ours. Although it was as refreshing a walking tour of Florence as we had imagined it to be. You can use our map to plan your own walking tour. All you need to do is replace our accommodation with yours as the starting point. And if yours is way too far from the Arno, take a bus or another means of transport to reach here. Although, we would recommend staying in the old parts of florence to experience the real renaissance vibe.
Tips for a successful walking tour of Florence
You can combine your trip to Florence with Venice and Rome as well, like we did. In fact, if you have got 2 weeks to spare, here's a perfect 2 week Italy itinerary for you.
Carry a water bottle with you. You need to be hydrated as you are doing a lot of walking. You can keep refilling your bottle from one of the several public water supplies or fountains while on this walking tour.
Wear comfortable shoes as there is a lot of walking to be done
If you have wifi or data network, you can easily follow google map. Else, either you can download an offline map for your walking tour of florence, or, you can read the next point, which is like an insider tip
We didn't have network connectivity once we stepped out of our accommodation. So, we prepared this map on our phone, and right before starting from our room, we started the navigation. There after, we could still navigate offline, even after going out of the network reach. Of course, we couldn't change anything in the map there after
In case you need directions during this walking tour of Florence for any reason anywhere, you can easily reach out to others. This is a busy part of the city that is always thriving with locals and tourists alike. And they are all very helping.
Beware of pickpockets. This is one of the busiest tourist spots of Florence and hence pickpockets are in full swing, making the tourists their soft target.
There are several eateries in this whole area, but being the tourist hot spot, they are costly. We will advice, you pack your lunch or snacks from near your accommodation when you start, or prepare something in your apartment. And you can munch on it while you walk along the river banks or sitting into one of the many green gardens that we talked about above.
If you are with a toddler or a baby, you can take a stroller with you. With so much of walking to do, it will ease carrying the baby.
Do carry an umbrella with you. For, it did rain a little while we were on this walking tour. Luckily, we were on the bridge at that time, and we found a perfect shelter amongst the shops. And it stopped raining in another 10 minutes.
You might as well like
Our apartment stay at Piazzo Dei Ciompi , Florence
Self planned tour of Florence – Part 2
A half day tour from Florence to Pisa