We had heard of Hampi a lot and for long we were considering to have a trip to Hampi. As we knew Hampi is very hot across the year and our little one was too small to take a risk of putting her through this scorching heat. So we waited for her to grow a little. And finally the day arrived. Now she is 8 month old and year 2014 is about to say good bye to us. We also planned to bid adieu year 2014 in our most preferred way – by exploring a completely new place. Hence we decided to strike-through the much awaited Hampi from our to do travel list.  And definitely this trip transported us into a completely different era.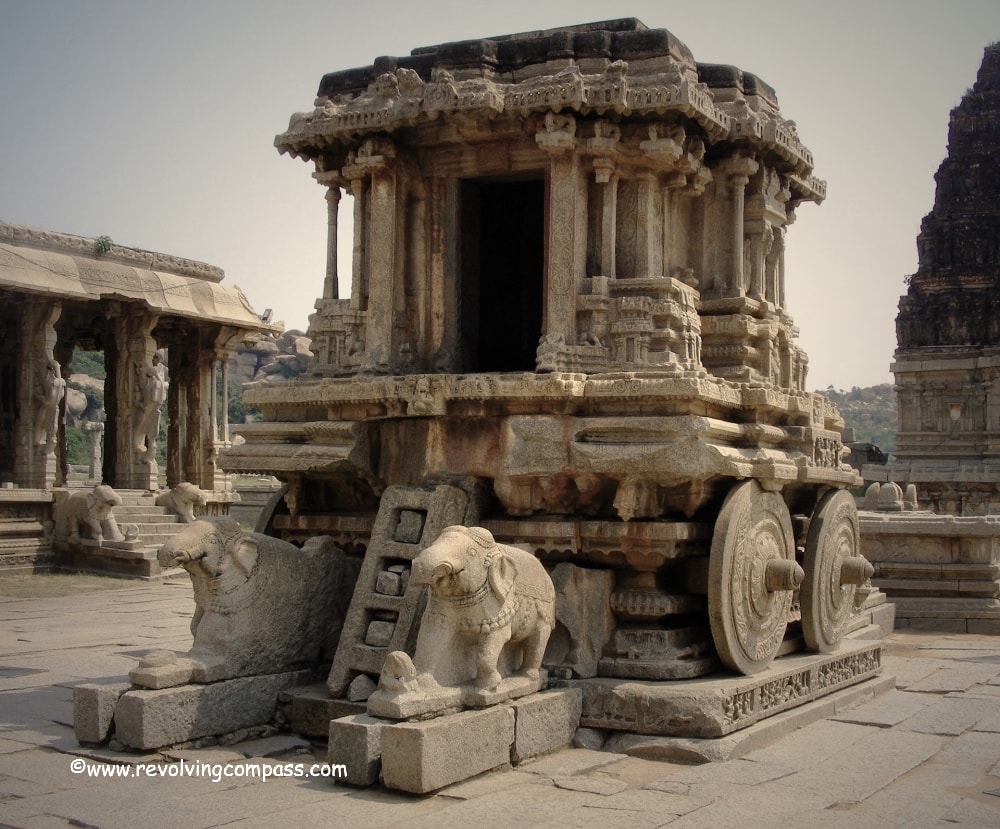 Name Hampi
Hampi which was traditionally known as Pampa-kshetra, Kishkindha-kshetra or Bhaskara-kshetra has received its name from Pampa, the ancient name of the Tungabhadra River. As per Hindu methodology, Pampa was Lord Brahma's daughter, who was later married to Lord Shiva. Hampi is an anglicized version of the Kannada name Hampe (derived from Pampa). Over the years, it has also been referred to as Vijayanagara and Virupakshapura (from Virupaksha, the patron deity of the Vijayanagara rulers).
History of Hampi
Hampi is surrounded by the ruins of the ancient Vijayanagara Emprire.The group of monuments and ruins  from remaining are a UNESCO World Heritage Site. But sadly, the list that mentions Hampi is of "endangered world heritage". In the lack of proper maintenance, the ruins are slowly crumbling. The city is situated on the banks of tungabhadra river and is 353 km from Bangalore. In its prime, it was one of the richest and largest cities of the world. The first historical proof of settlement in Hampi dates back to 1 CE, which is way way back in the past!!! (Even before our great grand parent's grand parents time 🙂 )
Legends associated with Hampi
As per
Ramayana
, even long before the Vijayanagara Empire, Bali and Sugreev lived here. Lord Rama visited here along with his brother Lakshmana, looking for his wife Sita. It is also the place where Sita had dropped her jewels as a mark of hint for Rama to know that she had crossed this place. It is also believed that Lord Shiva had got married here, and that Lord Shiva had burnt Lord Kama with his third eye on one of the hills in Hampi.
Our trip to Hampi
We had hired a cab for the whole 3 days journey, it took around 7 hours to reach Hampi from Bangalore. Half the stretch of the road towards Hoskote was bumpy. So, it took more time to reach than we had expected. We had booked our stay at Royal Orchid, and it was a pleasant stay there.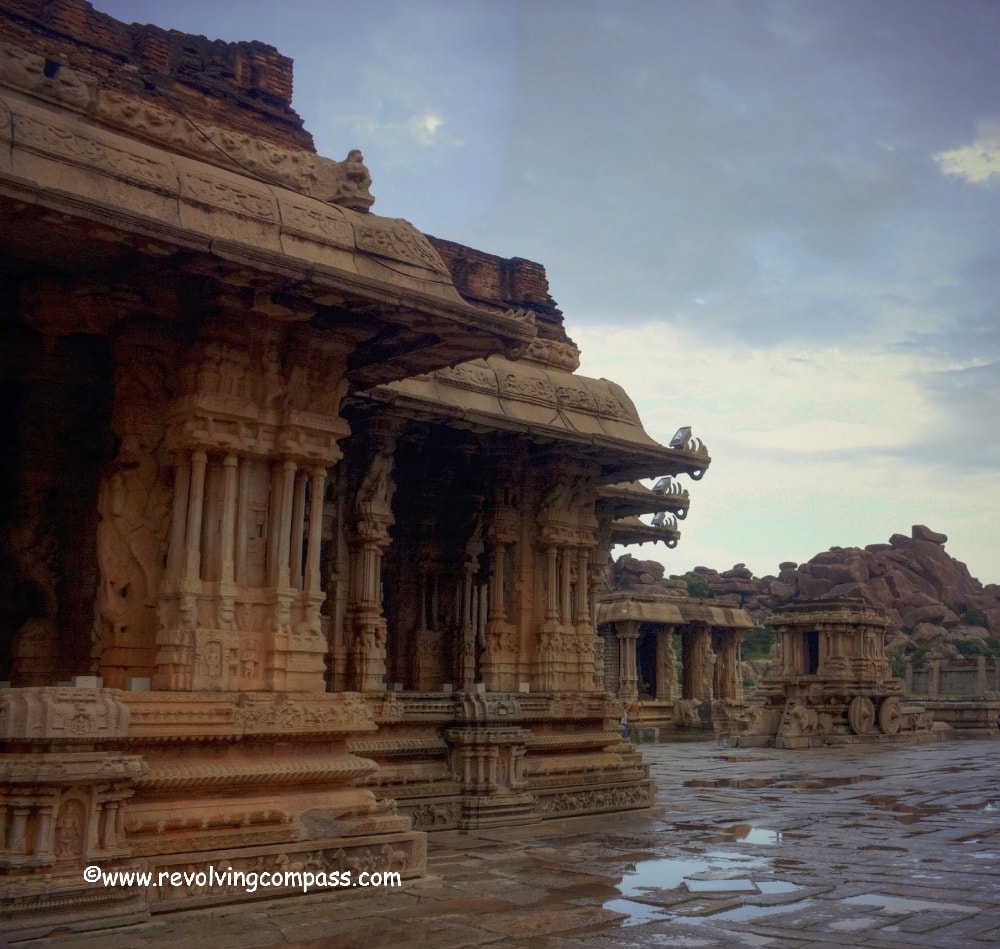 We reached Hampi in the afternoon, after checking into the hotel, we had our lunch and then we relaxed for rest of the day as this was the first trip when we were traveling with our 8 months old. It was as if both us and her were on test. We were testing our patience and our management skills on our first trip with our toddler. We were also observant of her reactions to the change of atmosphere and surroundings. To our great delight, she was super excited since the beginning if the trip and her excitement only increased as we reached the hotel.
Next day we had a day outing to the ruins of Hampi. It was a hot and sunny day that later got a little cloudy. Nevertheless we enjoyed thoroughly amidst the ancient ruins of the great kingdom, it brought a feeling of being transported to another era… 🙂
Exploring Hampi
Our first stop was Sri Virupaksha temple. The temple premises are quiet huge. So is the region surrounding the temple. From here, we went to observe the ancient market place , and then to the ruins of the ancient kingdom right across the river thungabhadra. These ruins consist of parts of homes, temples, markets, and other architectures of the ancient kingdom that were abuzz at one point of time in history. Their glory still marvels through the ruins.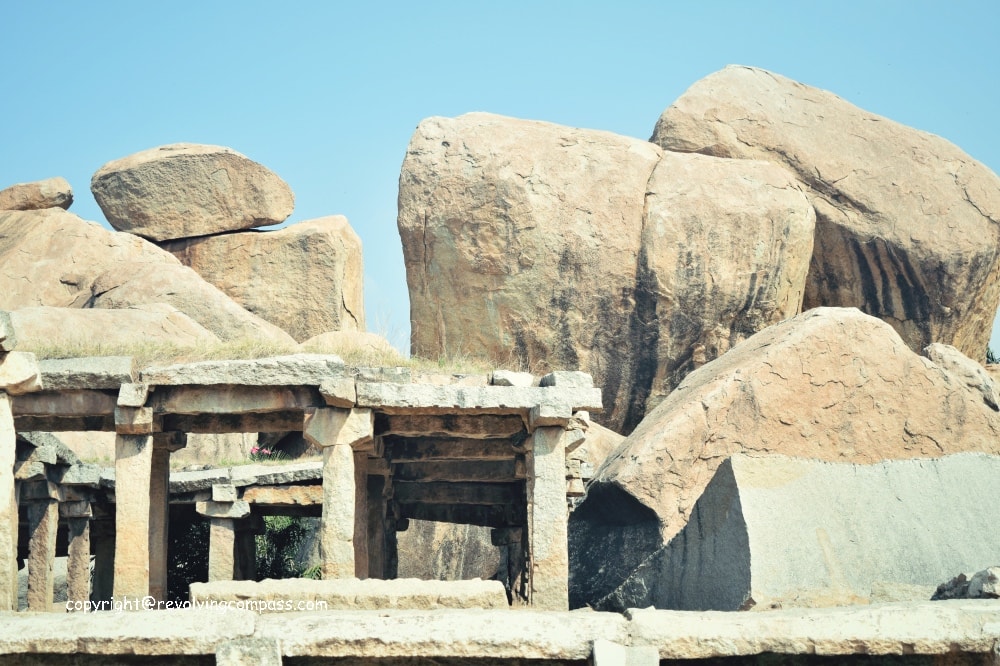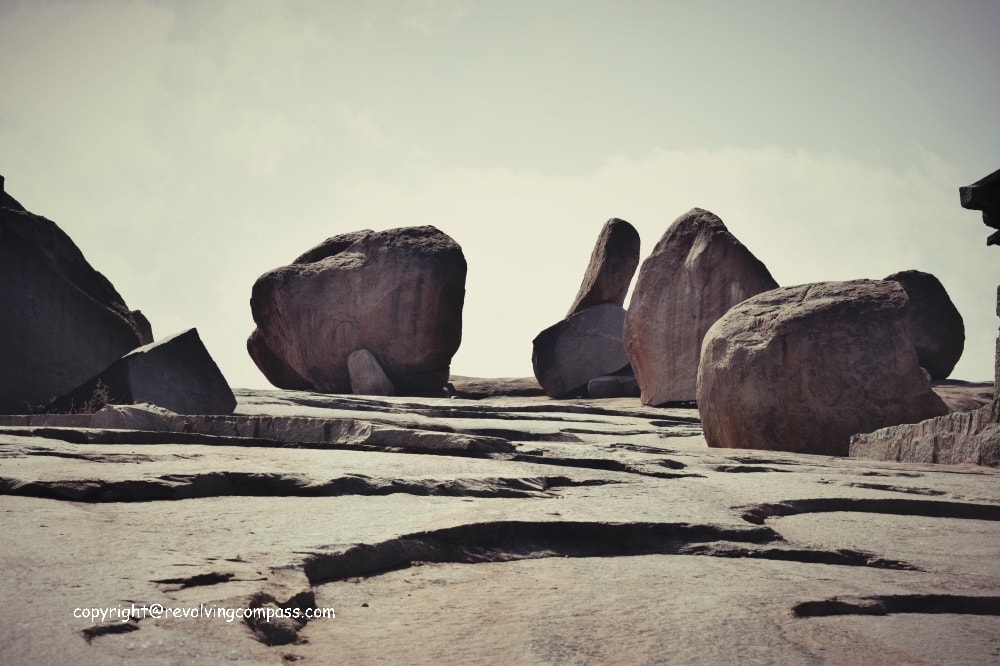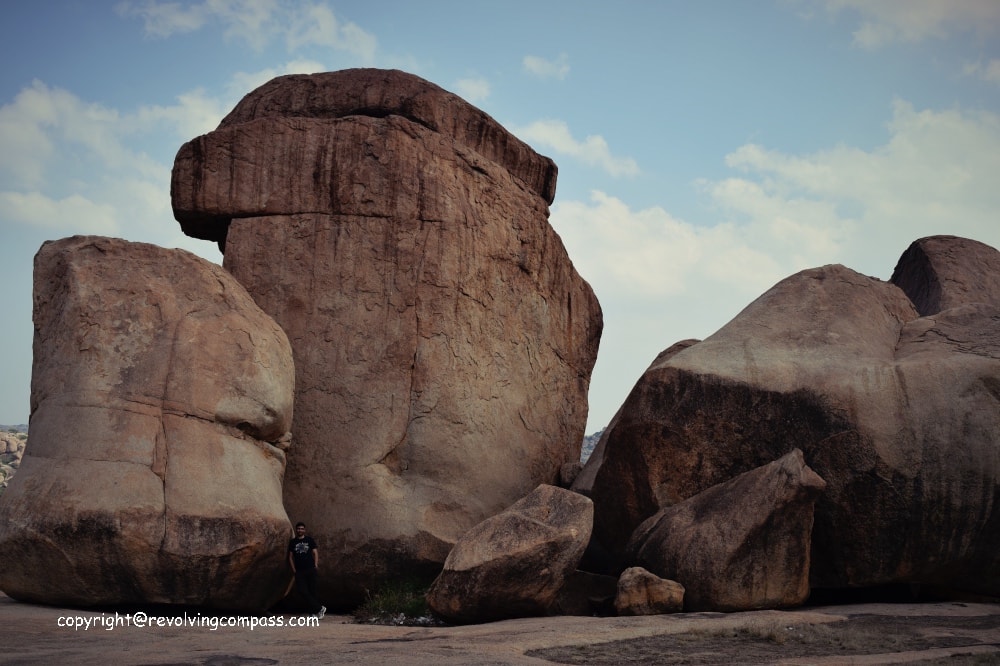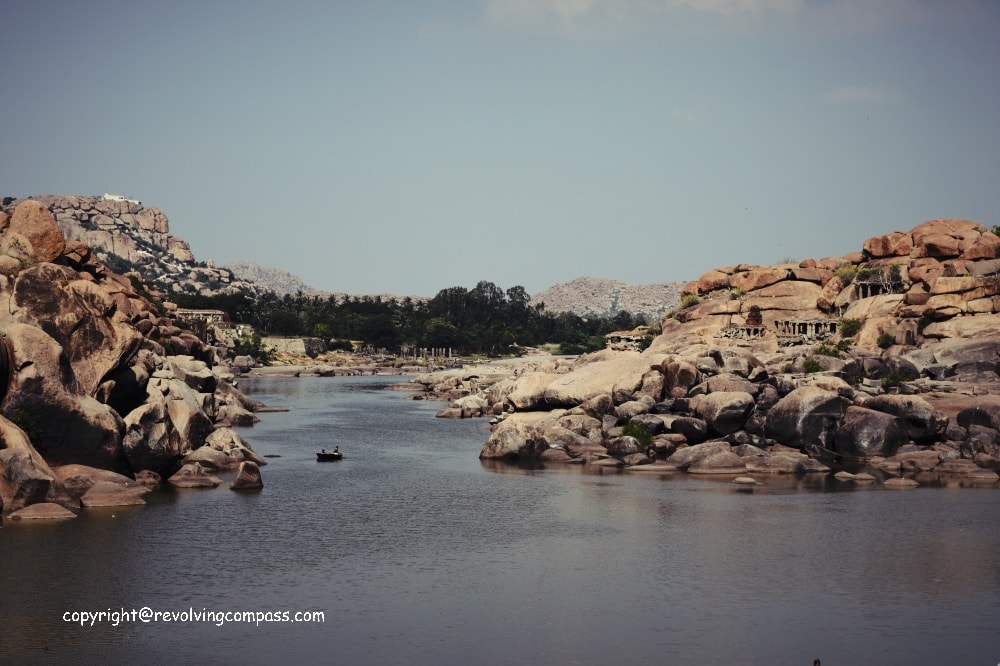 Virupaksha Temple
The Virupaksha Temple or Pampavati Temple is one of the oldest operational temples in India. It is 120 feet high. It contains great architectral marvel and scluptures of Lord Shiva. This temple is dedicated to Lord Shiva (As the name suggests. Virupaksha means 'The one with oblique eye') . This temple was built in 7th century AD. Since then, every single day, devotees have been offering prayers to Lord Shiva in its holy premises. Also, in the premises of Sri Virupaksha temple, there's an elephant that gives you his blessings !! Give a one rupee coin to the elephant, it would accept it with its trunk and then bless you by putting its trunk on your head.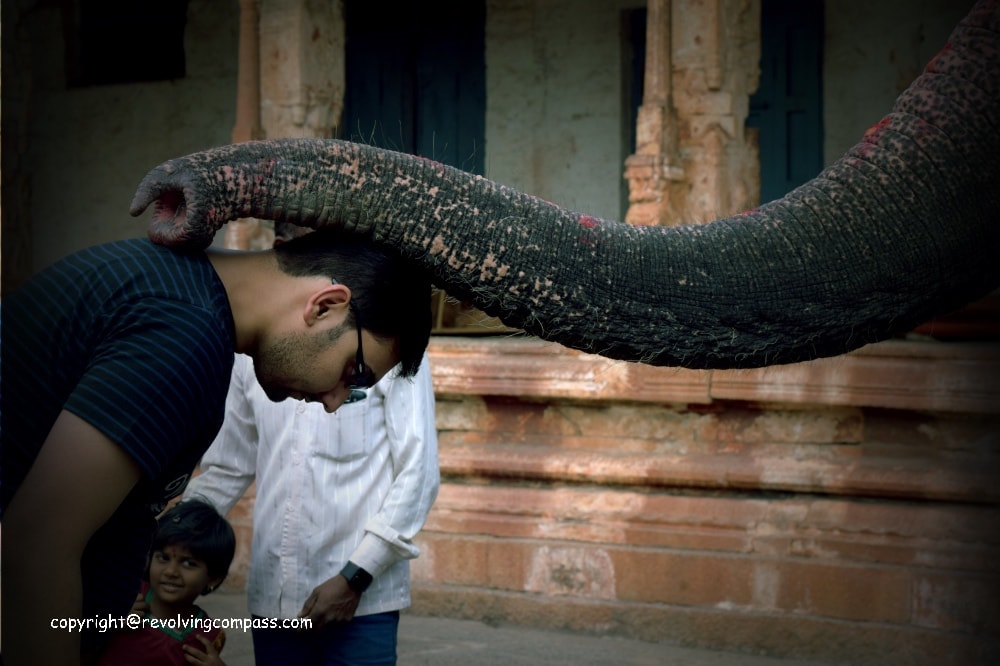 Blessed by elephant in Virupaksha Temple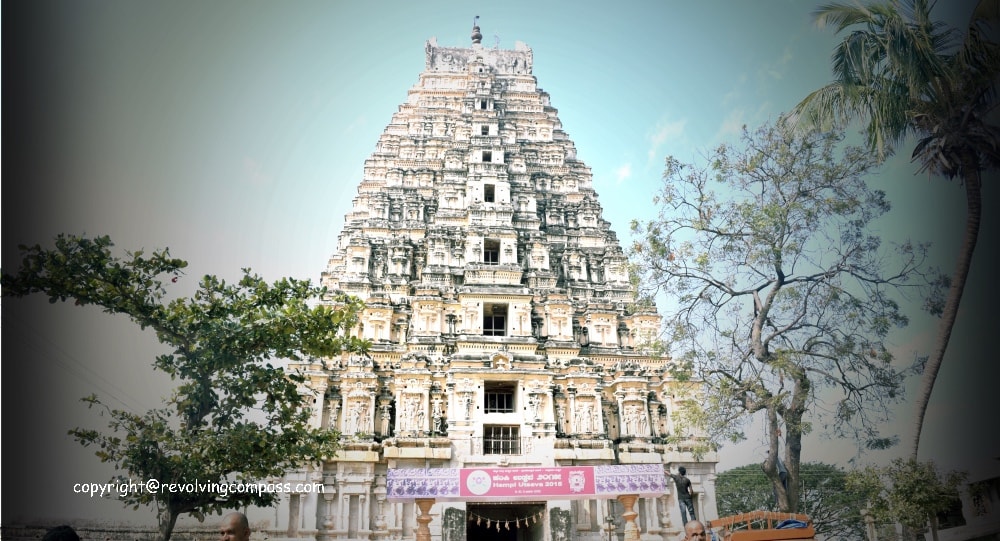 Vittala Temple
This is another famous attraction and a famous temple in Hampi. The temple was originally built in the 15th century AD. This temple has derived its name from Vittala, a form of lord Vishnu. It is famous for its 56 pillars which are called musical pillars. When tapped gently, these pillars produce musical sound. The fact that these temples are actually made of complete stone makes the production of music a mystery. Had they been hollow one could easily explain how the music is being produced.
Hampi Bazar
One of the distinctive attraction of Hampi is Hampi Bazaar. It is located near the Virupaksha Temple. Hampi Bazaar is a conventional market place that spreads for more than one kilometer. The pathway traversing through the market is surrounded by series of old pillars on both sides.
The place used to be a flourishing market during the days of the Vijayanagara Empire. Though the market has lost much of its sheen and significance, it is still popular among the tourists.
Thungabhadra River
Do take a stroll at the bank of the river tungabhadra during the evening. There's a massive dam also built on the river.
There is a beautiful garden also built around this dam and is a famous tourist attraction. One can take bus ride provided by garden management to reach the top of the garden and dam. View from there is amazing and quite refreshing.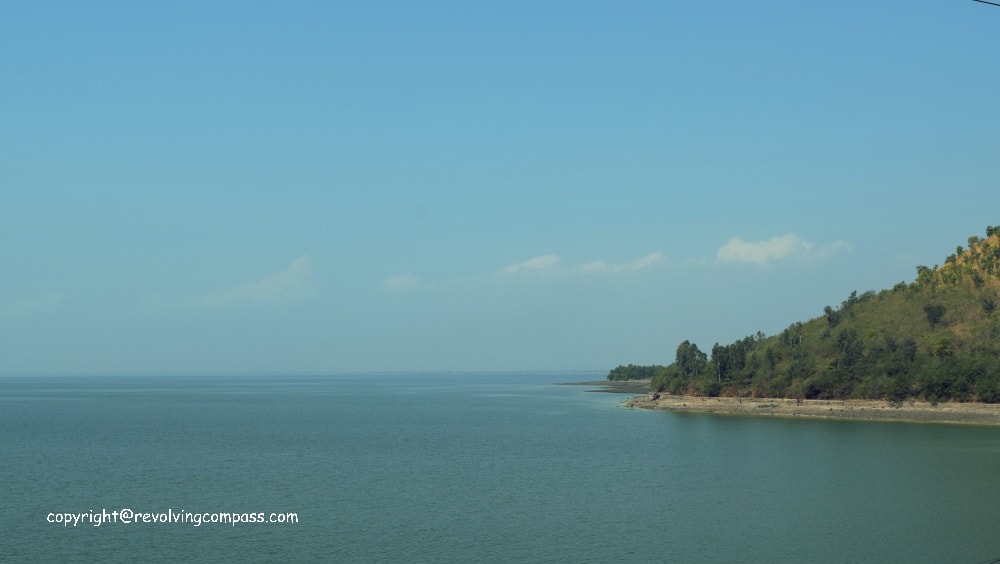 Food Option
If there is something that we didn't find at par, it was the food options available around the ruins. It would be better to carry one's own. Perhaps, we could have found some options had we ventured more. But, due to the hot weather and a toddler with us, we decided to constrain ourselves to the nearest available food options for lunch. Most of the outlets were closed and the few restaurants that were open through the afternoon had very limited food option. Wish there were more options available to explore.
What Else
Hampi has many more sites and places to offer which are not mentioned here. We had to limit the choices of places to explore as it was very hot and we were concerned about well being of our 8 month little one (though she was thoroughly enjoying this trip). And also this trip was a short trip of 2 days. So many popular and interesting sites we couldn't cover. This definitely demands a next trip to Hampi, which definitely we will do sometimes in coming years. Here's a nice read on
the major places to visit in Hampi
.
There is one more thing that we regret. We didn't hire a guide during our travel. We mostly relied on maps and books to figure out the places to visit. Had we hired an authentic guide, we might have been got enlightened with finer details of different monuments and remnants of the place as we traveled trough it.
By the way, did you know, hampi is the most searched word on google in Karnataka!! That definitely makes it a must visit when you are in Karnataka.
Tips for a trip to Hampi
Plan for a 3-4 days trip if you want a leisurely trip
There are few trains which are running between Bangalore and Hampi. Plan to book you ticket in advance
If planning to travel by road from Bangalore (which I consider the best option), plan considering it will take around 7 hours to reach Hampi
Carry food itesm with you while riding to Hampi as you will not get much option on the way
Carry your cap/hat, sun glass, umbrella and sun protection cream with you as it will be very hot there
Try to wear thin and full length cloths to avoid scorching heat and tanning .
Drink lots of water and coconut water
Research about places to visit in Hampi well in advance and plan efficiently to cover as much as possible
If possible hire an authentic guide