Did you ever think about doing a Venice walking tour? Which means a walking around in a land that is better known for it's waterways and gondolas? If not, you got to read about our Venice walking tour for sure. Or, if you are planning to do it, then our experience will definitely help you plan your own walking tour.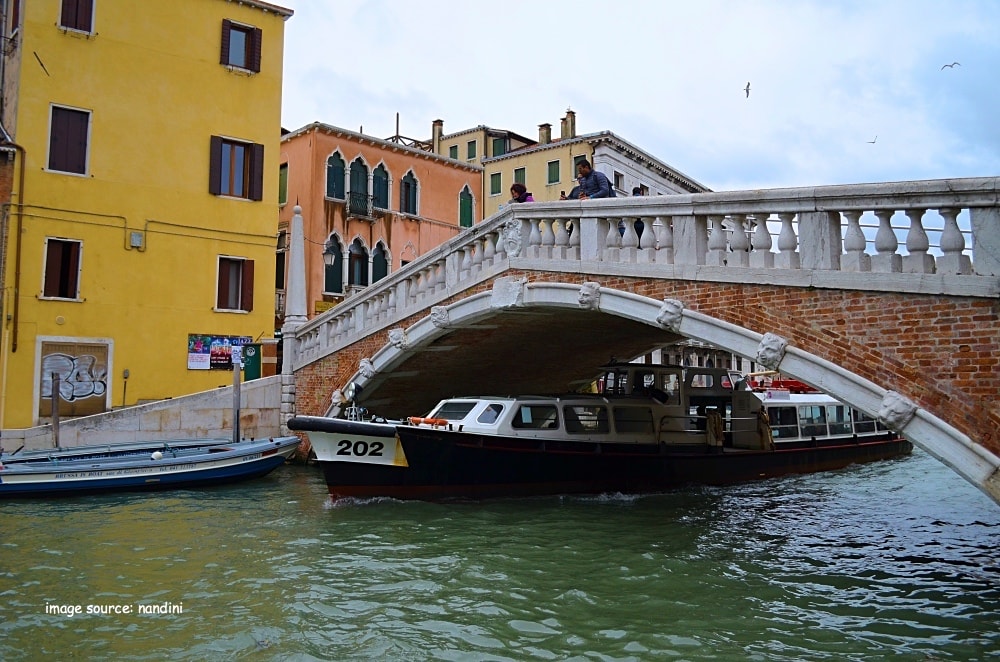 During our 6 days in Italy, we arrived in Venice after spending 2 days each in Rome and Florence. It was a great transition with respect to the landscape as we left the green and enchanting Tuscany countryside and entered into the world of lagoons that is Venice. Luckily our accommodation, Hotel Continental, was located at walking distance from the train station. Thus, we walked to our hotel and checked in by noon. There after we took some rest. And embarked on our most favorite activity. That being a self planned walking tour to explore Venice.
Unlike the previous walking tours that we took in Florence around the river Arno, and one across the center of Florence covering the Duomo and other areas, this one was not planned. Rather, we thought to randomly explore the areas around. And Venice didn't disappoint us at all. We didn't cover any specific famous spots of Venice as a part of this trip. Rather, we decided to do that on a hop on hop off trip the next day. Therefore, this walking tour was just about randomly walking So, here goes our Venice walking tour details..step by step…
The Grand Canal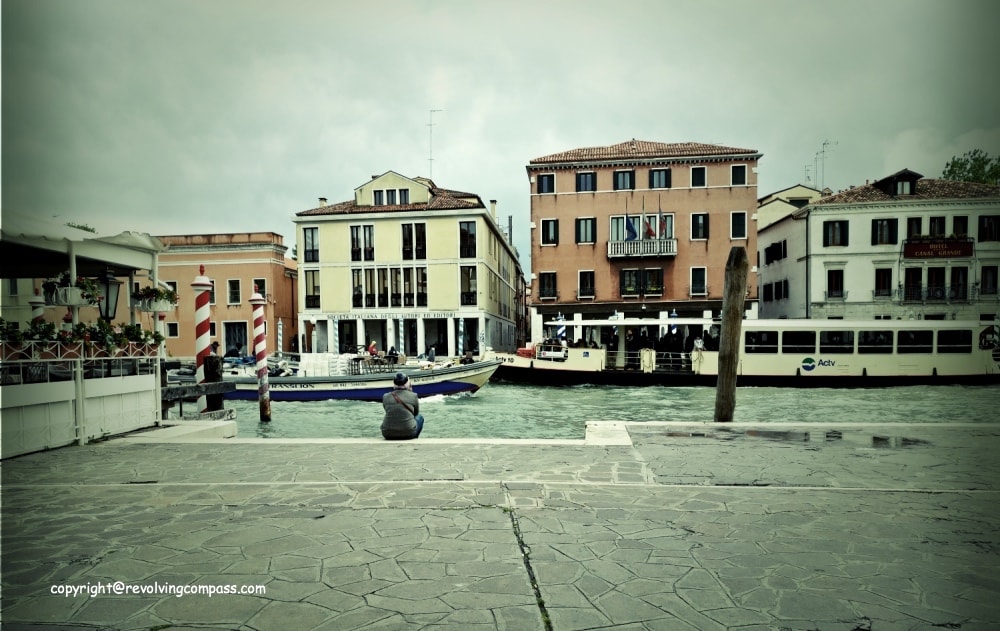 Our Venice walking tour began with a visit to the banks of the Grand Canal. Since our hotel is located just on the banks of the Grand Canal. As we stepped out to start our Venice walking tour, we first went to the banks of the Grand Canal. Benches are present here to sit by the side. And we did sit there for a while. Some of our enthusiastic friends even went to the steps on the bank where the gondolas stopped. We could see the gondolas coming and going. While the chilling evening breeze teased us, causing our noses to go numb 🙂 . Since it was really chilly the day we arrived in Venice. And temperature was likely to further dip. So, we decided to embark further on our Venice walking tour in some time.
The markets of Venice
As we stepped on the main road that lead from the train station to our hotel, we saw markets abuzz on both sides. There were cafes and restaurants, in full swing with their preparations for the evening. Then, there were lots of souvenir shops. These included shops that displayed intrinsic glass work from Murano, magnets and masks that are signature of Venice, wood ships, miniature ships inside bottles etc. Walking at a slow pace, we crossed these shops.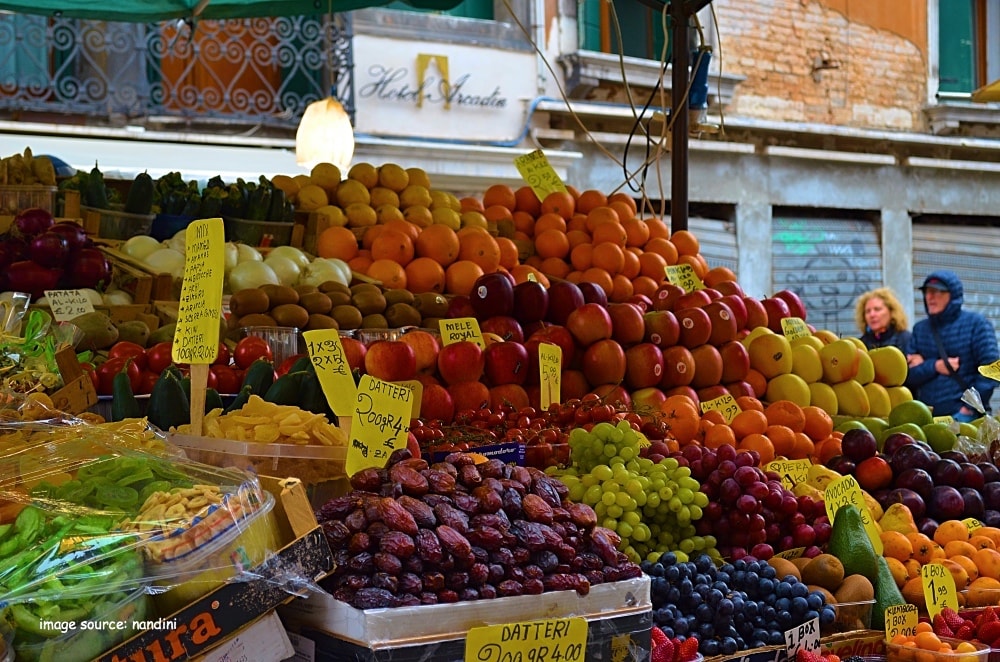 Next we arrived at the open fruit and vegetable markets of Venice. There were stalls setup in the center of the road by fruit vendors. And their carts were loaded with fruits, both exotic and general ones. We bought some bananas for our little one from one shop and moved further on our Venice walking tour. Most of these carts belonged to vendors from Asian origin – those who have come from far and wide to make their dreams come true in the magical land of Venice. We talked to some vendors who had come from Sri Lanka and Bangladesh.
The beautiful canals and bridges
Venice is a beautiful archipelago, like none other in the world. You walk 5 minutes and you are bound to arrive across yet another canal. With yet another beautiful bridge built on top of it. So did we. The beauty is that, many of these bridges are exclusive to pedestrians. As we advanced on our Venice walking tour, soon the walkway turned into a cobbled pathway and thereafter followed the bridge. We decided to cross the bridge and explore further on the other side. As we stood atop the bridge overlooking the canal, we were greeted by the beautiful views that Venice is much known for.
The evening sky was showing the beautiful colors amidst the clouds. And the site of the gondolas in the canal below this sky seemed just picture perfect. No wonder it is a photographer's paradise. Would you like to know how you could capture the best of Venice in your photographs? Check out these wonderful tips for photographing Venice. The scenes you capture here are going to live with you forever.
An endeavor with the pigeons at the square
We stood for quiet some time on the bridge and then crossed over to the other side. The street was still pedestrian only. As we started to further explore around it. We finally arrived at a small square. Again, it was dominated by a lot of pigeons. Our daughter immediately started chasing them. And in the meanwhile, we went inside a small grocery shop to buy some milk for her. While we came to the square from the side of the bridge, there were two narrow streets at both the other ends of it. Each one leading to a different direction.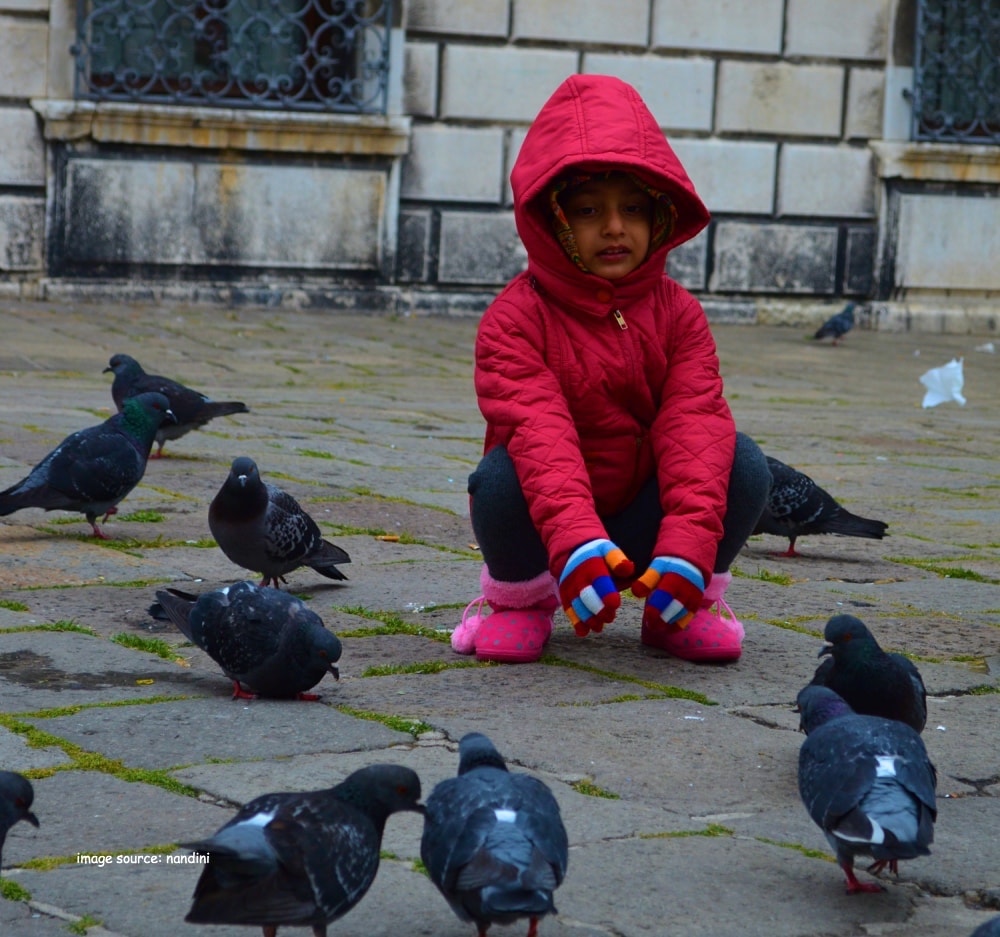 However, as we arrived here, it started to rain. And that brought our Venice walking tour to a halt. We ran for shade and then started waiting there for the rain to stop. It rained for almost half an hour after which it stopped. However, we thought to stop our Venice walking tour here and trace our steps back to the hotel. Since the temperature had dipped after the rain. And it was getting colder as the night was approaching.
The evening lights
Thus, we started tracing our steps back to the hotel. As we walked back on our Venice walking tour towards the hotel, it started getting darker. And slowly the evening lights started coming up all over. The road side cafes and restaurants had outdoor sitting. As the evening got darker, candle lights slowly started adoring each of the tables in front of these restaurants. So did the street lights and those on the bridges across the canals. The reflection of these lights in the canal were way too beautiful. Mesmerized by the beautiful views around, we slowly walked further on our Venice walking tour to reach back to the hotel.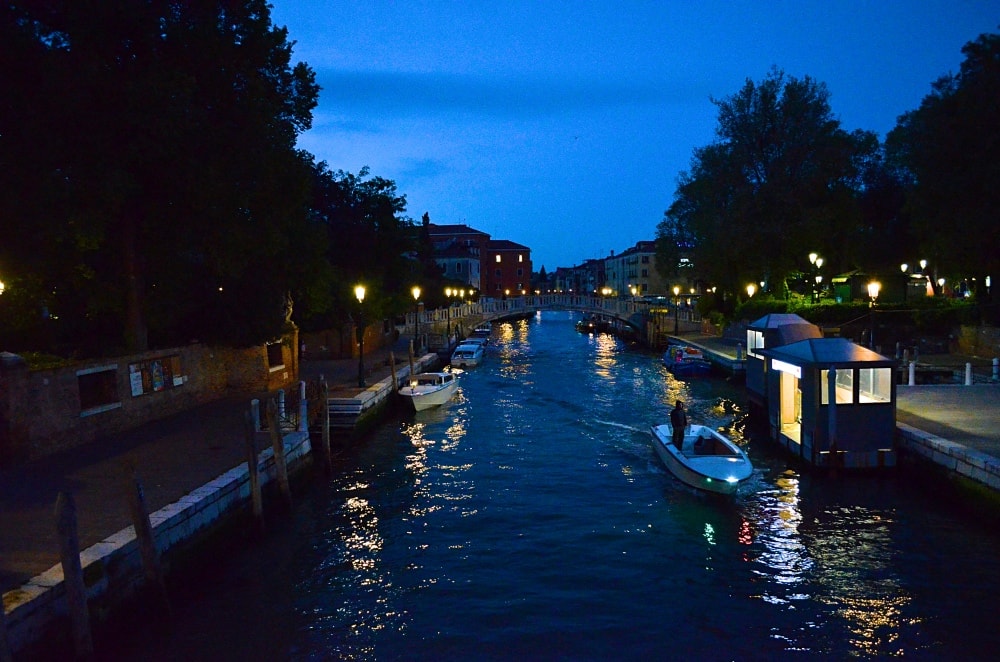 As we reached our room and opened the window, we were greeted by a beautiful view of the grand canal. And the lights of the buildings on the edge of the canal, with a beautiful reflection into the canal itself.
Finally..Dinner
After relaxing for a while in our room, we headed out once again. This time for dinner. There were many options for dinner just in front of our hotel. We had been wanting to try some delicious pasta ever since we arrived in Italy. However, we didn't get chance to have it in Rome or Florence. So, finally we decided today will be the day when we have Italian Pasta. We went into a pizzeria just near our hotel and inquired about takeaway pasta. Although, they had only non vegetarian options on the menu. Yet, they were happy to prepare a veg version of the same for us. Happily, after getting our pasta packed, we headed back to the warmth of our hotel room to finish our dinner.
Tips on taking a Venice walking tour
If you are walking in the evening, around the month of April or May, it might still be chilly. And as you embark on your Venice walking tour, it might get more and more chilly as the night arrives. So, wear cloths accordingly. A winter jacket was a must on the evening when we went on our Venice walking tour.
As always, when walking in Europe, keep a bottle of refill drinking water with you.
Wear comfortable walking shoes or boots.
Keep an umbrella with you. Since, it can rain at this time of the year. We didn't have one. So, we had to halt our Venice walking tour as it started raining.
Try the slices of pizza or portions of pasta and other delicacies from the road side cafes. These are economical as well as tasty.