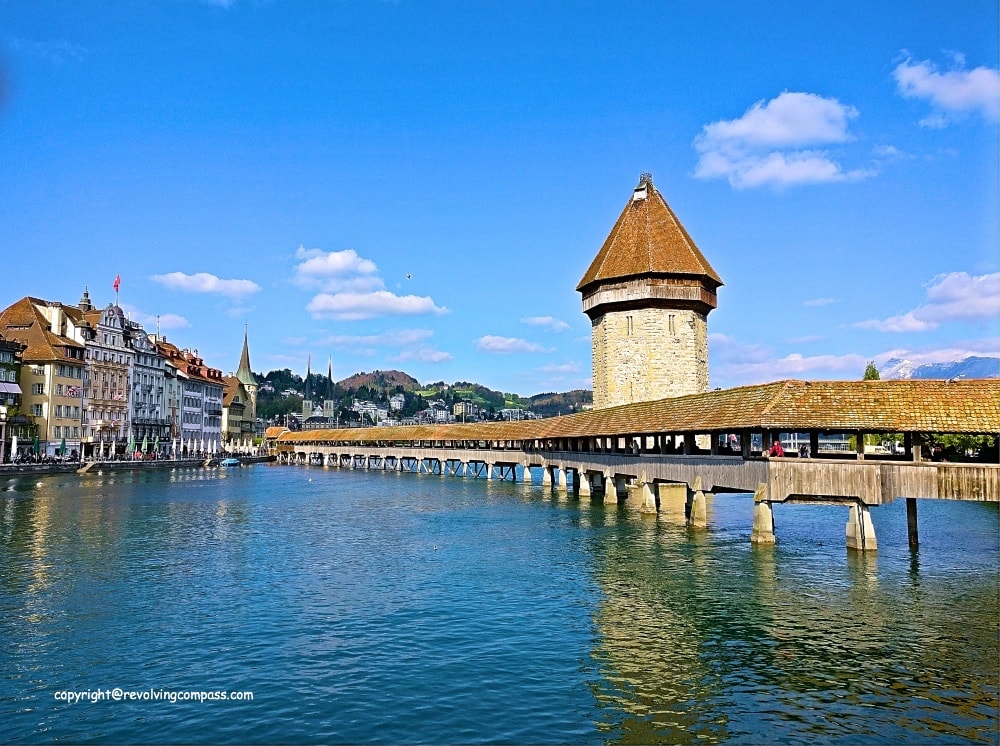 After we came back from our 2 weeks Europe trip, many friends and readers asked for our Itinerary. Although we wrote a lot of posts on our travel, so far, we didn't get time to compile the whole itinerary. Friends and readers felt we covered a lot of ground in very less time, and that also with a kid. And thus, many were interested in knowing our 2 weeks Europe trip itinerary with kids. So, finally, I decided to pen it down. (Better late than never :D).
This was our first Europe trip. So, we decided to have a bit of everything in this 2 weeks Europe trip itinerary with kids that one possibly looks for when touring Europe. This included exploring the historical renaissance landmarks, the beautiful Swiss landscapes, including adventure in snow, and tryst with cheese and cookies, a visit to romantic Paris, a day well spent in Disneyland and a day in the Keukenhof Tulip Gardens. And we did all this using a combination of guided tours and self planned leisurely walking tours. So, without further delay, here goes our 2 weeks Europe trip itinerary with kids.
Day 1: Arrival in Rome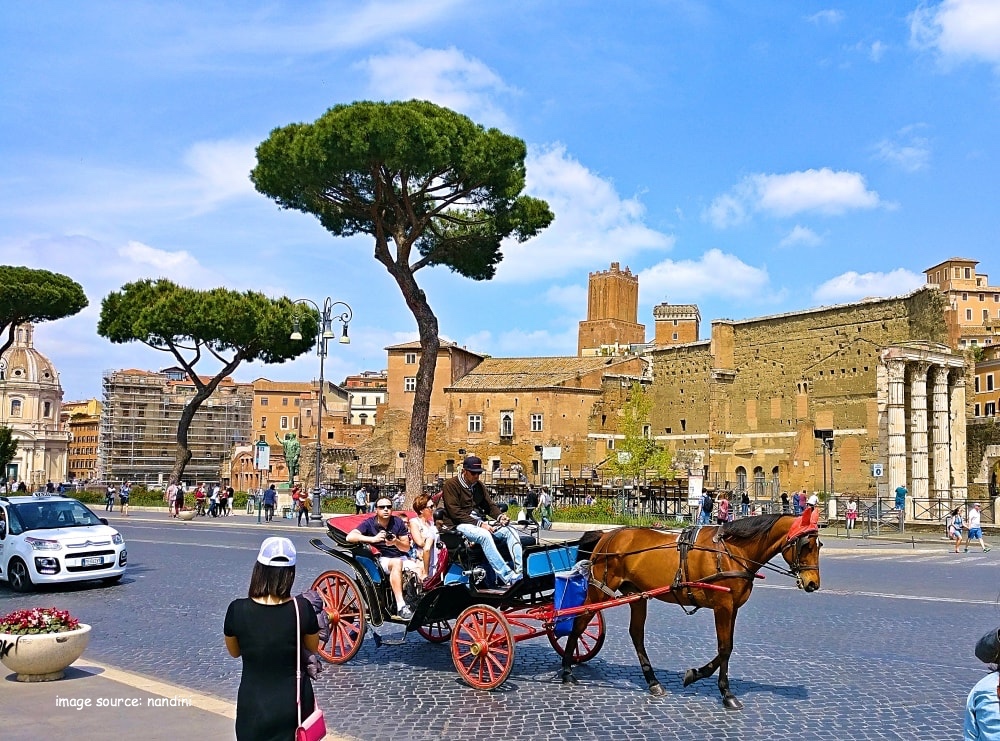 On the first day of our trip, we arrived in Rome early in the morning, around 6:00am using an overnight flight. Since, this was the easter weekend, there was a lot of rush on Rome airport. It took us almost 2 hours in the immigration queue. After going through the immigration, we went to the taxi desk near the exit. From here, we had a pre-booked taxi to our hotel. But, since the immigration took a lot of time, we missed our scheduled taxi. Nevertheless, after a wait of nearly an hour, the agency arranged for another taxi to drop us at our hotel.
We reached the hotel around 12:00pm. But our rooms were not ready yet. So, we waited for another 2 hours in the hotel lobby before moving to our respective rooms. After getting freshened up, we all were totally tired and exhausted. Plus the jet lag. So, we went to sleep, including the kid. And woke up only at 8:00pm at night. We had a light dinner and again slept through the night.
Tips for day 1 of 2 weeks Europe trip itinerary with kids
Overnight flight definitely saves a lot of travel time. But if you are traveling with kid(s), then see how you can also catch up on some sleep. We couldn't sleep much on our trip as we were ensuring the kid sleeps through. So, we were extra exhausted the next day. Maybe you could ask for a spare seat in the plane or one with extra leg room, if available. And take turns to look after the kid through the night.

We wasted a lot of time checking-in also. If we knew early checkin will not be possible, then we would have invested the time elsewhere and then arrived at the hotel on time for checkin.

Don't plan anything on day 1 of your trip to Europe if you are flying from a distance and are likely to suffer from jet lag. Even more so when traveling with kids. Keep the first day to relax. So that you can have a good rest of the trip.

Our kid was still bottle fed when we went on this trip. So, while she slept continuously for over 10 hours after reaching the hotel, and her body clock adjusted to the new timings. I made sure that I woke up every 3 hours and fed her a little milk while in her sleep, to ensure she didn't dehydrate. Although this meant interruption of sleep for me, it worked wonders. The next day she was all set to start the trip.
Day 2: Rome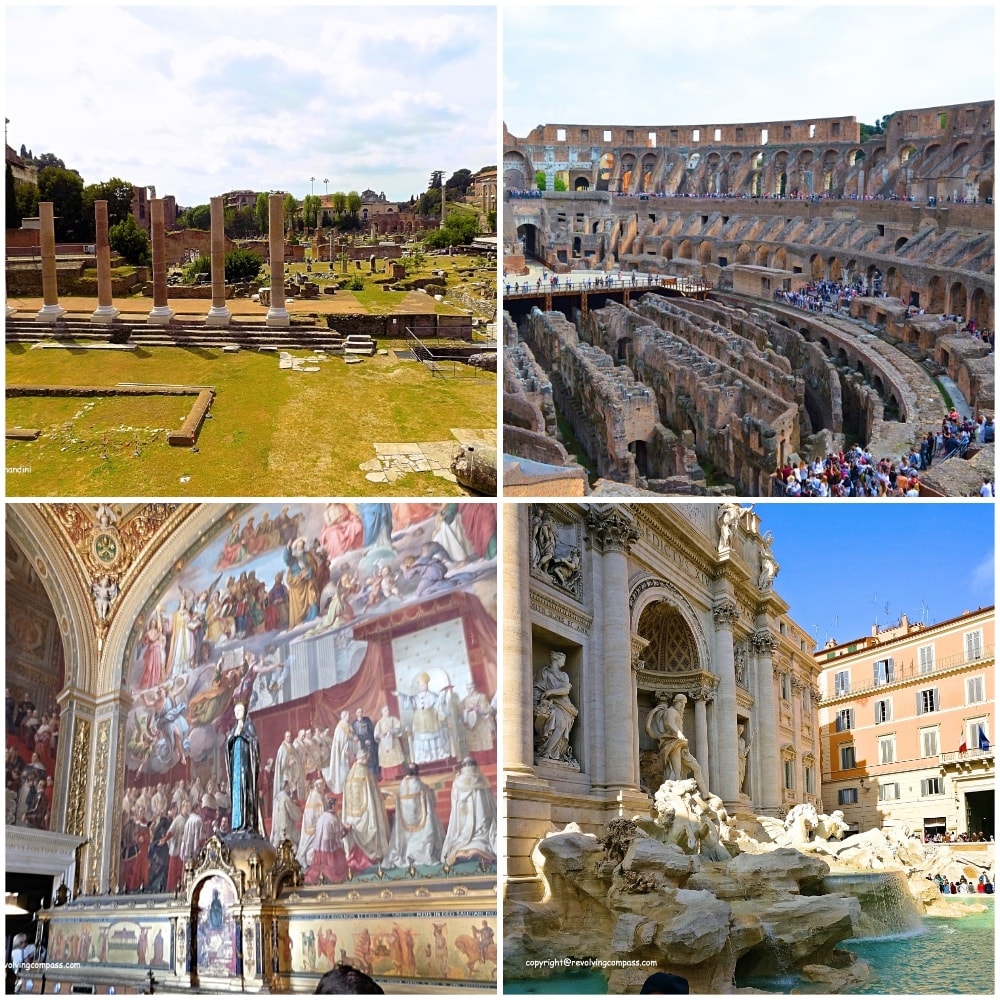 We started our second day with an exploration of Rome. In total, we spent one day roaming around Rome. And it was a long day. Today we covered the Vatican, Colosseum, Roman Forum, the famous fountains of Rome, and all the other important Roman landmarks. The details of our day are covered in this post on Roaming around Rome in a day. Check it to also know about the major places to visit in Rome. And what to expect when you are visiting Rome, particularly Vatican on the easter eve. Also, we had booked a group guided tour for this whole day through Viator.com and we are glad we did so. Since, there was a lot to learn about each of the site as we visited them. Which couldn't have been possible without a guided tour.
Tips for day 2 of 2 weeks Europe trip itinerary with kids
Although we covered a lot in this one day, but it was tiring. If possible, at least split it over two days. Visit the Vatican one day and the rest of the icons the next day.

If possible, avoid visiting the Vatican on or before easter eve if you are visiting here purely for touristy purpose, not for religious purpose. Otherwise, you will find it super duper crowded.

Don't carry a stroller with you for your kid in Vatican. There was a couple with a kid in our group who had brought a stroller. As soon as we entered inside Vatican, it became strenuous for them to lift and carry the stroller through the stairs. So, finally they decided to just opt out of the tour.

Book a guided tour if possible as there is a lot of history to unravel and understand here.
Day 3: Rome to Florence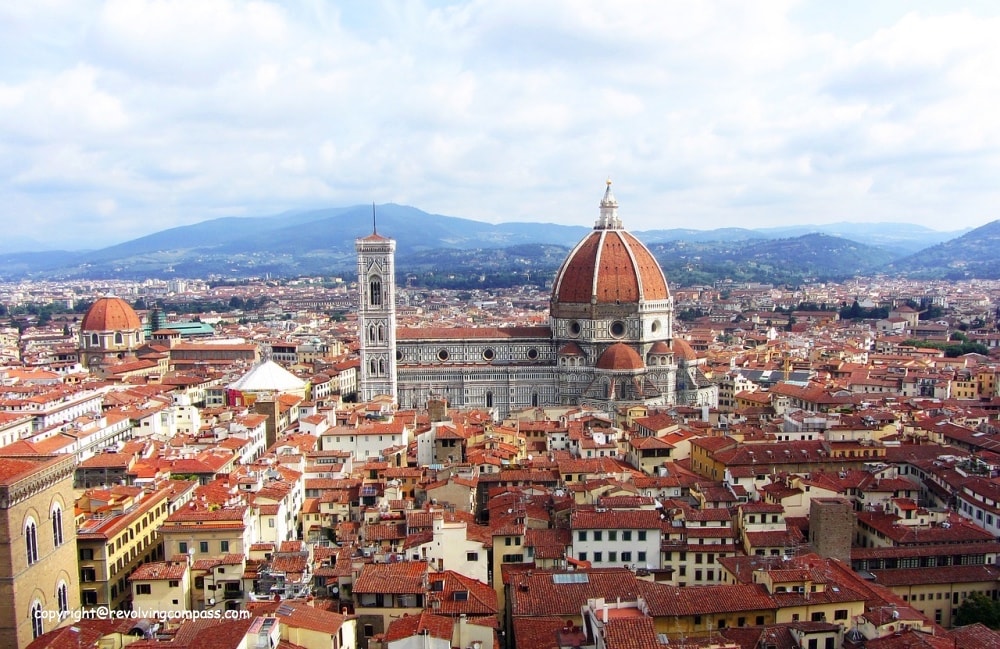 Today, we started from Rome and took a 10:00am train to Florence. We had pre-booked a drop off to the railway station through our hotel. Although you can also take a nearby metro from your hotel. It took around 2.5 hours to reach Florence. On the way, we had beautiful views of the Tuscan landscapes and countrysides. Our accommodation in Florence was on walking distance to the train station. Upon arrival, we checked-in into our serviced apartment, palazzo dei ciompi . Thereafter, we had lunch right across the street in a vegan outlet. Around 4:00pm in the evening, we set out on a self planned free walking tour of Florence. As a part of this tour, we covered a lot of iconic sites, at our own leisurely pace. You can read the details of the walking tour as well as view the google map that we followed, by clicking the link to the detailed post above.
Also, after finishing the walking tour, while returning back to our apartment, we did some grocery shopping. And cooked our dinner at the apartment. The experience was wonderful. And it also saved us a lot of money. The dinner cost came to just 2 euros per head!!!
We don't have any specific tips for this day for you. Since, we felt our day couldn't have gone any better. It was the best so far.
Day 4: Half day tour of Pisa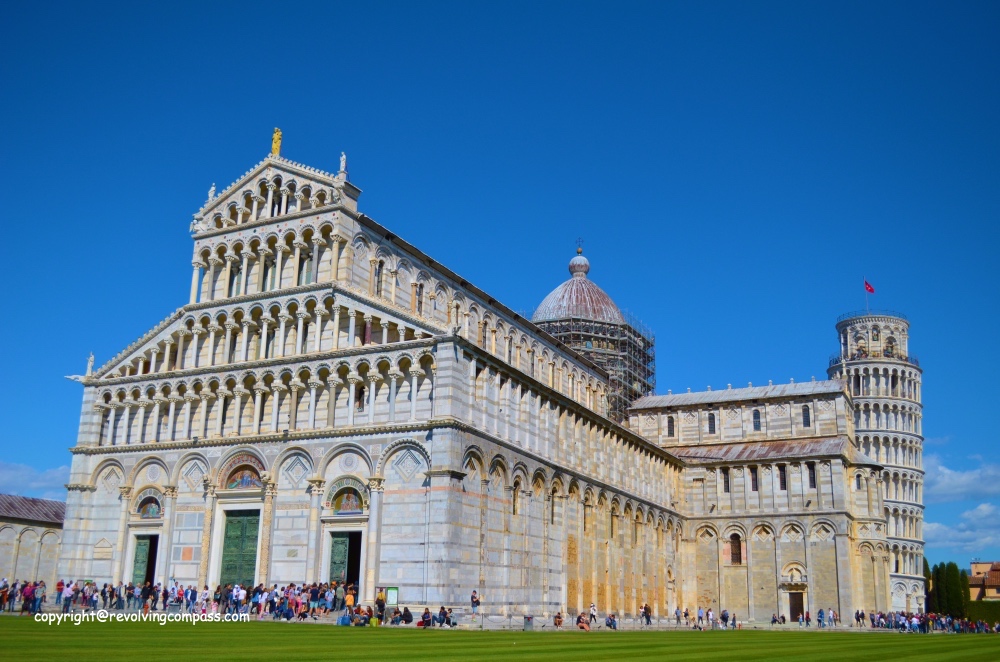 On the fourth day of our trip, we stayed overnight in Florence. In the first half of the day, we did another self planned free walking tour of Florence (part 2) , covering the parts of the beautiful town which we had not touched the day before. Noon onwards, we had booked a half day tour to Pisa, again from Viator.com. So, after finishing our walking tour, we went back to our apartment. Had lunch and then headed off to the location near the train station where we were to meet our guide.
From there, we boarded the tour bus. It took around 1.5 hours to reach Pisa. On the way, the guide showed us some iconic monuments. And also introduced us to each of the towns that we passed by. Upon arrival, we met with another guide, who had our entrance tickets ready. With her, we did a tour of the leaning tower of Pisa.
More details here: A half day Florence to Pisa tour
Tips for day 4 of 2 weeks Europe trip itinerary with kids
While returning from Pisa to Florence in the evening, it took us more than 4 hours. Since there was a big traffic jam on the highway pertaining to the long easter weekend. That is when we realized, commuting using train would have been better. You can book a guided tour involving a skip the line ticket that starts from the gates of the leaning tours of Pisa.
Day 5: Florence to Venice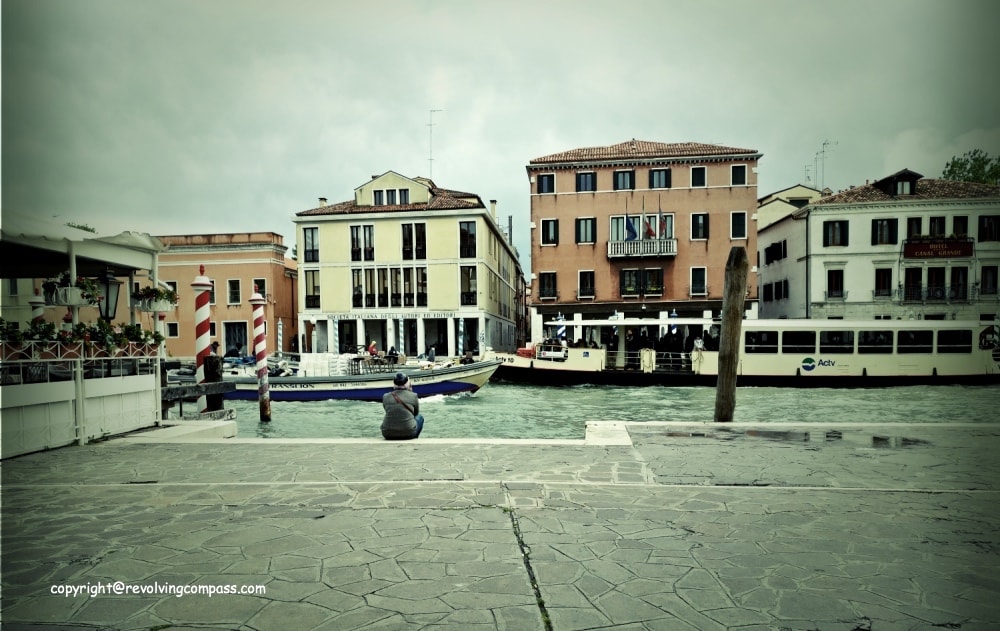 On the 5th day of our 2 weeks Europe trip itinerary with kids, we checked out from our apartment in Florence and headed to Venice. It was a train journey of around 2.5 hours again. The train was in the noon. And we reached Venice by evening 4:30pm. Through the journey, we could see how the landscapes changed from the green Tuscany landscapes to the backwater canals. In Venice, our hotel was very near to the railway station – at just 200meters on the main street. It was Hotel Continental, overlooking the Grand Canal.
After checking into the hotel, we spent rest of the evening on our self planned walking tour of Venice. Before returning to our hotel, we parceled our dinner from one of the many food outlets just opposite the hotel.
Tips for day 5 of 2 weeks Europe trip itinerary with kids
We couldn't make much use of our time in Florence today, before heading to Venice. So, I would suggest, finish your packing the night before and catch a train as early in the morning as possible. So that you can reach Venice with more time at hand.
Day 6: Venice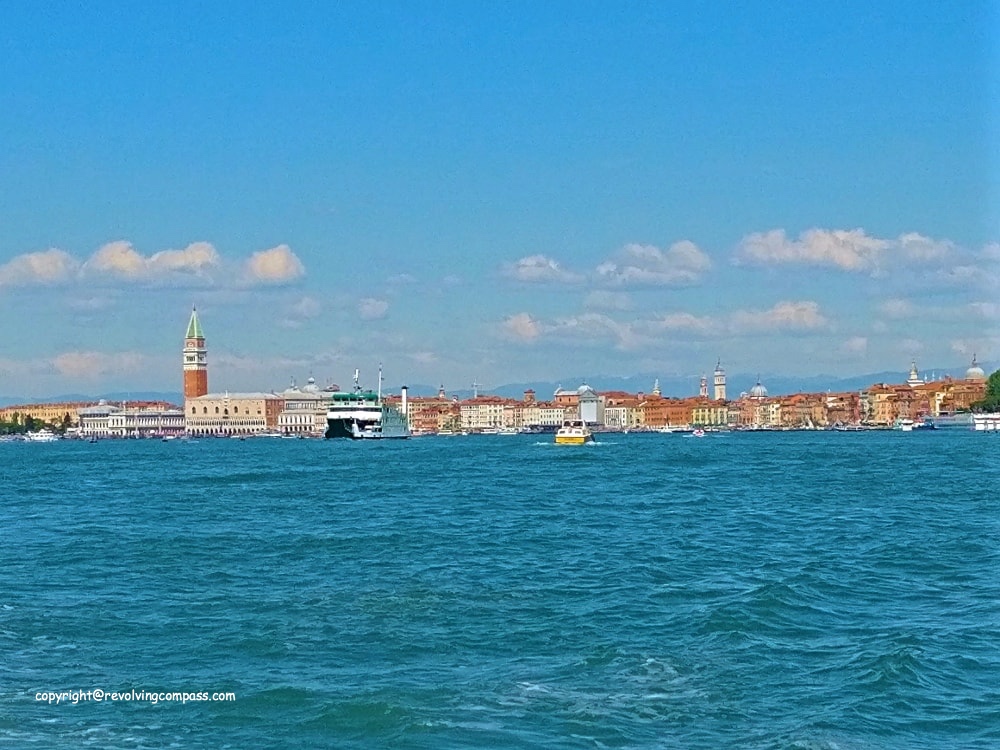 Today being the one and only full day that we were going to spend in Venice, we were set to make the most of it. So, we booked a Venice hop on hop off boat ticket from citysightseeing Venezia. They have an office right on the Venice train station. From here, we collected our tickets and a map of the hoo on hop off tour. The boats depart from the right side of the train station itself. So, we next headed to the boat dock and were already on our way, cruising by 9:00am. The details of our trip, stops etc. are all covered in this post on Venice hop on hop off tour. The tour was totally worth it as we explored the places we liked, at our own pace.
Day 7: Venice to Lucerne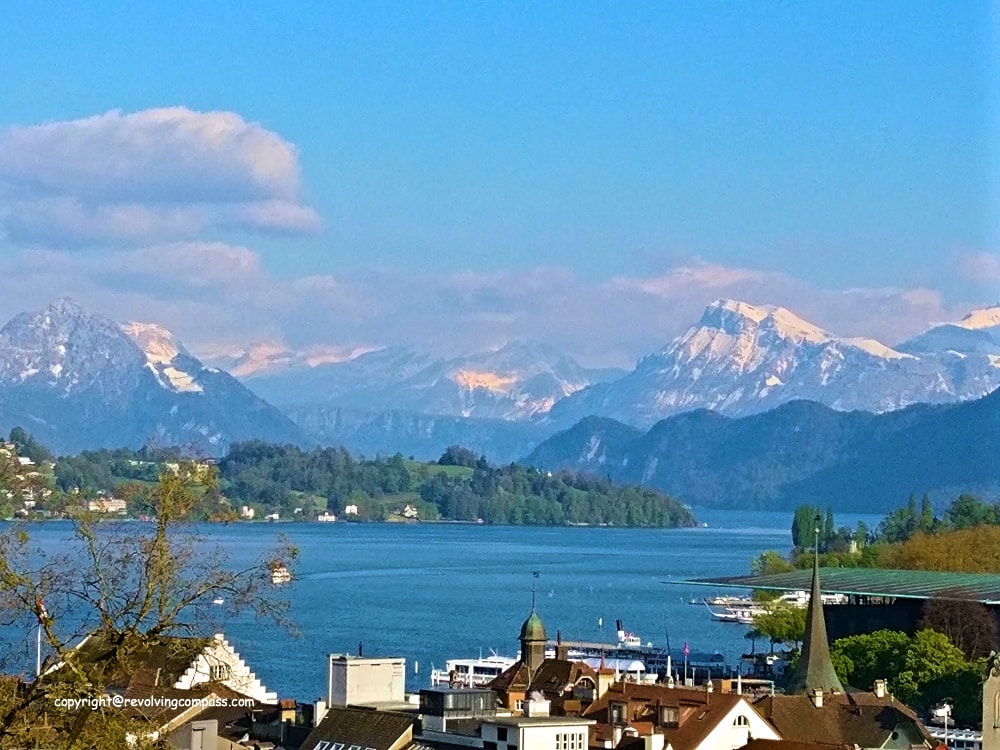 On day 7, we headed from Venice to Lucerne. We boarded our train early in the morning for 6 hours trip from Venice to Lucerne. And arrived in Lucerne around 1:00pm. Here, our pre-booked taxi was waiting for us on the train station. And it dropped us to our hotel – Hotel Drei Konige. After checking in, we proceeded for lunch. And after having lunch, later in the day we headed for a self planned free walking tour of Lucerne, covering all the major icons of the city.  Altogether, we spent 4 days in Switzerland, and throughout this time, we based ourselves out of Lucerne.
Day 8: Lucerne to Bern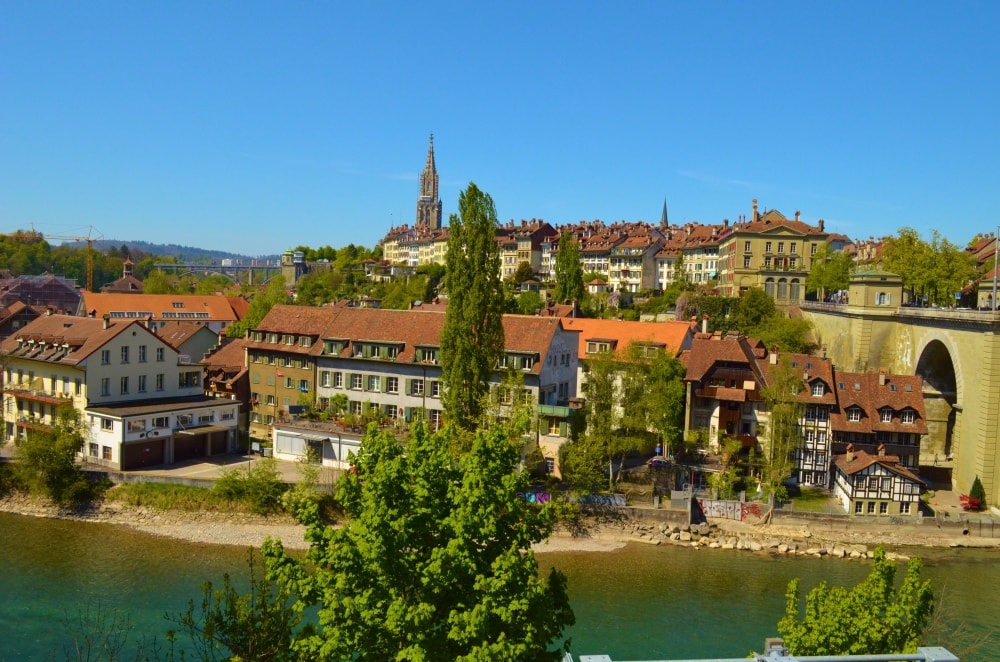 Again, the next day, i.e., on the 8th day of our trip, we did a group tour from Lucerne to Bern. But the trip also included a visit to Kambly factory store of cookies in the morning, before heading to Bern. We had an awesome time here, tasting the cookies and buying some delicious ones. Thereafter, upon reaching Bern, our guide gave us a 2 hours city tour covering the major icons. And then we had 3 hours to explore the city however we wanted. We loved this combination of guided tour and self-exploring option. Read details of our trip to Bern in this post. In the evening we headed back to Lucerne, but we again stopped on the way in a cheese factory to learn how the Swiss cheese was made, and also taste some really exotic cheese samples. Overall, the day was well spent.
Day 9: Lucerne to Interlaken and Grindelwald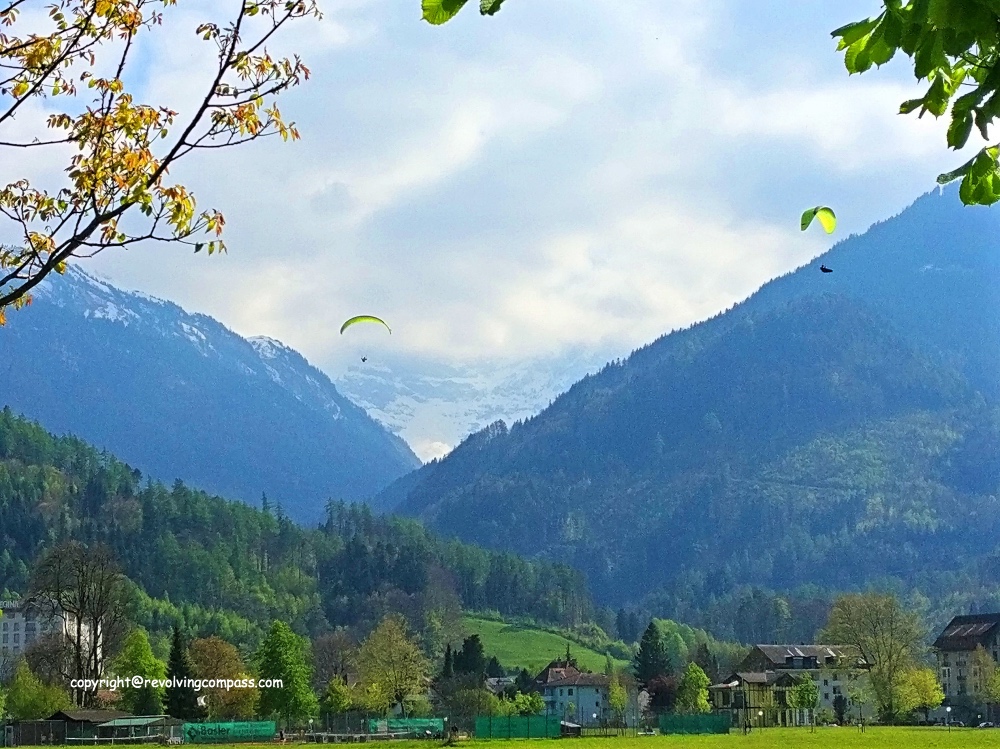 On the 9th day of our 2 weeks Europe trip Itinerary with kids, we visited Interlaken and Grindelwald as a part of a group tour. Although the tour guide just left us to explore these towns on our own, after reaching here. Here's full account of our trip:
A day trip from Lucerne to Grindelwald
Tips for day 9 of 2 weeks Europe trip itinerary with kids
The trip to Interlaken and Grindelwald that we did, could have been done on our own. It didn't need to be a packaged tour. We could have definitely saved some Euros and explored both the places at our own leisurely pace if we had done it on our own. So, we will suggest, just book a train ticket from Lucerne to Interlaken and then from Interlaken to Grindelwald to do the tour.
Day 10: Lucerne to Engleberg and Mount Titlis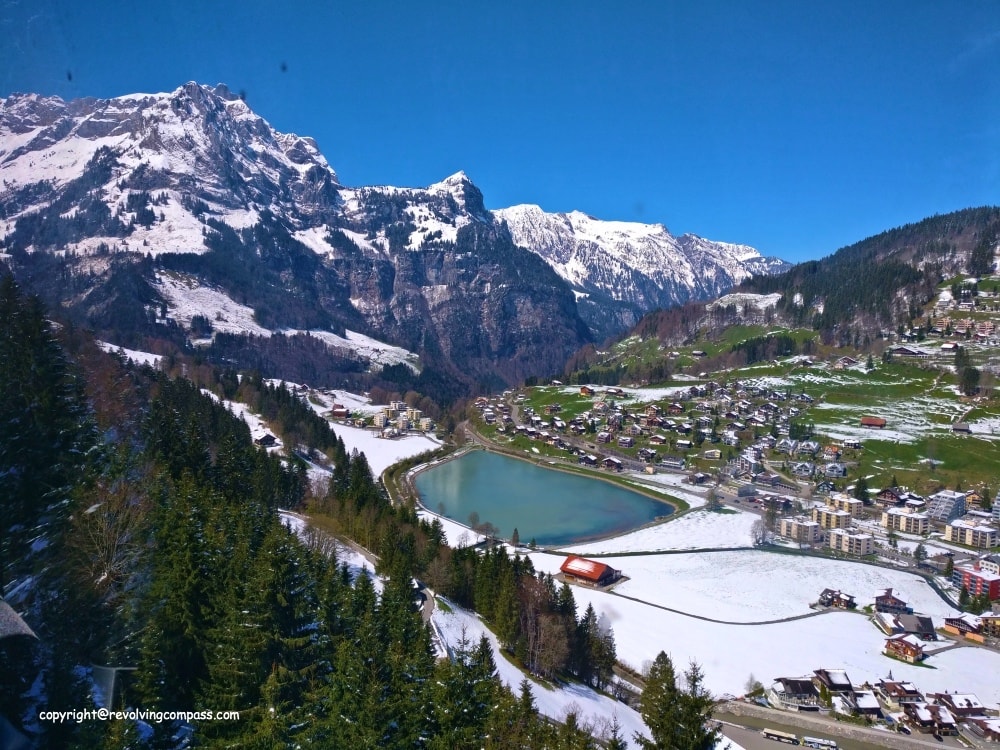 Today, we went on a pre-booked  group trip to Engleberg and Mount Titlis from Lucerne. For this tour, we gathered in a starbucks cafe near the Lucerne Train station. And once the guide arrived, she took us to the bus waiting nearby. They had arranged tickets for boarding the cable car to reach the different levels of the show capped mount Titlis. And we had a wonderful time here playing in the snow. Our little daughter remembers this part of the trip very vividly. The to and fro journey took around 1 hr each.
Day 11: Lucerne to Paris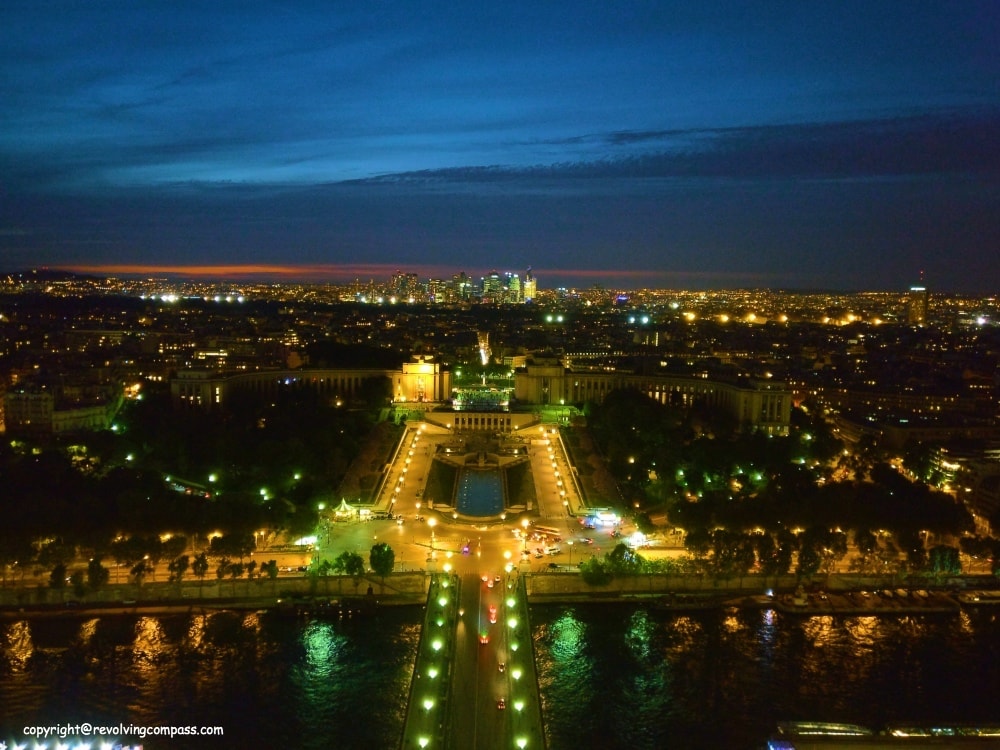 Finally came the day when we had to say goodbye to Switzerland. And head to Paris for our onwards journey. From Lucerne, we boarded our train to Paris on a 4 hour long journey. Upon reaching Paris, we headed to our hotel in a pre-booked taxi. After resting for an hour, we headed to our evening trip. This was again a pre booked tour that included a guided cruise on the river Seine, followed by a tour of the city in a bus and finally a visit to the Eiffel Towers at night. The evening was definitely long and a bit exhausting for us.
Tips for day 11 of 2 weeks Europe trip itinerary with kids
We didn't really like the bus part of our tour, it felt like a repetition, seeing the same iconic buildings from a bus which we had already seen from a previous boat trip. So, we will suggest to avoid it if possible and head straight to the Eiffel Towers.

Taxis in Paris are very expensive. So, it will be good if you get yourself acquainted with the other more affordable means of communication like the Paris Metro and use it to travel to and fro.
Day 12: Paris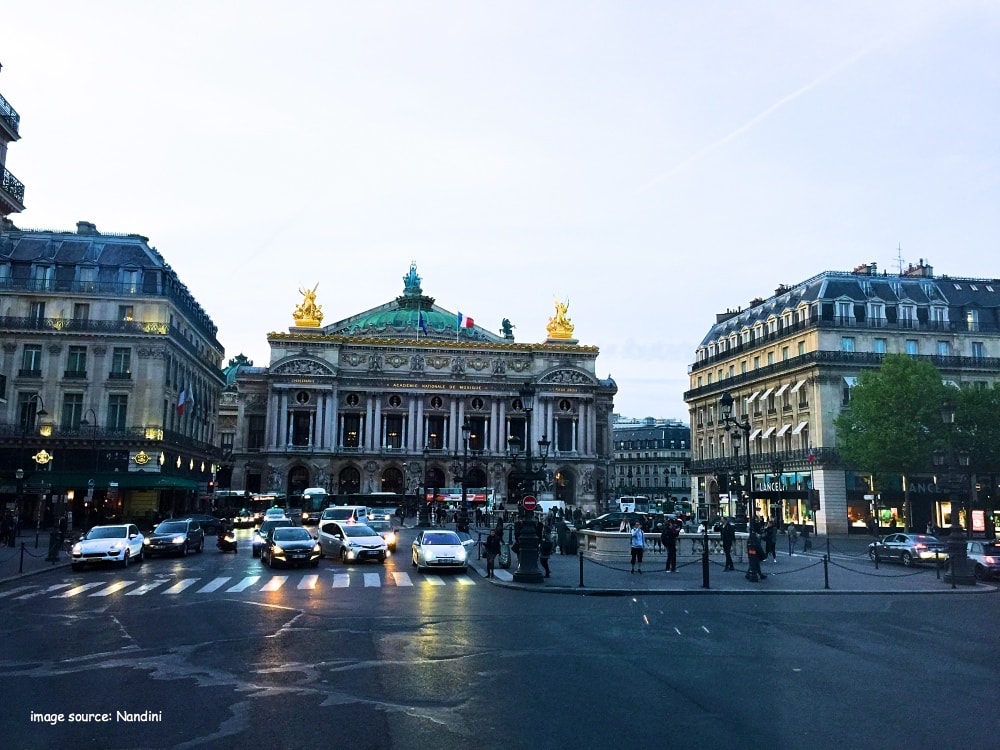 This was our day of visiting Paris. We had the whole day to ourselves, no pre-booked tours. We used this day to visit the icons that we surely didn't want to miss. Although one day is too short a time to visit Paris. We tried to make the most of it. You can get the details of what all we visited and how we spent this day on our post on 3 days in Paris. The main attraction of the day for us, of course, was Louvre Museum. We were lucky that it was a Wednesday and thus Louvre was open till late in the evening, giving us more time to explore. It was another very happy day of our trip.
Day 13: Disneyland, Paris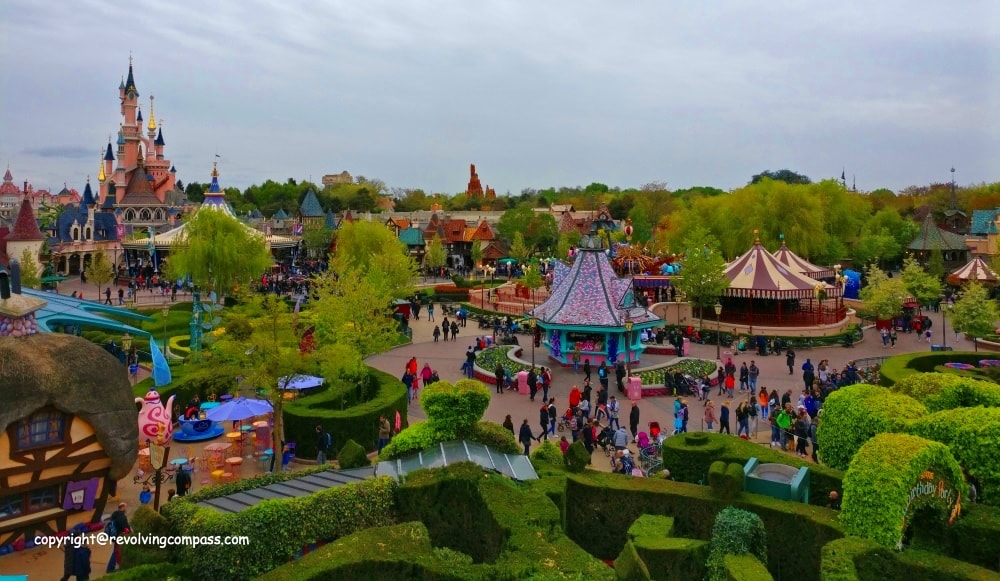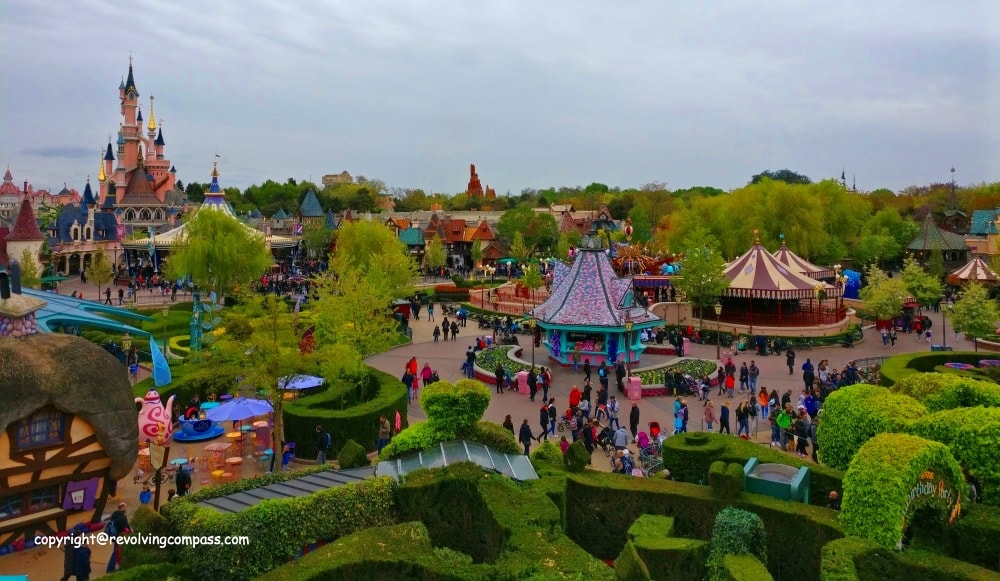 Finally came that day of our 2 weeks Europe trip itinerary with kids which our little one had been looking forward to since the beginning of the trip. We had a pre-booked ticket to Disneyland, Paris along with a scheduled pickup and drop off. We reached the pickup destination just on time to catch our bus. The bus took some half an hour to drop us within the premises of Disneyland, Paris. And before departing, the driver told us where to meet him and at what time at the end of the day. From then onwards, we were on our own inside Disneyland, Paris. And once again, we tried our best to make the most of our one day two parks Disneyland Paris visit.  And we have a lot of tips on how to do the same in the post.
Tips for day 13 of 2 weeks Europe trip itinerary with kids
You can carry your own food from the main city. Since the food in Disneyland Paris is very expensive.

Our kid was just 3 years old, but if yours is older and has specific preferences of rides and activities then you can as well consider staying for a night in the Disneyland resort. So that you will get to enjoy the happy hours. More details are included on the same in our post on Disneyland Paris visit.
Day 14: Paris to Amsterdam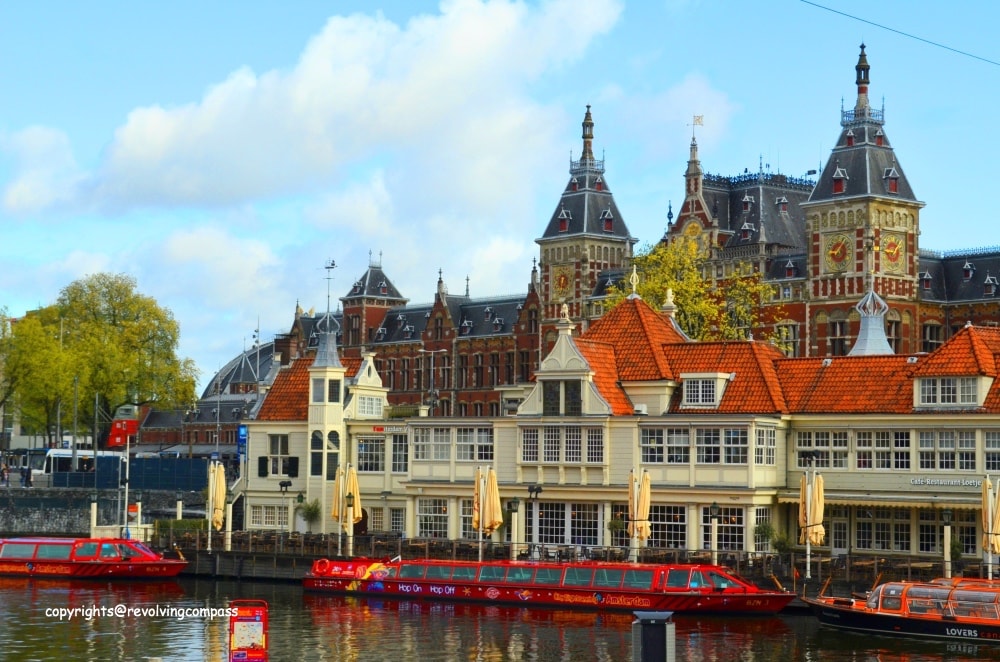 Today, we headed to Amsterdam from Paris through a 10:00am train. We reached Amsterdam by noon. Here, our hotel was located near to the airport, far from the main city. But the hotel had a free shuttle catering to the guests for pickup and drop off to and from the airport. So, we headed to the bus stop outside the airport where the shuttle arrives at regular intervals. And then we boarded it to reach our hotel. In the hotel, we took rest for couple of hours.
After that, me and my friends headed back to the airport using the shuttle. Since from there, we wanted to catch a train to the Amsterdam Central . And explore the city using our self planned walking tour. It is pretty straightforward to book the train tickets from the automated machine installed on the airport. The train station is in the basement. (-1 level). And there are lots of volunteers there to guide you through to the right train or platform, apart from the digital display. Also, you have to scan your tickets at the entrance (near the escalator to the basement), to validate it. Similarly when you get out of the train, you have to do the same.
In 10 mins we were at Amsterdam Central. And from there we took to our self guided walking tour of the city of Amsterdam. Also, it was King's Day in Amsterdam , which we realized only upon reaching the main city. Read more about our experience about King's Day in Amsterdam here. Overall a wonderful day.
Day 15: Keukenhof Tulip Gardens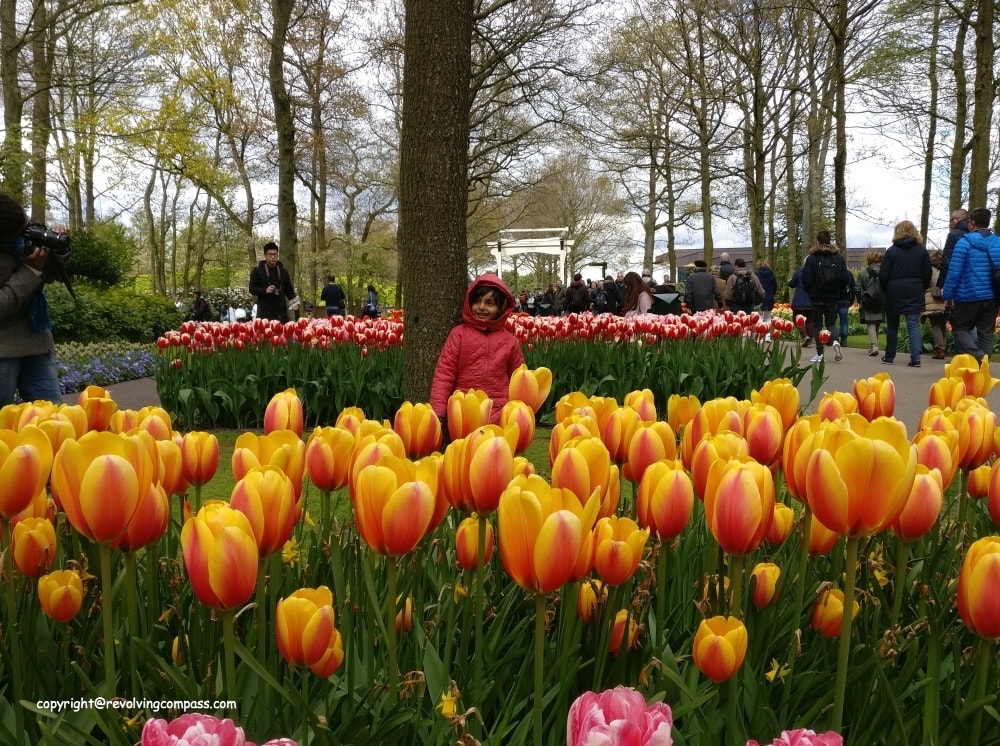 On the second last day of our 2 weeks Europe trip itinerary with kids, we went to the Keukenhof Tulip Gardens. It was one of the highlights of our 2 weeks Europe trip itinerary with kids since we had deliberately planned our trip around the tulip season. Once again, we booked the tickets and pickup plus drop off to the gardens through viator. And once within the garden, we were free to explore it on our own. The garden is indeed beautiful . All I can say is, there couldn't have been a better end to our trip than this beautiful garden visit.
Details here: A complete guide to the Keukenhof Tulip Gardens, Netherlands
Day 16: Return from Amsterdam
Finally came the day when we had to say goodbye to Europe and return to our hometown. Although our flight back home was in the evening, we had kept this day at leisure. So, we got up a little late today. And then had a leisurely breakfast. After which, we went to the pond in the backyards of our hotel and just sat there on the deck, enjoying the cloudy day. In the noon, we completed our checkout formalities and then put our luggage in the luggage room of the hotel. Then we went out for lunch and roamed around a little. After coming back, we collected our luggage and headed to the airport.
Conclusion
This 2 weeks Europe trip itinerary with kids is just one of the many possible itineraries for Europe. As we stated earlier, this was our first trip to Europe and we wanted to mix as many elements as possible to our travel. You can follow the itinerary as is. Or, you can make changes as per your choice.